Wawa Campground is a quiet, rustic, private family-owned campground situated north of the town of Wawa, Ontario. We are located about 3km north of Hwy 101 turnoff to Wawa on the west side of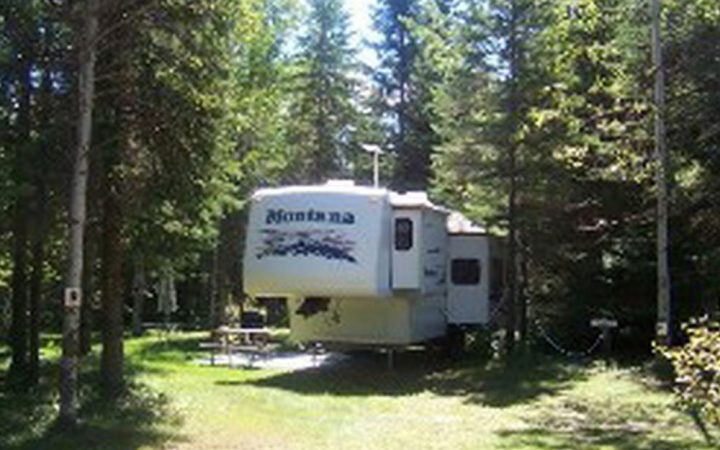 Highway 17 (2.5 hours north of Sault Ste Marie, 5.5 hours east of Thunder Bay).
Wawa the Town
Wawa is remembered for their famous Wawa Goose Monument, a giant 4 ton statue of the Canadian Goose which proudly stands at the entrance to the town. In fact, it's reported to be the most photographed landmark in North America.
Scenic Falls and Hiking Trails
Wawa Campground is a perfect stop on your Lake Superior Circle Tour, the campground is situated amongst the treed canopy of the boreal forest beside the Magpie River.  A short distance away up the Magpie River there are two great viewing opportunities at Scenic High and Silver Falls. Scenic High Falls has an interpretive trail from the bottom to the top of the Falls. The trail affords great views of the Magpie River gorge. Both Scenic High and Silver Falls connect to the Voyageur hiking trail.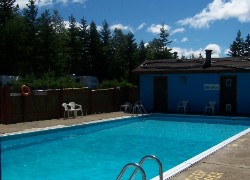 Wawa Campground sites have water, sewer, electric (30 amp), picnic tables, and fire pits. Other amenities include heated pool, clean restrooms, laundry, hot showers and excellent fishing. For the little ones the playground area is fun for the kids to wear off their pent up energy from travelling all day. The dining shelter is ideal for group gatherings.
Pull-through sites are available, making this a big rig friendly campground.  Tenting is also available in a treed semi-private area of the park.  Small cabins are also available for rent.  Located within minutes to the town of Wawa, scenic waterfalls and hiking trails.
We can accommodate Caravan groups, tenting groups, family reunions, and church groups travelling through the area.
Wawa is your ideal stop off on your vacation through northern Ontario. For more information or to book your site go to WawaRV.com
Photos: Wawa Campground