Toy hauler RVs can be found in trailers, fifth-wheels and motorhomes. They are capable of providing full RV living quarters as well as mobile garages for vehicles like ATV's, motorcycles, jet skis and more.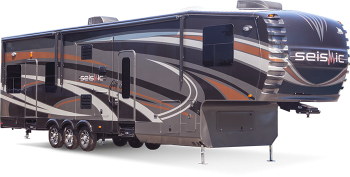 These unique, bi-function recreational vehicles are surging in popularity and bring a younger generation of users into RVing. For many of these RVers, reading a book while lounging under a shady tree in a quiet country setting has been replaced by the scream of all-terrain vehicles hurtling over steep sand dunes. Now this is what they call great camping activities!
The growth of fifth-wheel toy haulers has risen 15% in 2015, with greater gains expected in the years to come. There are many makes and models, offering a wide spread of pricing. This makes these types of RV's affordably attractive to many buyers.
Surprisingly, even though toy haulers have large, enclosed garage spaces, many are still able to offer lots of living and sleeping quarters for the whole family. Additional sleeping bunks can sometimes be found above the garage. The rear ramp door becomes an elevated patio deck on some models. Many configurations, options and amenities can be found or custom-tailored to fit the buyer's needs and lifestyle.
If you have never taken an in-depth look at what the toy hauler class offers, you may be missing out. Next time you are at an RV show, check them out. You may well be surprised at what's inside.
The toy hauler. It may just bring out the kid in you and put a whole new spin on camping.