Top rated RV parks — stay at a 10/10★/10 park for an exceptional camping experience.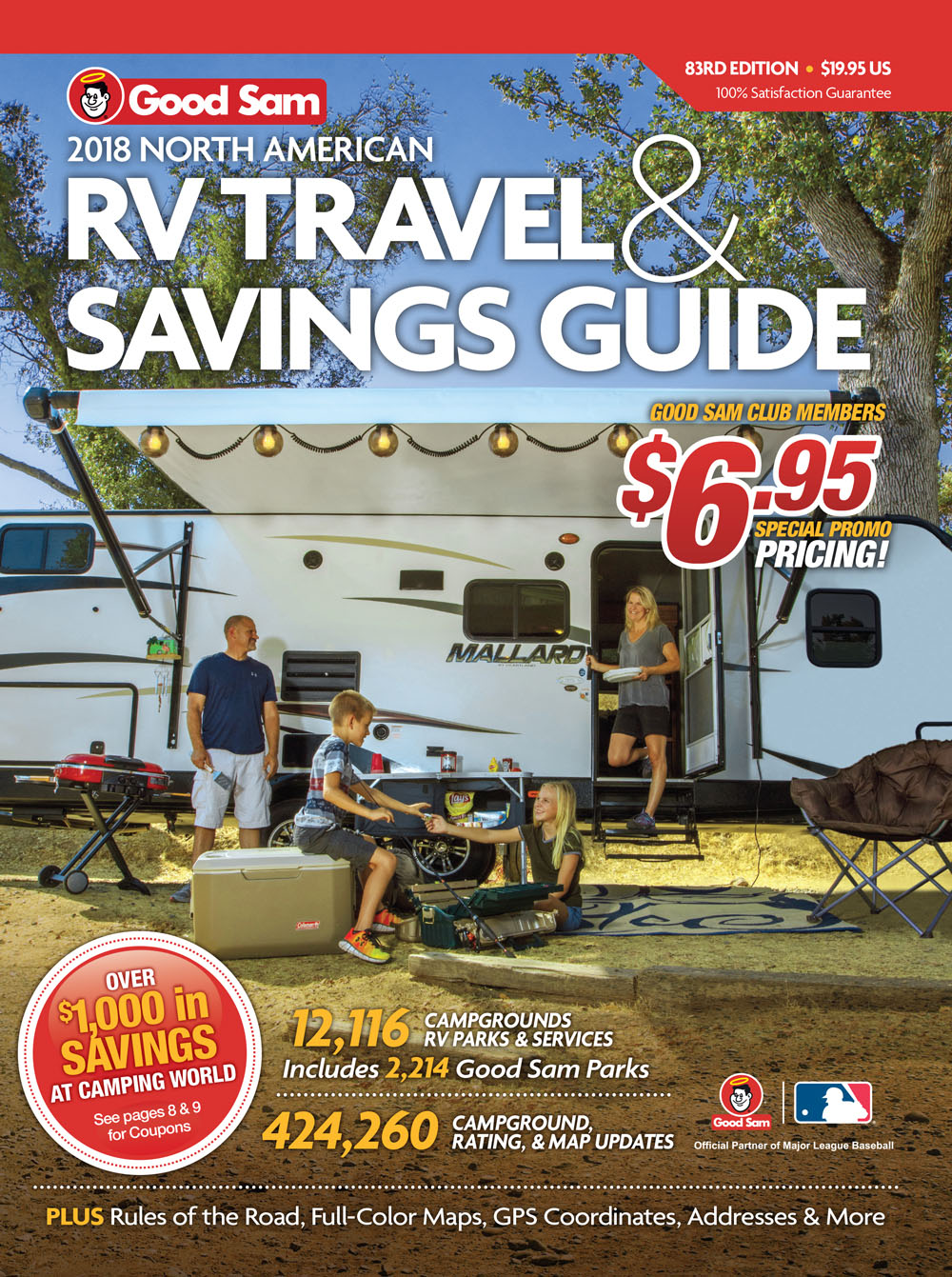 The Good Sam RV Travel & Savings Guide, now on sale at Camping World SuperCenters and CampingWorld.com, announced that 162 RV parks have earned flawless 10/10★/10 scores based on the publication's trusted rating system.
The guide's 2018 edition comes packed with listings of more than 12,000 RV parks across North America, along with lifestyle articles, travel information and destination features. The book also is loaded with coupons worth $1,000 in savings at 130 Camping World SuperCenters nationwide.
The guide lists information on 2,200-plus Good Sam Parks, which offer 10 percent discounts to the more-than 1.7 million Good Sam members across North America.
How Top Rated RV Parks Reach Peak Performance
The top rated RV parks have attained high marks in the Good Sam Rating System's three categories: facilities; cleanliness of restrooms and showers; and environment and visual appearance. Each category is rated on a scale of one to 10. A star is added to for exceptionally clean restrooms.
Below are the top rated RV parks:
Alabama
Pandion Ridge Luxury RV Resort, Orange Beach
Arizona
Apache Wells RV Resort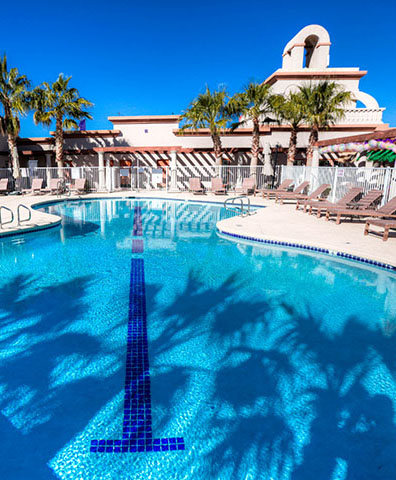 , Mesa
Black Canyon Ranch RV Resort, Black Canyon City 
Canyon Vistas RV Resort & Superstition Views Resort, Gold Canyon
Del Pueblo RV Park and Tennis Resort, Yuma
Desert Shadows RV Resort, Phoenix
Distant Drums RV Resort, Camp Verde
Eagle View RV Resort (Asah Gweh Oou-o) At Fort McDowell, Fort McDowell
Far Horizons RV Resort, Tucson
Gold Canyon RV & Golf Resort, Gold Canyon
Good Life RV Resort, Mesa
Mesa Regal RV Resort, Mesa
Palm Creek Golf & RV Resort, Casa Grande
Pueblo El Mirage Golf & RV Resort, El Mirage
Rincon Country East RV Resort, Tucson
Rincon Country West RV Resort, Tucson
Shangri-La RV Resort, Yuma
Sun Life RV Resort, Mesa
Sundance 1 RV Resort, Casa Grande
Superstition Sunrise RV Resort, Apache Junction
Superstition Views Resort & Canyon Vistas RV Resort, Gold Canyon
Vista Del Sol RV Resort, Bullhead City
Westwind RV & Golf Resort, Yuma
Arkansas
Catherine's Landing At Hot Springs, Hot Springs
Ozarks RV Resort On Table Rock Lake, Blue Eye
California
Bakersfield RV Resort, Bakersfield
Berry Creek Rancheria RV Park, Oroville
Durango RV Resort, Red Bluff
Indian Waters RV Resort & Cottages, Indio
Jackson Rancheria RV Park, Jackson
Motorcoach Country Club, Indio
Outdoor Resort Indio, Indio
Outdoor Resort Palm Springs, Cathedral City
Pala Casino RV Resort, Pala
Pechanga RV Resort, Temecula
Redding Premier RV Resort, Redding
The Springs At Borrego RV Resort & Golf Course, Borrego Springs
Colorado
Mesa Verde RV Resort, Mancos
Pueblo South/Colorado City KOA, Colorado City
Royal View Campground, Canon City
Tiger Run Resort, Breckenridge
Florida
Aztec RV Resort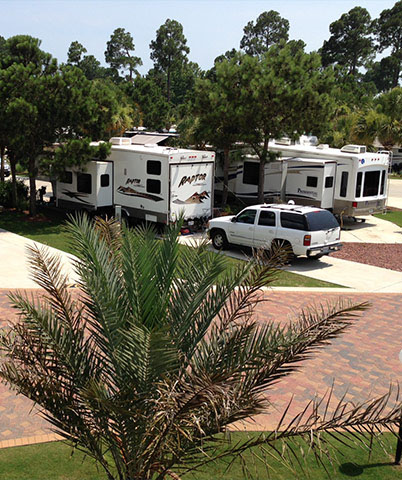 , Margate
Belle Parc RV Resort, Brooksville
Cross Creek RV Resort, Arcadia
Crystal Lake RV Resort, Naples
Cypress Trail RV Resort, Fort Myers
Disney's Fort Wilderness Resort & Campground, Lake Buena Vista
Emerald Coast RV Beach Resort, Panama City Beach
Gulf Waters RV Resort, Fort Myers Beach
Myakka River Motorcoach Resort, Port Charlotte
Naples Motorcoach Resort & Boat Club, Naples
Renegades On The River, Crescent City
Riverbend Motorcoach Resort, La Belle
The Great Outdoors RV, Nature & Golf Resort, Titusville
Vacation Inn Resort Of the Palm Beaches, West Palm Beach
Williston Crossings RV Resort, Williston
Idaho
StoneRidge Golf and Motor Coach Village, Blanchard
Illinois
Double J Campground, Springfield
Louisiana
A+ Motel & RV Park, Lake Charles
Cajun Palms RV Resort, Henderson
Paragon Casino RV Resort, Marksville
Reunion Lake RV Resort, Ponchatoula
Maine
Red Apple Campground, Kennebunkport
Wells Beach Resort, Wells
Massachusetts
Cape Cod Campresort & Cabins, East Falmouth
Normandy Farms Family Camping Resort, Foxboro
Pine Acres Family Camping Resort, Oakham
Michigan
Duck Creek RV Resort, Muskegon
Harbortown RV Resort, Monroe
Petoskey KOA, Petoskey
Petoskey RV Resort, Petoskey
Soaring Eagle Hideaway RV Park, Mount Pleasant
South Haven Sunny Brook RV Resort, South Haven
Traverse Bay RV Resort, Traverse City
Minnesota
Grand Casino Hinckley RV Resort, Hinckley
Prairie View RV Park & Campground, Granite Falls
Stony Point Resort RV Park & Campground, Cass Lake
Missouri
Big Creek RV Park, Annapolis
Mark Twain Landing, Monroe City
Montana
Polson Motorcoach Resort, Polson
Lakeside Casino & RV Park, Pahrump
Nevada
Las Vegas RV Resort, Las Vegas
LVM Resort, Las Vegas
Nevada Treasure RV Resort, Pahrump
Sparks Marina RV Park, Sparks
Wine Ridge RV Resort & Cottages, Pahrump
Camping Pokemouche, Pokemouche
New Mexico
Angel Fire RV Resort, Angel Fire
Route 66 RV Resort, Albuquerque
New York
Black Bear Campground, Florida
Branches Of Niagara Campground & Resort, Niagara Falls
Camp Chautauqua Camping Resort, Chautauqua
Chautauqua Lake KOA, Dewittville
King Phillips Campground, Lake George
Lake George RV Park, Lake George
Rip Van Winkle Campgrounds, Saugerties
Skyway Camping Resort, Ellenville
Swan Bay Resort, Alexandria Bay
The Villages At Turning Stone RV Park, Verona
Triple R Camping Resort & Trailer Sales, Franklinville
Watkins Glen/Corning KOA Camping Resort, Watkins Glen
North Carolia
Fayetteville RV Resort & Cottages, Wade
Mountain Falls Luxury Motorcoach Resort, Lake Toxaway
Raleigh Oaks RV Resort & Cottages, Four Oaks
The Great Outdoors RV Resort, Franklin
Ohio
Cross Creek Camping Resort, Delaware
Evergreen Park RV Resort, Mount Eaton
Sunbury/Columbus North KOA, Sunbury
Oklahoma
By The Lake RV Park Resort, Ardmore
Choctaw RV Park KOA, Durant
Winstar RV Park, Thackerville
Oregon
Bend/Sisters Garden RV Resort, Bend
Casey's Riverside RV Park, Westfir
Hee Hee Illahee RV Resort, Salem
Olde Stone Village RV Park, McMinnville
Pacific Shores Motorcoach Resort, Newport
Pheasant Ridge RV Resort, Wilsonville
Seven Feathers RV Resort, Canyonville
Pennsylvania
Lake In Wood Resort, Narvon
South Carolina
Hilton Head Harbor RV Resort & Marina, Hilton Head Island
Hilton Head Island Motorcoach Resort, Hilton Head Island
Ocean Lakes Family Campground, Myrtle Beach
WillowTree RV Resort & Campground, Longs
Tennessee
Anchor Down RV Resort, Dandridge
Smoky Bear Campground and RV Park, Gatlinburg
Twin Creek RV Resort, Gatlinburg
Two Rivers Landing RV Resort, Sevierville
Texas
Advanced RV Resort, Houston
Alsatian RV Resort & Golf Club, Castroville
Bentsen Palm Village RV Resort, Mission
Buckhorn Lake Resort, Kerrville
Bushman's RV Park, Bullard
Fernbrook Park, Longview
Forest Retreat RV Park, New Caney
Galveston Island RV Resort, Galveston
Jamaica Beach RV Resort, Galveston
Johnson Creek RV Resort & Park, Kerrville
Katy Lake RV Resort, Katy
Mill Creek Ranch Resort, Canton
Northlake Village RV Park, Roanoke
Oak Creek RV Park, Weatherford
Rayford Crossing RV Resort, The Woodlands
San Jacinto Riverfront RV Park, Highlands
Shady Creek RV Park and Storage, Aubrey
Shallow Creek RV Resort, Gladewater
Texas Lakeside RV Resort, Port Lavaca
Utah
Mountain Valley RV Resort, Heber City
Washington
Columbia Sun RV Resort, Kennewick
North Spokane RV Campground, Spokane
Deer Park RV Resort, Deer Park
Wine Country RV Park, Prosser
Wisconsin
Milton KOA (Formerly Hidden Valley RV Resort & Campground), Milton
Stoney Creek RV Resort, Osseo
Canada Top Rated RV Parks
Nova Scotia
Bras d'Or Lakes Campground, Baddeck
Ontario
Bissell's Hideaway Resort, Pelham
Fisherman's Cove Tent & Trailer Park, Kincardine
Quinte's Isle Campark, Cherry Valley
Sherkston Shores RV Resort, Port Colborne
Woodland Park, Sauble Beach
Quebec
Camping Alouette – Parkbridge, Saint-Mathieu-De-Beloeil
Camping la Cle des Champs RV Resort, Saint-Philippe
KOA Bas-St-Laurent Campground, Saint-Mathieu-De-Rioux