These top beach RV Parks put campers close to the water for summer fun. 
Who needs a beach house when you can park your front porch just steps from the sand and waves? The RV parks on this list put you right on some of the most beautiful shores, lakesides and riverbanks in North America. So add towels, sunblock, snorkeling gear and bathing suits to the list of supplies for your next RV trip.
Many of these parks are Good Sam Parks, and if you're a Good Sam Club member, you get a 10 percent discount off of your coastal excursion. You might even want to stock up on some watercraft supplies from Overton's (also at a discount for members). As always, you can check out our RV parks finder and directory to find the campground best suited for you, but if you have no idea where to start, our recommendations can help get you started.
So get ready to unfold that beach chair and dip your toes in the warm sand. We'll see you at the beach!
Pirate Cove Resort, Needles, California
The buccaneer spirit rules on this sandy stretch of the Colorado River, where palm trees line the shores of beautiful Pirate Cove Resort. After settling into a full hook-up waterfront site, guests engage in some pirate fun with boating and fishing on the river. Rent a jet ski for solo thrills or a pontoon boat for group excursions. Back on land, adventurers rev their engines at the nearby off-road trails. The resort's Polaris rentals give adventurers all the horsepower needed for thrills. Lift a glass of grog at the pirate-themed restaurant at the end of the day.
What's Nearby: When they're not fishing, boaters follow the Colorado River for some of the Southwest's most stunning vistas. Three miles downriver to the south, Topock Gorge looms like a miniature Grand Canyon, with steep, rocky walls rising on each side of the river. Further south, Arizona's Lake Havasu keeps the pirate party going with restaurants, shops and wide-open boating fun.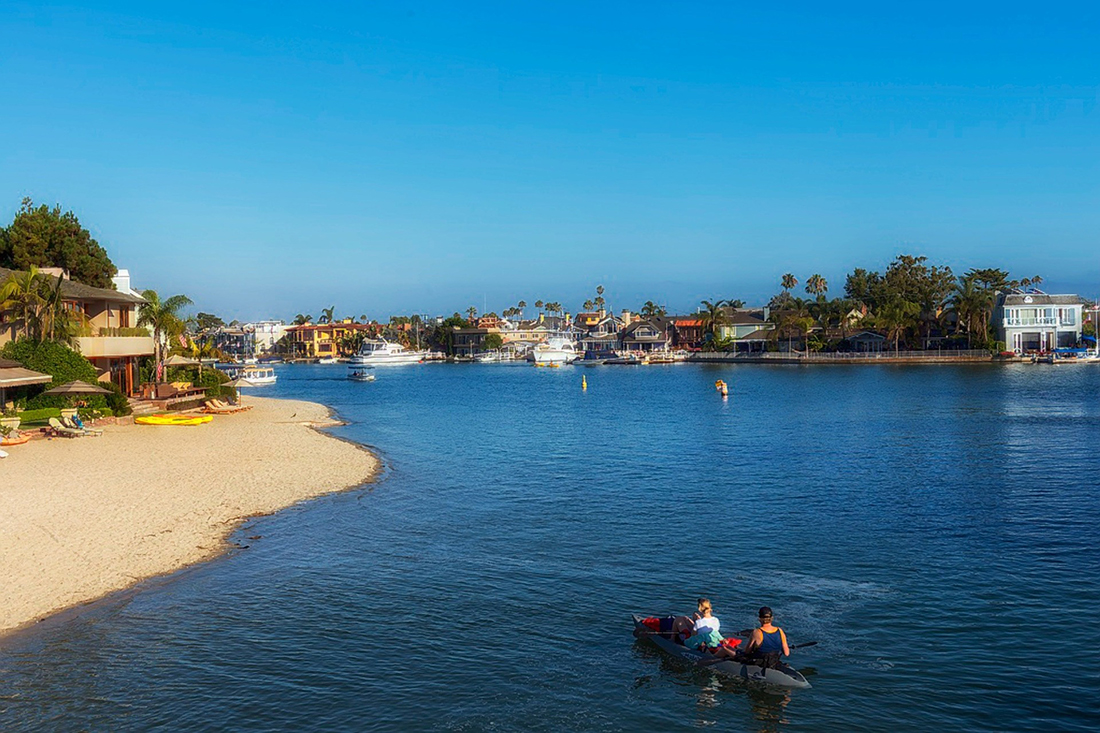 Kayaking on Newport Bay.
Newport Dunes Waterfront Resort & Marina, California
This highly rated Good Sam Park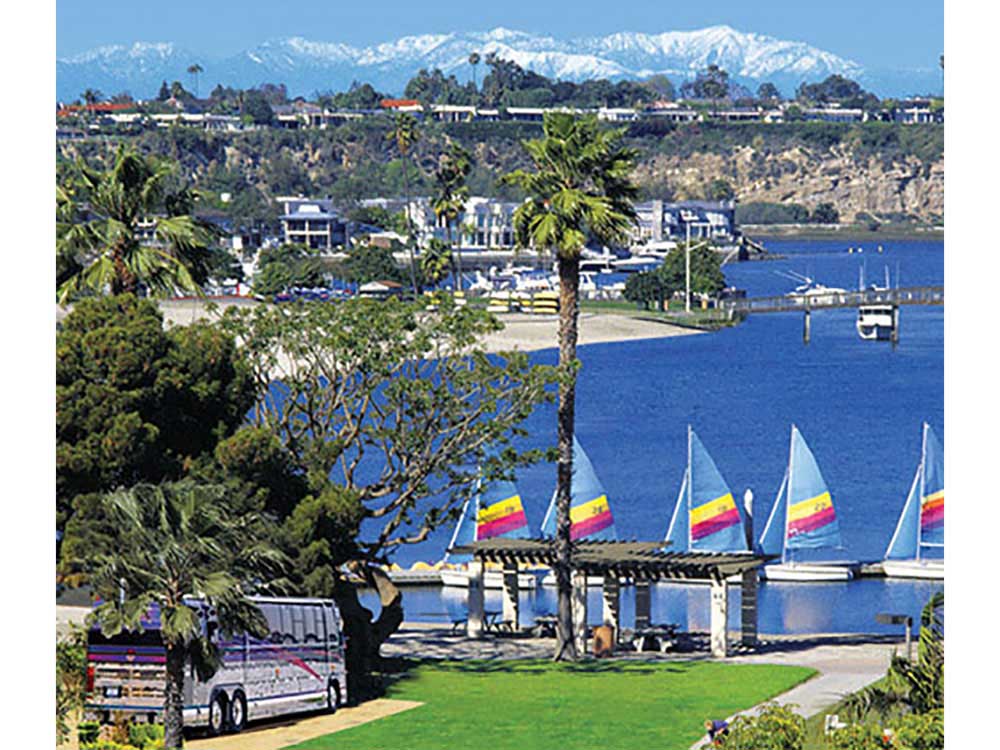 in Southern California treats visitors to the full beach experience. Guests can walk the sandy shores of the resort's lagoon and take a dip in the water. Rent a boat for an exploration of the connecting waterways of Newport Bay or take a nighttime exploration on standup paddleboards with LED lights on the bottom for a "radiant ride" (starting June 15). Parents set their kids loose on the inflatable obstacle course that floats offshore. Back on land, the resort puts on concerts with popular acts and serves food in outstanding restaurants.
What's Nearby: The banks of Newport Bay's winding channels are home to several fantastic "dock and dine" restaurants and high-end shops. Just one mile east of the resort lies Fashion Island, where shoppers treat themselves to upscale shopping sprees and fine food. This is Orange County at its finest.
Campland on the Bay, San Diego, California
San Diego has cemented its place as one of Southern California's favorite playgrounds. Guests at Campland on the Bay will find themselves in the center of the action in a city as famous for its cultural attractions as it is for its gorgeous beaches. The highly rated RV park sits on the shores of Mission Bay, and the park's kayak, canoeing and boating facilities give guests all they for a fun day on the water. Landlubbers can partake in tennis, pickleball and watersports.
What's Nearby. A two-mile drive from the resort west takes visitors to beautiful Pacific Beach on the Pacific Ocean, home the Crystal Pier along with surfing and swimming. Three miles to the south on the other side of the Bay lies SeaWorld, where ocean wildlife dazzles spectators. Also nearby are Old Town San Diego, the Gaslamp Quarter and Coronado Island, home of the century-old Hotel Del Coronado.
Camp Gulf, Destin, Florida
This perfectly rated Good Sam Park makes the most of its precious real estate overlooking white-sand beaches of the Gulf of Mexico. Guests who want more than just beachfront camping also can also dive into a heated pool, stock up on fishing supplies and enjoy pastimes like a water umbrella, bounce pillow and fun activities. The resort's Activity and Recreational Complex puts a slew of exciting and fun pastimes in one place. Onsite rentals, RV storage and beautiful family-style bathrooms round out the luxurious amenities.
What's Nearby: Destin goes by the nickname, "the luckiest fishing village in the world," and it's no idle boast. Fishing buffs who sign up for a deep-sea charter should prepare to haul in king mackerel, grouper, triggerfish shark and more. If you prefer land-based pursuits, the sprawling HarborWalk Village is packed with stores, restaurants and fun attractions. This also is the place to rent paddleboards, kayaks and jet skis. Go on a dolphin cruise to catch sight of majestic mammals.
Fiesta Key Resort & Marina, Fiesta Key, Florida
Ever dreamt of camping on your own tropical island? Fiesta Key RV Resort in the Florida Keys helps make that dream a reality (if you're willing to share this ocean spot with like-minded campers). The Good Sam Park occupies a 28-acre island right off the Overseas Highway, about 29 miles southwest of Key Largo and 18 miles north of Marathon Key. When guests aren't swimming or snorkeling mere steps from their sites, they're sipping delicious drinks at the Tiki Bar & Cantina Restaurant. Walk on the nearby beach, or relax at your site for spectacular sunrises over the Atlantic and glorious sunsets over the Gulf of Mexico.
What's Nearby: Each island on the Florida Keys chain is a distinctive tourism gem. The Overseas Highway leads ecotourists south to Marathon Key to learn about intriguing mammals at the Dolphin Research Center. Also on Marathon, the Turtle Hospital helps the vulnerable creatures heal from injuries and rescues vulnerable hatchlings. Take a tour and watch baby turtles take their first awkward steps into the sea. Head further south and cap your tropical adventure in Key West, whose restaurants and bars still buzz with the quirky vibe that attracted Ernest Hemingway and Tennessee Williams.
Camper's Haven RV Resort, Dennis Port, Massachusetts
Feel like the Big Kahuna at your own private beach at Campers Haven RV Resort. Located on Nantucket Sound on the southern shore of Cape Cod, the resort offers beachfront camping blended with the quaint, New England atmosphere near crab shacks and New England cottages. Grill up some lobster on the barbecue at your site (plenty of markets in the area sell freshly caught crustaceans), or stroll the shore lined with charming homes on one side and lapped by gentle waves other.
What's nearby: Dennis Port Village entices visitors to walk its Main Street, where coffee shops and intriguing stores line the sidewalk. The town puts on regular concerts at the Village Green. Eleven miles to the east, Hyannis Port is home to the John F. Kennedy Hyannis Museum, which chronicles the all-too-short life of the president who ushered in the New Frontier. From Hyannis, deep-sea fishing charters take anglers out for striped bass, shark and tuna.
Camp Hatteras RV Resort and Campground, Rodanthe, North Carolina
Coastal getaways don't get much more secluded than this. Camp Hatteras RV Resort and Campground spans the width of the long and narrow Outer Banks barrier island, meaning that guests can enjoy views of the Atlantic Ocean to the east and the Pamlico Sound to the west. Savor beautiful sunset and sunrise views without leaving the property. The RV resort has rentals for kayaks, boats and canoes, along with amenities like a rec room, firewood and groceries onsite.
What's Nearby: Made famous as the setting for Nicholas Sparks novels, Rodanthe (downtown is just two miles north of the resort) has major cred as the perfect getaway for travelers seeking a quiet corner of the world. The town will pull explorers in with its beautiful shops and restaurants, but adventure seekers won't be disappointed, either. Kitesurfing, fishing and crabbing all are within reach — feel like one of the pirates of yore who hid out in the region as you enjoy adventures on the sea.
Logan Road RV Park, Lincoln City, Oregon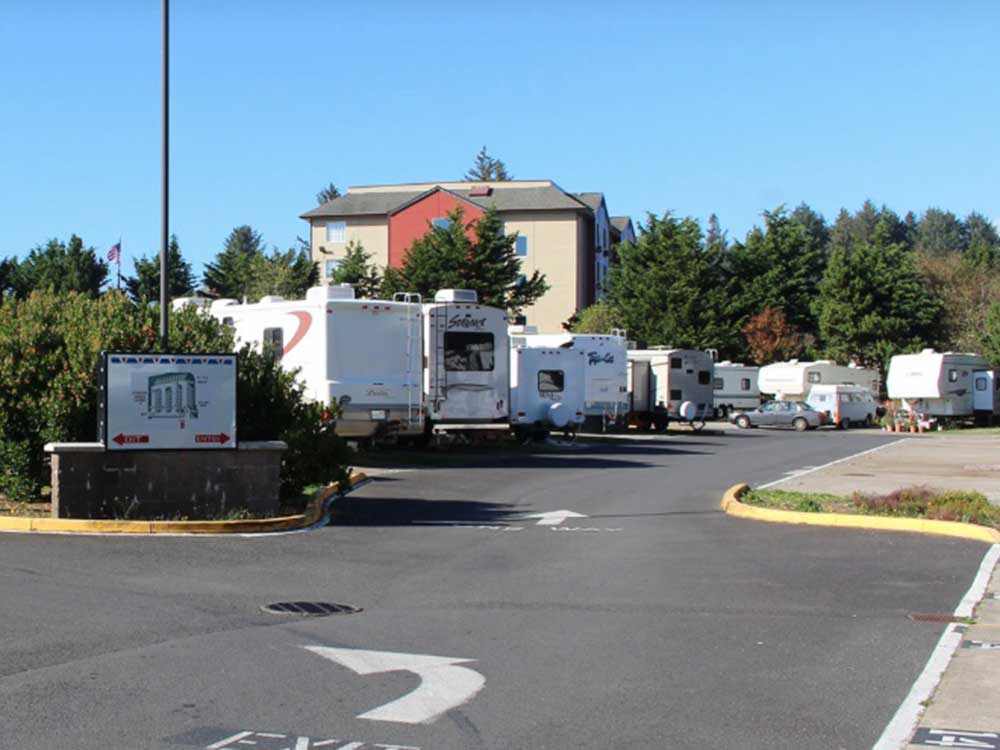 Located on Oregon's Central Coast, Logan Road RV Park is a place of extremes. The nearby Chinook Winds Casino Resort dishes out gaming thrills, while the Pacific shore serves as the ideal place for reflective walks in nature. Have your cake and eat it too, or just relax at one of the resort's full- hookup spots. A pool and spa keep visitors nice and relaxed between the action, while golfers hit the links at the Chinook Winds Golf course at Aces Bar & Grill.
What's Nearby: With seven miles of Pacific Ocean shoreline, Lincoln City is a beachcomber's dream. Clam digging and tide pool exploration keep visitors busy, and a bowl of clam chowder at Mo's Restaurant warms up patrons when the beach gets too chilly.
Ocean Lakes Family Campground, Myrtle Beach, South Carolina
Myrtle Beach may be the Eastern Seaboard's favorite seaside destination, and Ocean Lakes Family Campground puts guests right on the sand on the Atlantic shore. As the name implies, this sprawling campground serves up fun for all ages, with a pool, miniature golf, splash pad, a waterslide and bike rentals. There are 300 cabin/cottage rentals for non-Rivers, and planned activities will keep the whole family busy.
What's Nearby: A short drive north along the coast takes visitors to the heart of the Myrtle Beach's 1.2-mile oceanfront. The long list of family-friendly attractions here includes the Ripley's Believe It or Not! Museum, the 187-foot-tall SkyWheel and high-speed zip line courses. Eight fishable piers and countless charter companies nearby make it easy to snag that big catch. For great freshwater fishing, drop a line in Kingston Plantation, Big Cypress Lake or Murrells Inlet — all three areas have largemouth bass and bream.
Blue Water RV Resort, Freeport, Texas
This new resort on the Gulf of Mexico gives guests a chance to discover the beachy side of the Lone Star State. Just steps from the RV sites, guests can walk on the wide shore and take a dip in Gulf waters. The gated property gives access to 11 miles of unrestricted beach, and there's a private boat ramp, docks, fishing piers and a fish cleaning station. Guests can take advantage of golf-cart, kayak, canoe or paddleboard rentals or gather with a group at the community covered pavilion.
What's Nearby: Texas's Gulf Coast is one of most underrated seaside destinations in North America, and that's good news for lovers of long, uncrowded coastlines. Twenty-four miles southwest along the coast lies Surfside Beach, one of the best surfing locations in Texas. Deep sea fishing charters depart from this town's harbor for redfish, snapper and tarpon, depending on the season.
Quinte's Isle Campark, Ontario, Canada
Lake Ontario is fringed with some of North America's most beautiful beaches. Case in point: Pebble Beach, located on the lake's north shore and part of perfectly rated Quinte's Isle Campark. When you've spent enough time in the water, enjoy all the amenities of the park, which sits on 975 treed acres with ample spaces and perks like a marina, kayaking and canoeing, nature trails and heated pool. Several rentals are available, including waterfront cottages.
What's Nearby: While playing on the lake is one of the area's biggest attractions, your attention might be diverted by a different kind of liquid. Prince Edward County is home to several of Canada's top wineries, and many open their doors for samples of the flavor that this fertile land produces. Drive or bicycle the Taste Trail and Wine Route, but leave time for dining in some of the area's fine restaurants. After a day of exploration, bring a loaded picnic basket to Sandbanks Provincial Park, relax on a dune and watch the shimmering waters of Lake Ontario.