Cape Cod
Cape Cod has been a popular vacation spot for generations, and to this day, many residents of the Northeast pack up for a weekend — or a week — in this lovely coastal destination. While beaches, fishing and boating are some of the area's biggest draws, visitors will also discover fun on dry land, from film festivals to hiking trails and unusual history museums.
Geography
Cape Cod juts off the southeastern coast of Massachusetts like a flexing arm, with around 600 miles of coastline. The summer months are cool, with highs of only 79 during the hottest month of July. Visitors can choose from a variety of quaint towns that line the cape, ranging from small communities like Brewster on the "bicep" to bustling cultural centers like Provincetown at the "hand" of the cape. There is no shortage of dining choices, either, as they run the gamut from formal, white-linen service to family-friendly, dockside eating.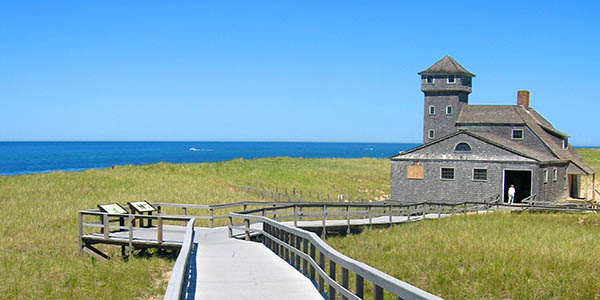 Fishing, Hiking, Boating
It should come as no surprise that boating and fishing are big in Cape Cod, with ample saltwater space and over 350 ponds and lakes, many of which are stocked. One of the best spots for freshwater fishing is Mashpee-Wakeby Pond in Lowell Holly. This 729-acre body of water is stocked with rainbow trout, brook trout and other fish. Across the cape, fishing charters are available for anglers with a taste for deep sea action. Fly fishing buffs will find lots of environments for casting into the current. Salt ponds, creeks and rivers are plentiful throughout the cape.
Trade Your Waders for Boots
There are also plenty of opportunities to hike, both on the beaches and inland. Easy hikes include the Red Maple Swamp Trail, which affords hikers views of beautiful multihued foliage in the autumn months, and the 1.2-mile Atlantic White Cedar Swamp Trail, with a boardwalk crossing over a swamp. For something more challenging, the Great Island Trail spans nearly nine miles, with a mix of pitch pine forest and beautiful sandy shores.
Local Color and Activities
Cape Cod has been a popular summer destination since the late 19th century, with Northeasterners descending on the region en masse during the warm months. As a result, the ambience here is generally relaxed and laid-back, and many locals have lived in the area for many generations. Others have moved here to retire, often attracted by the region's dramatic coastlines and thriving artistic community. Popular activities on the island include shopping, water sports and visiting historic sites. While it's often a bit too cool to swim in the waters here, spending time on the 60-some local beaches plays a major part in most visitors' Cape Cod vacations.
Events and Festivals
Cape Cod offers a solid calendar of events and festivals throughout the year. In Provincetown, there are lots of festivals and events focused on the thriving local LGBTQ community, along with a popular annual Portuguese Festival, complete with food, dance performances and parades. A Catholic mass and procession culminate in the blessing of the fleet.
Cape Flavors
Many festivities here center on locally produced food, with a Cranberry Festival in Harwich, an OysterFest in Wellfleet and a Scallop Festival in Buzzards Bay. The Nantucket Wine Festival is also worth checking out, with tastings, luncheons and a gala. Other highlights include the Provincetown Film Festival and the Nantucket Film Festival, both of which attract some big names in the industry.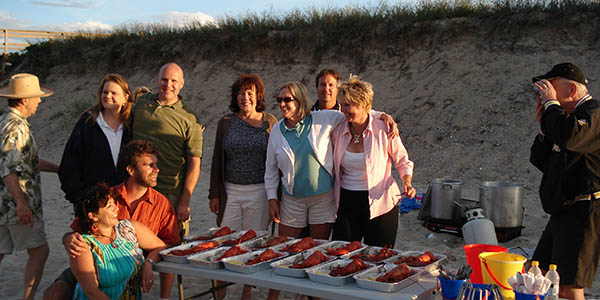 Family Fun
The cape offers plenty of activities for families, particularly on the islands. Martha's Vineyard alone boasts ample activities for kids of all ages, from Riverhead Field, a great spot for disc golfing, to the dollhouse-esque Gingerbread Cottages in Oak Bluffs. Oak Bluffs is also home to the Flying Horses Carousel, the nation's oldest platform carousel, along with Island Alpaca Company, where visitors can interact with these quirky mammals. Nantucket's not too bad for families either, and the Maria Mitchell Association offers some interesting ecology education for different age groups. Nantucket's Children's Beach Bandstand showcases free family-friendly concerts in the summer months, along with a playground and classes and other activities for children.
Museums
There are many museums and galleries in Cape Cod. The Wampanoag Indian Museum (open Monday and Thursday mornings) sheds light on the area's original residents with exhibits and artifacts. There's also the Cape Cod Children's Museum, complete with its own planetarium. Provincetown, at the very tip of the cape, features scores of art galleries on Commercial Street, plus a great history museum, the Provincetown Museum, featuring exhibitions on Pilgrim history.
Whaling and Nautical History
Martha's Vineyard Museum provides a more general overview of local island history, while the Nantucket Whaling Museum covers the history of whaling, a once important industry in the region. The Nantucket Shipwreck & Lifesaving Museum is another must-see, with permanent exhibits on famous local shipwrecks and lifesaving operations.
Kennedy Recollections
The Kennedy Compound, home of one of America's leading political families, is located on the Cape's southern shore, facing the Atlantic Ocean. Nearby, the John F. Kennedy Hyannis Museum chronicles the all-too-short life of the youthful president with photos and videos.
All Aboard the Cape
Climb aboard a narrated, whistle-blowing, two-hour ride on the Cape Cod Central Railroad for a shoreline excursion boasting views best enjoyed by train. Expect to be awed by extraordinary scenery that includes sand dunes, salt marshes and cranberry bogs on this 50-mile journey to the banks of Cape Cod Canal. Departing from Hyannis, the train puts on lunch and dinner excursions, as well as special themed trips, to coastal destinations like Buzzards Bay and West Barnstable.
Falling for Falmouth
Falmouth, one of the largest towns on the Cape, with eight villages, 14 harbors and endless water sports (with equipment rentals available) on its southern coastline. Falmouth is best known for its road race held every August. Within Falmouth, the village of Woods Hole has great sportfishing, cute old buildings, and a marvelous aquarium with an outdoor sea pool and free admission for all.
Trails and Ponds
Lovers of scenic hikes should embark on the Cape Cod National Seashore's Great Island Trail. Starting in Wellfleet Harbor, the trail offers views of the cliffs that overlook Cape Cod Bay and crosses dunes at Great Beach Hill. More great hiking is found in the 2,000-acre Waquoit Bay National Estuarine Research Reserve. Bring your pole for  freshwater fishing at Lowell Holly, home to the Mashpee and Wakeby ponds and huge stands of holly.
Pilgrims of Provincetown
Did you know that the pilgrims landed in the area now known as Provincetown before reaching Plymouth Rock? In 1620, after their long journey across the Atlantic, the Mayflower landed on the shores of the then-unmapped cape region. The town commemorates this chapter of the Pilgrims' past with the 252-foot Pilgrim Monument — the nation's tallest all-granite structure. While in town, check out the Old Harbor U.S. Life Saving Station, dating back to 1897.
For More Information
Cape Cod Convention and Visitors Bureau
888-332-2732
Massachusetts Office of Travel & Tourism
800-227-6277