The Lug_Nut RV Trivia Challenge 6 is focusing on popular RV destinations. Get a pencil and paper so that you can record your answers as you go through it.  You will then be able to check your answers against those displayed at the very bottom.  Be sure to share your score and any other comments you may have in the comments section following the answers.
1) If you wanted to travel to Grant's Tomb, the resting place of Ulysses S. Grant, what city would you need to head to?
A)   Atlanta, Georgia
B)    Louisville, Kentucky
C)    New York City, New York
D)   Washington D.C.
E)    Arlington, Virginia
2)If you have just arrived with your RV at the largest state operated camp ground in the U.S.A., what state would you be in?
A)   Alabama
B)    California
C)    Michigan
D)   New Mexico
E)    Washington
3) Carlsbad Caverns attracts many visitors including a great number of Rv'ers.  What state would be your destination if you were to head there?
A)   Colorado
B)    Arizona
C)    New Mexico
D)   Utah
E)    South Dakota
4) The tragedy of the Edmund Fitzgerald can be remembered as you tour the museum dedicated to it.  Plenty of parking for even RV's is usually available.  Where is this located?
A)   Whitefish, Minnesota
B)    Whitefish Point, Michigan
C)    Whitefish, Wisconsin
D)   Whitefish, Maine
E)    Duluth, Minnesota
5) The photo on the left shows one of the only walled cities in North America.  This makes a wonderful destination in a unique setting and attracts many RV'ers each year.  Where is it?
A)   Quebec City, Quebec Canada
B)    Montreal, Quebec Canada
C)    St. Augustine, Florida
D)   Ottawa, Ontario Canada
E)    Kingston, Ontario Canada
6) Attractions galore await at this RV destination with plenty of campgrounds in the area.  You will be kept busy with attractions such as The Titanic Museum, Silver Dollar City, The Imax Complex, Dinosaur Museum, Butterfly Palace, trail riding, golf, live shows and much, much more.  So, where is this great destination?
A)   Las Vegas, Nevada
B)    Laughlin, Nevada
C)    Pigeon Forge, Tennessee
D)   Branson, Missouri
E)    Orlando, Florida
7) You had better pack your water wings, not your scuba gear, to camp at this lake.  With a maximum depth of 1949 feet, it ranks as the deepest lake in the U.S.  What lake is this great destination?
A)   Lake Superior
B)    Crater Lake
C)    Lake Tahoe
D)   Table Rock Lake
E)    Lake Okeechobee
8) From out of the history book to actually being there, the site of Custer's last stand is a popular visited area.  Also termed the Battle at Little Bighorn, what state will you be visiting to see this?
A)   South Dakota
B)    North Dakota
C)    Wyoming
D)   Colorado
E)    Montana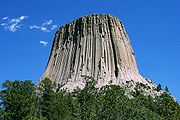 9) The photo on the left is a U.S. national monument that draws over 400,000 visitors each year.  Of these, approximately 4,000 visitors actually climb the monument annually.  What is the name of this popular monument?
A)   Devil's Tower
B)    Beacon Rock
C)    The Grand Mesa
D)   Tower Rock
E)    Mount Colorado
10) An interesting attraction to visit while RV'ing about the country is a replica of Stonehenge.  Completed in 1930, it is almost an exact copy of the structure located in southern U.K.  Dedicated to those who died in World War 1, the attraction is free to tour.  Where would you find this unique site?
A)   Whitebird, Idaho
B)    Lolo, Montana
C)    Maryhill, Washington
D)   Pendleton, Oregon
E)    Provo, Utah
Okay, all finished? Now let's see how you did.  Check your answers with those found below.  Now don't forget to post your score and comments in the section at the far bottom.
With The Questions & The Answers   –   Lug_Nut    –     Peter Mercer
1) – (C) General Grant's Tomb is located in New York
2) – (A) Wind Creek State Park is located in Alabama. With over 626 camp sites on over 320 acres, it ranks as the largest in the U.S.
3) – (C) Carlsbad is located in south eastern New Mexico
4) – (B) Whitefish Point, Michigan, not far from where the ship sank
5) – (A) Quebec City in Quebec Canada offers a glimpse of the past and is well worth visiting.
6) – (D) Branson, Missouri is loaded with attractions and things to do.  It is also located near Table Rock Lake, a popular summer destination.
7) – (B) Crater Lake in Oregon is the deepest lake in the U.S.
8) – (E) The Battle of Little Bighorn was fought in Montana.
9) – (A) Devil's Tower in Wyoming
10) – (C) Sam Hill's creation of Stonehenge is in Maryhill, Washington on the Columbia River
Share your score with us in the comments section below