Think "square" to yield improved storage results in your RV. Use stackable, square containers with the same size base to organize, store and stabilize items of all descriptions. In the process, you will gain more storage than you might have imagined possible in often-limited RV storage spaces.
Here's how: Let's start with food storage: Restaurant owners know that using square, plastic containers with airtight lids to store staples saves space on pantry shelves. Plus, their wider openings make measuring the contents of a square container directly into a measuring cup more efficient. Transfer as many foods as possible from their original, multi-size and shaped boxes or bags into square containers. Hint: Clip cooking instructions from the original box or bag for reference, and place these inside the new container or tape them to its lid. This storage system will work well in both kitchen cabinets and the refrigerator. Command makes small, square holders for spice jars that can be mounted on the inside of cabinet doors for organizing those small bottles.  I have found most of these items in Camping World stores.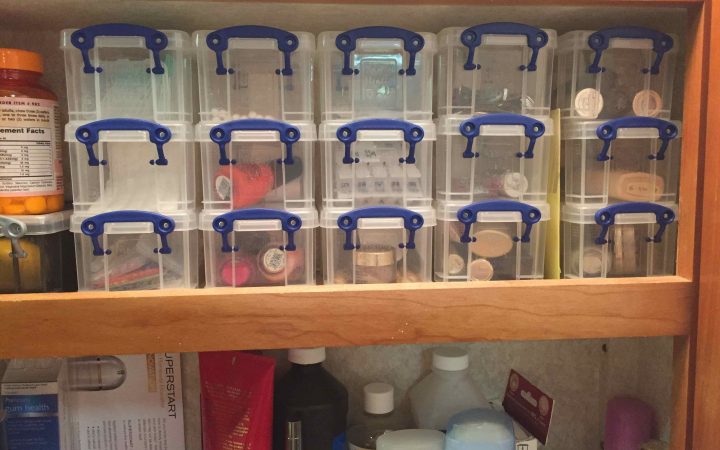 In a medicine cabinet, small square boxes can organize everything from Q-tips to lipsticks. Nail clippers and eyebrow tweezers might go in another. You are only limited by your imagination. Square plastic boxes can also contain personal care items more securely under a sink—then pull out the box for easy item selection. Small items contained in this way won't fly out of the cabinet when you open it after driving down a bumpy road.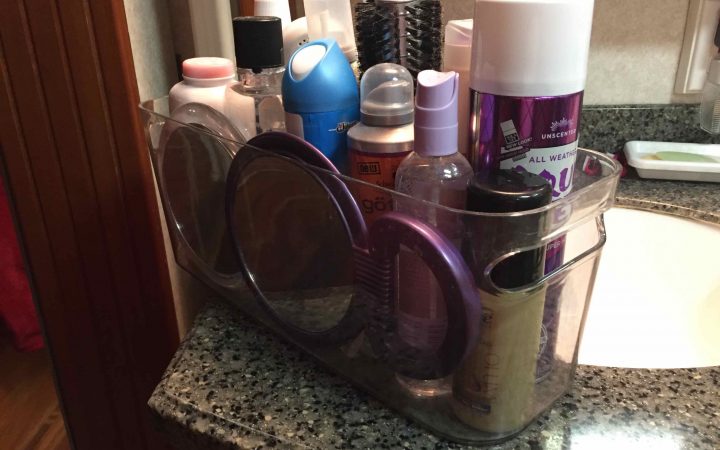 Organizing your lower storage bins with square storage boxes wastes less space in this area as well. Segregate items by category and amount. Boxes of varying heights (with the same size base and nesting lids that hold the box positioned above it) will improve the stability of your gear when you are underway. Clear boxes help in identifying contents, but if you must use solid boxes, make labels and attach them to the lids and/or sides. Systemize your storage by type and frequency of use. Position infrequently used items to the rear of the compartment and those used often to the front.
Your storage is now efficient!
From along the road,
Chris