Ode to pork—don't miss this unique Minnesota museum. Former Soviet leader Nikita Khrushchev once said, "Without Spam, we wouldn't have been able to feed our army." This year, the Hormel Foods Corporation opened a new museum in Austin, Minnesota, on April 22 showcasing Spam, their pork product (not the annoying items that show up in your email). At this free museum, one can experience "the world's most comprehensive collection of spiced pork artifacts." The new downtown museum offers a look at American pop culture and history that grew this product into the brand it has become today.
For 15 years, Hormel Foods operated the museum at their corporate headquarters nearby. In celebration of their 125th anniversary, Hormel moved the museum to downtown Austin, where they hope to attract 125,000 visitors in its first year.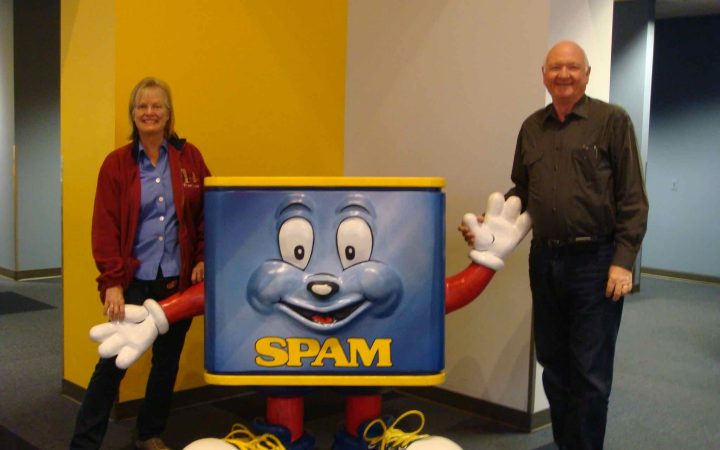 Spam Secrets
Spam is made of just six simple ingredients: pork, salt, water, potato starch, sugar and sodium nitrate. The museum showcases what those ingredients are, along with a visual on where the meat utilized in making Spam is found on the pig. Fifteen varieties of Spam are produced, and on any given day two types of "Spamples" are handed out on pretzel sticks by "Spambassadors" circulating throughout the museum. One variety of Spam, Portuguese Sausage Spam, can only be found on store shelves in Hawaii. For those wishing to experience this version, or any of the other varieties, the museum includes a gift shop that offers all versions of the canned meat. Spam apparel, cookbooks, wine glasses and floral air fresheners are also sold in the gift shop.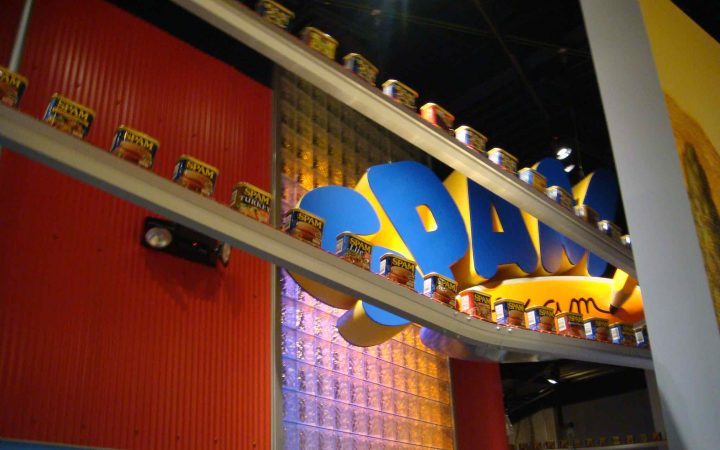 Spam Recipes
Interactive displays let visitors e-mail themselves Spam recipes or test their knowledge of Spam facts. There are displays of bluegrass instruments made from Spam cans, an elevated conveyor belt carrying 780 cans of Spam through the museum, or measure your height using a Spam ruler made of Spam cans. One interactive game allows a user to simulate making Spam. In another, a visitor can learn how Spam was incorporated into meals feeding the troops during World War II.
When you are done visiting the museum at 101 3rd Ave NE in Austin, take a stroll along Main Street, visit a local restaurant featuring Spam dishes, and checkout the local shops. Then camp at nearby Beaver Trails Jellystone Park Camp-Resort in Austin.
From along the road,
Chris