Snoqualmie Falls and the Northwest Railway Museum in the town of Snoqualmie sit only 29 miles east of downtown Seattle. Both stops qualify as a worthy day trip.
More than 1.5 million travelers visit the 270-foot-high Snoqualmie Falls each year. The two-acre park overlooking the falls offers two observation decks, including one that is wheelchair-accessible. The adjacent Salish Lodge, with its gift shop and four-star restaurant, offers great opportunities for a leisurely meal overlooking the falls. During the evening, bright lights illuminate the falls.
Translated from the language of the Salish people, "Snoqualmie" means "moon." According to Salish religion, prayers made at the site rose up on the great mists emanating from the powerful falls until they reached the moon.
This is also the site of a hydroelectric power plant built underground in 1899 at the base of the falls. A second plant was built in 1910 a short distance downstream on the river. Together, the plants generate electricity for 16,000 homes in Puget Sound.
Snoqualmie Falls by Rail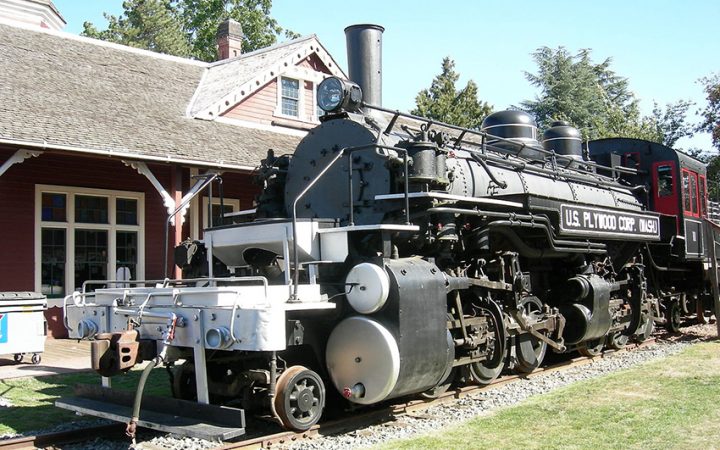 The Northwest Railway Museum in downtown Snoqualmie is a three-minute drive from the park. Once a train depot, the Victorian-style structure now serves as a repository of local railway history. Around the structure sit vintage train engines and cars for visitors to see. Built in 1890, the depot operated until 1970, when it was restored to its original state. Steam and diesel engines and numerous railroad cars number among the many artifacts on display.
Take a ride to the Falls and back on a train or spend time touring the Train Shed exhibit building to view both large and small objects reflecting years of train transportation in this region. From lanterns, tools, equipment and uniforms to large steam engines, any visitor will be entertained and informed about the history of trains and how they changed everything in the Northwest upon their arrival.
Between Seattle and Snoqualmie, you'll find Issaquah Village RV Park for a convenient stay close to Interstate-90 with easy access to either of the above locations. Consider breakfast at Salish Lodge during your visit to Snoqualmie Falls—they're famous for their fabulous presentation of yummy breakfast foods.
From along the road,
Chris