Make a pilgrimage by RV to Stonehenge (the Washington state version).
High on a hill overlooking the Columbia River in Klickitat County, Washington, sits a replica of Great Britain's Stonehenge. Unlike the stone remnants of Britain's prehistoric site (dated as far back as 3000 BC), Washington's century-old monument reveals the tiniest traces of wear, with every concrete pillar and crossbeam in place. Its altar stone is aligned with the astronomical horizon, unlike the summer and winter solstice alignment chosen by ancient builders of half a world away. Known as the Maryhill Stonehenge, this replica is difficult to use as an astronomical calendar because of its five-degree difference in latitude. Also, some surrounding hills obscure part of the horizon. Nevertheless, it is a still a site sought after by visitors who gather here annually on each midsummer solstice sunrise.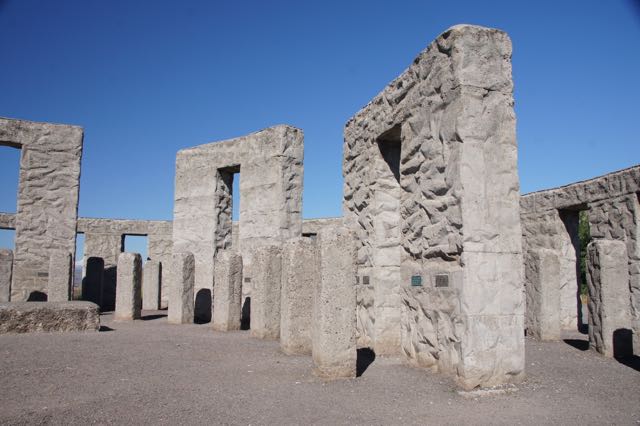 RV to Stonehenge History
The site was dedicated on July 4, 1918. Then, businessman Samuel Hill began constructing his "Stonehenge" to honor the dead of World War I. Erroneously believing that the original Stonehenge was a place used for sacrifice, Hill built his monument as a reminder that men were still being sacrificed to "the god of war." Completed on May 30, 1929, it was originally built in the center of a town called Maryhill. A fire completely burned down the former town; the surviving monument currently stands alone on a hill amid a meadow like it counterpart. Towering up to 30 feet, its massive construction inspires awe. The view beyond is magnificent.
Stonehenge Memorial
Names of 14 soldiers from Klickitat County, who died during World War I, appear on plaques placed around the monument on each pillar. It is a solemn place if one focuses on the implications of war, but the beauty of the view and the perpetual motion of the river are soothing. Yes, Samuel Hill was correct — this is a nice place for an eternal memorial. I am glad I added this out-of-the-ordinary adventure to my RV repertoire.
Find RV parks in and around Maryhill. Discover more travel articles about Historical Places & Landmarks.
From along the road,
Chris