RV in Bisbee, Arizona, for an adventure into Arizona's past.
For 95 years, starting in the late 1870's, copper mining was the life blood of Bisbee, Arizona. Considered then to be "the liveliest spot between El Paso and San Francisco," by 1908 Bisbee had become the largest town in Arizona, with a population of 20,000. Though its mining days were over with the exhaustion of its copper deposits by 1970, a popular tour for visitors today is the historic Queen Mine in Bisbee. Because this copper mine was one of the richest copper mines in history, it draws visitors from throughout the United States and abroad. With a goal of sharing the town's mining legacy, on the mine tour you'll be outfitted in a hard hat, miner's headlamp and a yellow slicker before you join the ranks of thousands of other tourists who have visited this mine and experienced history.
RV in Bisbee, Arizona, in the Present
Bisbee was also rescued from attaining ghost town status in the 1970's by artists, filmmakers and tourists. Today a visitor to Bisbee will find multiple options for an entertaining stay here. With six art galleries, an antique store, a brewery, two museums, a theater, a golf course, shopping, a movie theater and multiple restaurants available, everyone will be enticed by something.
Some noteworthy Bisbee activities: Bisbee After 5 Art Walk/Date Night (recurring); Bisbee Women's Club For the Love of Music (recurring); May—Bisbee Gem and Mineral Show; August—Annual Pirates of the High Desert; Labor Day—Brewery Gulch Daze; October—Vintage Bisbee Wine Tasting and Culinary Delights, Bisbee 1000 Ironman Ice Competition, Bisbee 1000 Stair Climb and Bisbee 1000 Craft Beer Festival; Nov—Annual Home Tour; the Annual Art Chair Auction.
Bisbee Breakfasts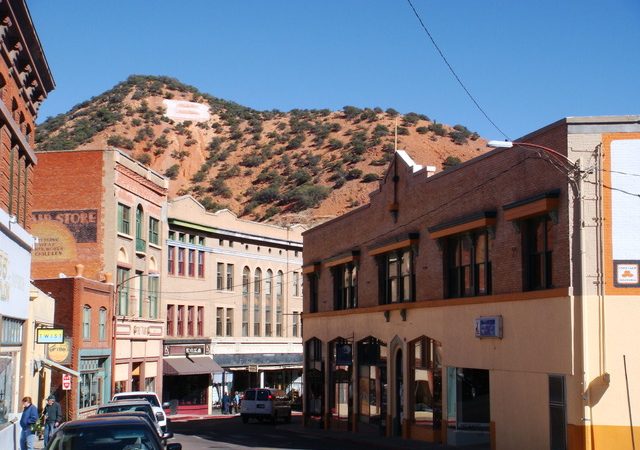 Favored by locals, and sought out by lucky "tourists-in-the-know," we found a particularly good restaurant located just past the Mine Pit called the Bisbee Breakfast Club. It's been serving breakfast, lunch and their homemade pies and desserts since 2005. It's food worthy of every bite!
Nearby RV Parks to consider: Turquoise Valley Golf, Restaurant and RV or Desert Oasis Campground. En route to or from Bisbee two additional points of interest are Tombstone, Arizona and Chiricahua National Monument—but that's a story for another day.
From along the road,
Chris