General Info: The Berkshires in the western half of Massachusetts are a perfect destination for admiring the fall foliage. Beartown State Forest near the town of Monterey offers numerous outdoor pursuits amidst the rustic natural scenery of the southern Berkshires.
Hours and Fees: The forest is open daily from sunrise to sunset all year. A $5 fee per vehicle is charged from May through mid-October. Campground office hours are 8 a.m. to 4:30 p.m. daily. For more detailed visitor information contact the park office at (413) 528-0904.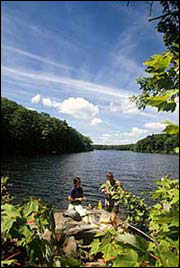 Activities: The Appalachian National Scenic Trail runs through Beartown State Forest, so grab your hiking shoes and explore the miles of spectacular wooded scenery year-round. Keep your eyes open for deer, bobcat, and other wildlife (including the park's namesake, the black bear).
Adjacent to the Appalachian Trail, Benedict Pond covers 35 acres of pristine water for swimming, boating and fishing. *Note* there is no lifeguard on duty and only non-motorized boats are allowed in the pond.
The 1.5 mile Benedict Pond Loop Trail is an easy nature walk in any season. Depending on the time of year, you'll see flowering shrubs and wildflowers, fall foliage or crisp white snow banks. In the winter months you can explore the park via cross-country skis, snowshoes or snowmobiles. Several brooks, beaver ponds, and a rich deciduous forest are year-round accessories to the park's glorious wilderness appeal.
All Terrain Vehicles are allowed during daylight hours on designated trails only, from May 1 through the last Sunday in November. The park features 25 miles of off-road trails that are best suited for the intermediate to experienced riders only. For details call (413) 528-0904. ATVs must be kept on trailer in the campground. See the MA state park ATV regulations for more info.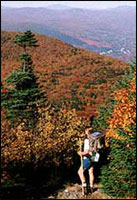 Pets: Your leashed pets are permitted in the park except on the beach lawn. You must have proof of current Rabies vaccine for each animal. Please clean up after your pet.
Camping Info: Camping is available from mid-May through mid-October in the designated campground only. There are 12 campsites but only three RV campsites. Reservations are suggested, and several wheelchair-accessible sites are available by request. The park campground offers no showers or flush toilets. The campground office is open from 8 a.m. 4:30 p.m. daily.
Off-season camping is available on a first-come first-serve availability. Due to the possibility of inclement weather and/or possible closures, please call the park staff at (413) 528-0904 before your arrival. In the winter months, the park offers only limited service camping with decreased staff and amenities. Winter camping includes composting toilets only, no running water, no showers, and no hookups. Please note these sites are frequently used by hunters.
If you'd like to stay at a private RV park with full hookups, try Bonnie Brae Cabins & Campsites in Pittsfield, about 22 mi. north of the state forest. It has gravel back-in RV campsites measuring 19×37 ft. with 20/30 amp electrical.
If you're from the Bay State or have visited Beartown State Forest in the past, please chime in with your stories and tips! Your insights can help others have a fantastic trip.