Enjoy the luxury of a 4-star hotel in a private Alaskan cottage setting along the banks of the Chena River.
Imagine that at the end of a long day you find a place where you can rest and relax, a place where Alaskan hospitality will make you feel as though you've come home, a place where the quiet sounds of a flowing river joins with the rustling birch leaves, and a place where flowers bloom under the midnight sun as the beauty of Alaska surrounds you.
Our unique hotel resort property offers a full range of lodging, dining, RV Park and accommodations.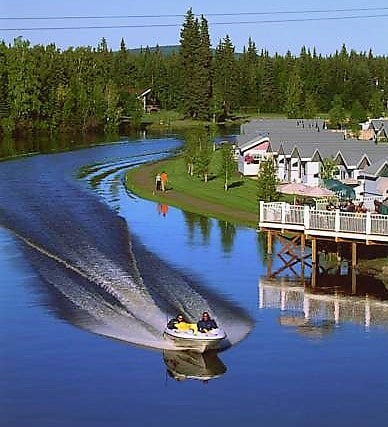 You must be at the River's Edge RV Park, located on the shores of the Chena River in Fairbanks, Alaska. Acclaimed as one of Alaska's premier parks, the River's Edge features 190 sites, and wide pull-thrus, with full and partial hook-ups. All you have to do is pull into your spacious site, sit back and relax. We'll take care of the rest. Our goal is to provide you with a Fairbanks RV park experience you will long remember. You don't have to un-hook to see the sights. We provide ticketing and transportation to all main attractions. Also, after many nights on the road, you deserve a break from cooking. So, join us at Chena's Restaurant for breakfast, lunch, or dinner.
RV Park Features:
Full & partial hook-ups.
Pull-throughs.
50-amp electric available.
Cable TV available.
Wireless Internet.
Dump station.
Dry sites.
Tent camping.
Free showers.
Gift shop.
24 hour coin laundry.
Spacious wooded sites.
Pay phones.
Car/RV wash facility.
170 sites.
Peaceful setting.
Squeaky clean bathrooms.
Paved bike/walking trails.
Easy walking distance to major shopping centers.
Shuttle service to Riverboat Discovery and other attractions available.
Tour information and ticket sales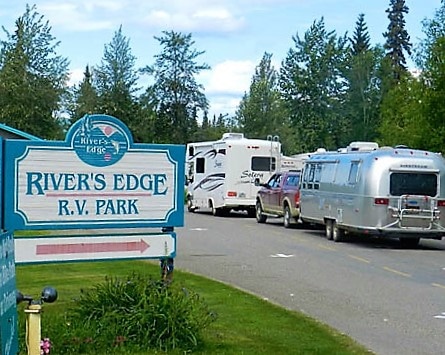 OPEN SEASONALLY:
Mid May – Mid September
Garden Cottages
River-view Cottages
Charming Hotel Atmosphere
Full Private Bath
Private Patios
Lodge Rooms
Buffet Breakfast
Phone, wifi and Cable TV
River's Edge Resort
4200 Boat Street
Fairbanks, Alaska 99701
(907) 474-0286
Photos by: River's Edge RV Resort