The sweltering desert temperatures of summer and early fall might keep the community of Quartzsite off the vacation radar for many, but come winter, it's a haven for gem-loving road warriors. Located on Interstate 10 about 20 miles east of the California border, Quartzsite entices thousands of snowbirds each January and February with a giant gem show and swap meet, as well as several local points of interest.
Open Air Market
When the town known as the Rock Capital of the World begins the new year, thousands descend upon the area in their RVs to peruse gems, fossils, jewelry and more on display by vendors over an eight-weeklong showcase. It's estimated that the population of the greater Quartzite region swells to well over 1 million during this time of the year. Whether it's a prized agate, a chunk of glittering gold, handcrafted jewelry or the equipment needed to bring out the beauty of mined gems, this series of shows and fairs promises to deliver something for everyone.
The tradition of rock shows dates back to 1965 and now encompasses eight major consumer shows, including the Quartzsite Sports, Vacation & RV Show, and the Tyson Wells Rock & Gem Show. The Sports, Vacation & RV Show is particularly popular. Billed as "the largest gathering of RVers in the world," the event entices visitors with nearly every conceivable piece of equipment, upgrade or RV contraption that's on the market.
Quartzsite's geologic characteristics are the reason it's a prime spot for so-called "rock hounds." Limonite, agates and even gold have been discovered here. This part of southwest Arizona is also known to produce Jurassic fossils. Large-scale geology is equally popular among visitors to the region.
Local RV parks fill up quickly during this time of year, so it's recommended that visitors make reservations early.
From Mining Town to Rock-Hound Mecca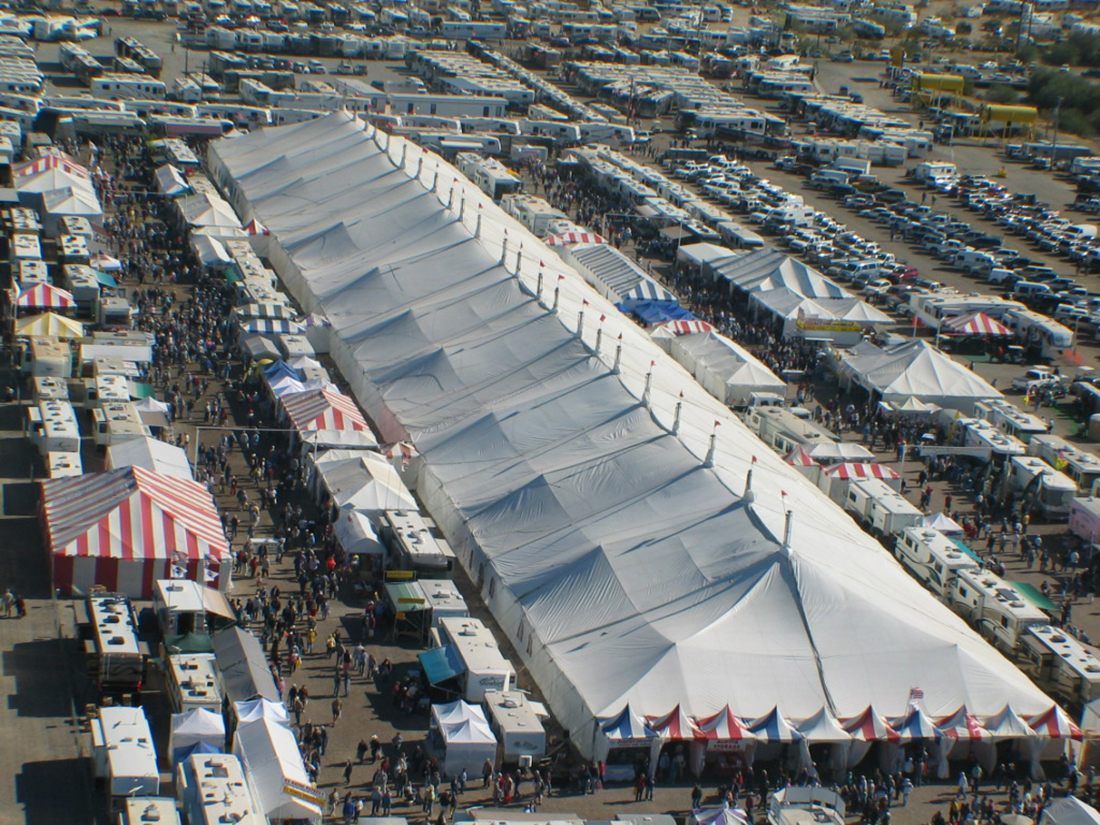 No visit to Quartzsite is complete without taking time to marvel at some of its historic attractions. Quartzsite was built on the site of Old Fort Tyson, established in the mid-1800s to protect miners and settlers from the region's first occupants, the Apaches. The Tyson's Well Stage Station Museum occupies the former stop that was built in 1866 on the Butterfield Stage route. This museum packs as much town history as it can muster, featuring equipment and dioramas alongside artifacts and antiques from Quartzsite's earliest mining days.
Frequent visitors to Quartzsite make a tradition of weighing anchor at the Quartzsite Yacht Club. Featuring live music, pool tables and food, this ironically named desert destination features jaunty nautical décor and the whimsical slogan, "long time, no sea." The waterless vista for miles around serves to make this a quirky but memorable stop.
The boom and bust of mining in Arizona during its territory days has left this region of the state dotted with ghost towns. Among these is Swansea, about an hour's drive north of Quartzsite. Swansea is a relatively young ghost town, having been formally established around 1909 to support miners and processors of copper ore mined from nearby ranges. Its abandoned buildings and empty streets make it a treasure trove for lovers of history.
Big History
Quartzsite's famous tourist spots include the rock alignments that were created north of town during World War II. These configurations of carefully placed stones served as navigation aids for pilots during flight training.
Further north lies a much older man-made symbol—the Fisherman Intaglio. This outline of a fisherman was carved into the ground by ancient native residents of the region centuries ago. Archaeologists can't decide on the precise date of its creation. The area's indigenous people also are responsible for petroglyphs found at Dripping Springs near the privately owned Gold Nugget Mine. Hundreds of pre-Columbian images—many of which can only be spotted from the air—are carved on boulders scattered throughout the area. A path leading toward the adjacent mountains directs hikers to the springs for which the site was named.
Another popular destination is Kofa National Wildlife Refuge, which is comprised of nearly 670,000 acres of Sonoran Desert and is home to desert bighorn sheep and the California fan palm, the state's only native palm. A trail guides hikers into the refuge's oasislike Palm Canyon, where clusters of California fan palms grow in the shadow of sheer canyon walls. Many of the trees live for as long as 90 years. The canyon cuts through a type of volcanic rock called rhyolite; in some areas, large boulders made of smaller rocks, called breccia, can be spotted.
The northwest corner of the refuge is home to a 1.5-square-mile area known as Crystal Hill. This area is open to rock hounds, who are allowed to collect up to 10 pounds of material or 10 individual pieces by hand per year, whichever limit is reached first. Quartz crystals are the most abundant specimens found here. These are typically either clear or milky white in color.
Kofa also offers regulated hunting opportunities for visitors who want to bag quail, bighorn sheep, mule deer, cottontail rabbit, coyote and fox. The state provides information on permits and open seasons for each species.
The Camels of Quartzsite
Arizona's Sonoran Desert was the site of an ambitious effort by the U.S. military in 1856 to use camels to transport equipment and people across the arid landscape. Military officials went as far as importing 70 camels from the Middle East and hiring a Syrian camel expert named Hadji Ali to help oversee the effort. The camel transport program was shelved with the outbreak of the Civil War—Jefferson Davis, the secretary of defense who'd hatched the plan, went on to become the president of the ill-fated Confederacy. Ali, who was nicknamed "Hi Jolly" by his American hosts, eventually settled in Quartzsite and became a beloved local figure, living into his 70s. Residents later honored Hi Jolly with a pyramid-shaped memorial that still stands today.
Discover more great Arizona destinations.
For More Information:
Quartzsite Business Chamber of Commerce
928-927-9321
www.quartzsitebusinesschamber.com
Arizona Office of Tourism
866-275-5816
www.arizonaguide.com