What are some of your favorite things about camping or RVing? For me, it's the chance to cook over a fire. We don't get to do it that often in our stick and bricks home, so anytime we encounter a fire pit at an RV park it's almost a guarantee there'll be a campfire meal that night. Because why just stick with s'mores when you can create an entire delicious meal over the fire — like Parmesan Zuchini Campfire Foil Packets? The only tricky part is remembering to make part of that meal healthy.
When my husband Kacey and I go camping, without a doubt he will want to grill beef steaks and chicken over the fire. Kacey enjoys vegetables but will never think about them or include them in his planning. In fact, many common camping meals (I'm looking at you, hotdogs!) tend to lean on the unhealthy side of things, and vegetables are often an afterthought. But making a tasty vegetable side dish is actually very simple and can cook alongside your main entrée.
This delicious medley of squash and zucchini in foil packets is not only extremely easy to make but can also be adjusted to suit a variety of dishes. There are many combinations of spices that'll work well with these vegetables. You can go with basic rosemary and olive oil, dress them up with Herbs de Provence or take the quick (and still delicious!) route of using your favorite seasoning salt like Johnny Salt or Lawry's. These packets work well as a side dish to a meat course or can be served over rice or grains for a vegetarian meal. For today's recipe we're using Italian seasoning and parmesan cheese for more of a zesty take on these veggies. But you can even replace the butter with olive oil and remove the parmesan cheese to make these packets vegan. Basically, the customization options are endless!
Foil Packet Cooking
The other fantastic thing about this recipe is that it cooks in a foil packet. If you've never discovered the ease and joy of foil packet recipes, you're in for a treat! Foil packet dinners can be cooked over a grill or the fire, are incredibly easy to clean up and can be customized to your taste. They're also a great way to get the whole family involved in dinner and have your kids or spouse make their own foil packet exactly how they want it. It's all the customization without any extra work for you.
Tips for Foil Packet Meals
There are a few things to remember that can make your foil packet recipes even easier.
You're going to want to use either heavy-duty foil or use 2 layers, especially if you'll be cooking these over the fire. In fact, you should really use 2 layers of foil anyway. Using a single layer can lead to rips or holes when you rotate the packets or remove them from the grill or fire.
If you're cooking something starchy like potatoes, it can help to coat the inside of the foil with butter, oil or a nonstick cooking spray so the food doesn't stick while cooking.
Make sure you seal the foil packet tightly so the food can properly steam. If there are puncture holes or the top isn't properly closed all the steam will escape and the food can burn.
Rotate the packets while cooking so they can heat evenly on all sides.
Be extra careful when removing the packets and opening them after cooking. The hot steam escaping can burn, so be sure to keep your face, fingers and skin out of the way. It can help to poke a small hole in the packets first to let the steam escape before opening them all the way.
Parmesan Zucchini Campfire Foil Packets
Makes 2 packets/4 servings
Ingredients:
2 medium sized zucchinis
2 medium sized yellow summer squash
¼ cup melted butter
Juice of ½ lemon
2 tsp of Italian seasoning (or ½ teaspoon each of rosemary, thyme, basil, and oregano)
¼ tsp crushed red pepper flakes
1/3 cup of shredded parmesan cheese
2 TBSP chopped parsley
Salt and pepper to taste2 pieces of heavy duty aluminum foil about 12-14 inches long
Directions:
1. Prepare your cooking fire and let it burn down to coals. If you're going to be grilling these, you'll want to preheat a gas or charcoal grill to medium heat, around 350-400 degrees Fahrenheit.
2. Chop the zucchini and summer squash into bite size pieces.
3. Mix the melted butter, lemon juice and spices in a small bowl.
4. Spread the vegetables in the center of the two tinfoil squares with plenty of room around the edges to wrap up each into a packet.
5. Pour the butter and seasoning mixture over the vegetables on both of the foil squares. Add salt and pepper to taste.
6. Sprinkle the parmesan cheese over each packet and top with the chopped parsley.
7. On each tinfoil sheet, bring the two long sides of the foil together and fold them over a few times. Then fold in the ends to make a sealed packet. Be sure to leave some room inside the packets for the steam to cook the veggies. Double check to make sure there are no holes in the foil and that the packet is sealed tightly.
Grilling Directions:
Grill the packets over direct medium heat for 10-15 minutes until the vegetables are soft and the cheese is melted. Rotate the packets 90 degrees halfway through cooking. Cooking time varies slightly based on how thickly you chop the vegetables.
Remove Parmesan Zuchini Campfire Foil Packets from the grill and let cool for 5 minutes. Carefully open the packets and watch out for hot steam escaping which can burn.
Fire Pit Directions:
Let the fire burn down to the coals.
Place the packets directly on the coals and cook until the vegetables are soft (about 15-20 minutes depending on how hot the coals are). Rotate the packets 90 degrees halfway through cooking. Cooking time varies slightly based on how thickly you chop the vegetables.
Use tongs to remove the packets from the coals and let cool for 5 minutes. Carefully open the packets and watch out for hot steam escaping which can burn.
If they need a few more minutes, just reseal the Parmesan Zuchini Campfire Foil Packets and place them back on the coals to keep cooking a little longer.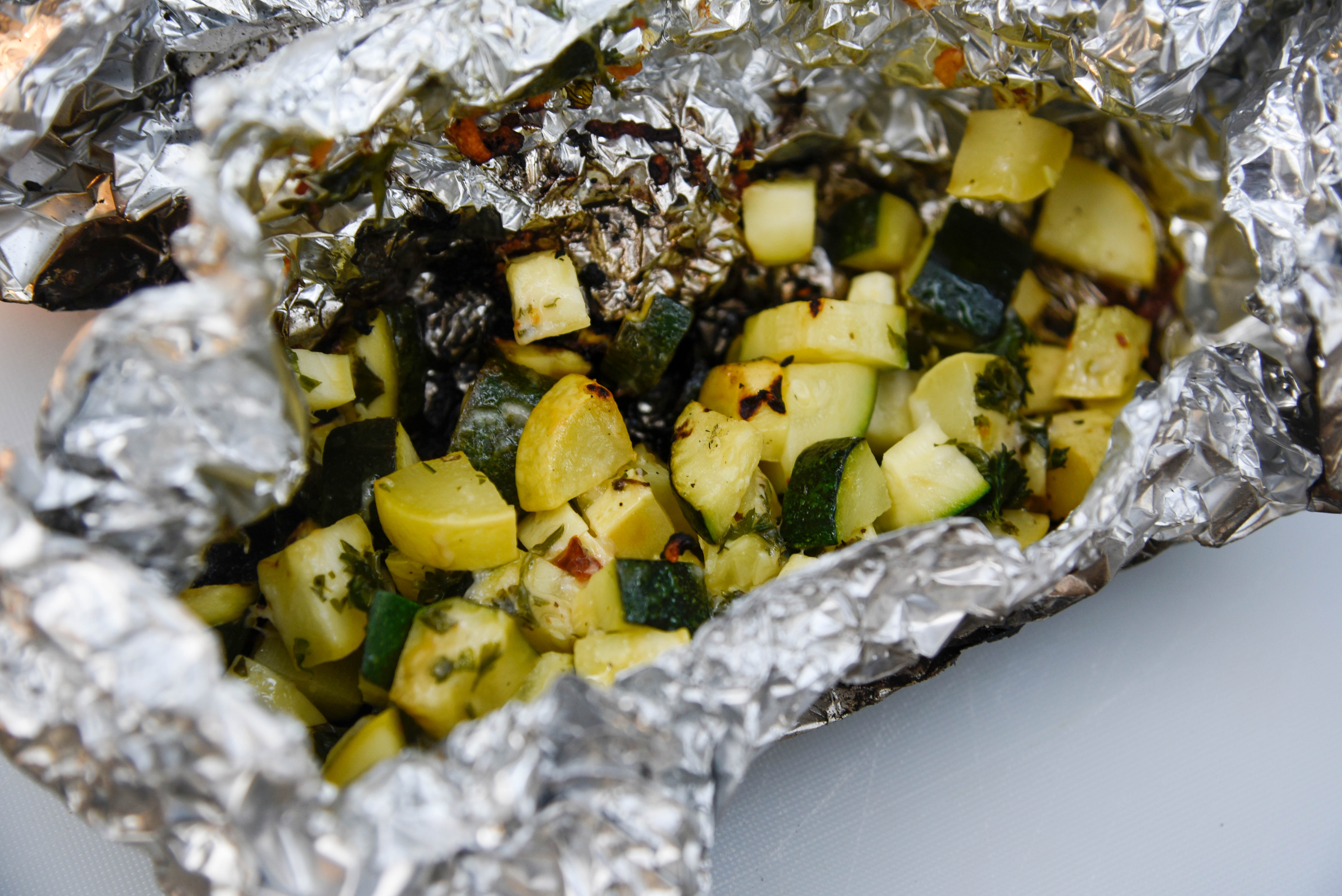 Now enjoy! You can serve the veggies straight from the packets or combine them into a bowl for easy serving.