General Info: Olympic National Park spans three distinct ecosystems across 922,000 acres. Here you'll marvel at old growth and temperate rain forests, wild Pacific Coast and jagged glacier-topped mountains. Ninety-five percent of the park is designated wilderness, protecting the flora and fauna that live here. The April '09 edition of Highways Magazine features an article about Olympic National Park with some great tips for seeing the park by RV.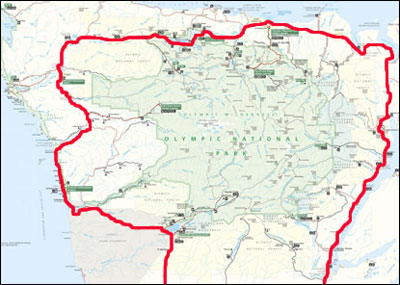 Hours and Fees: The park is open 24 hours a day all year round, but some park facilities and roads may close for winter or temporary weather conditions. See the 2009 calendar list for more info. An entrance fee of $15 per vehicle is good for 7 consecutive days. The RV dump stations cost $5 per use (see camping info below for locations).
Activities: There are literally too many things to see and do in this park for a detailed list in this blog post. However, I can tell you that there are activities to suit every taste and ability, from auto touring and dayhikes to fishing and backpacking.

Pets: Your leashed pets are only permitted in park campgrounds, picnic areas and parking lots. Don't leave you pet unattended. Read the full park pet rules.
Weather: This park has a wide variety of weather conditions that change quickly. In general the Olympic Peninsula has a moderate coastal climate. Summers are warm (65-75 °F) and winters at lower elevations are mild (30s-40s °F). Heavy snowfall can be common in the mountains. Bring rain gear and wear layered clothing for maximum comfort.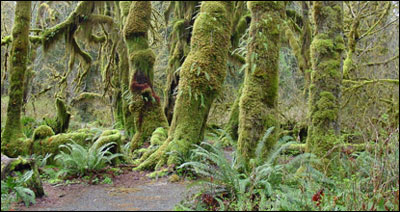 Camping Info: The park has 16 campgrounds with a total of 910 campsites, but they only accommodate RVs up to 21 feet in length. The campgrounds do NOT have hookups or hot showers. See the park campground chart for more info. However, the park does include two concession-run RV campgrounds that you'll probably find more pleasant. Sol Duc Hot Springs Resort in Port Angeles features 17 RV sites with water and electrical hookups that can fit RVs larger than 26 feet. Log Cabin Resort (also in Port Angeles) has full hookup sites. There are plenty of other private RV parks and campgrounds in the Port Angeles area, so check the Trailer Life Directory website to find the right one for you.
For recorded road and weather information, call the (360) 565-3131. If you're from Washington or have visited Olympic National Park in the past, please chime in with your stories and tips! Your insights can help others have a fantastic trip.