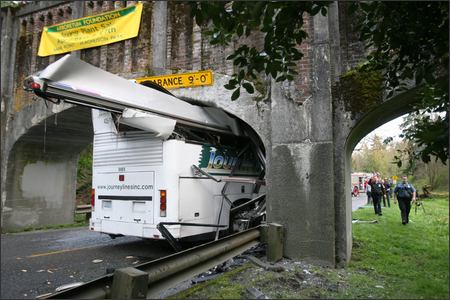 Another view from Lug_Nut.  So you have GPS navigation in your RV, it should be smooth sailing now.  Well, maybe not quite.  There are issues that can be experienced when using many of the makes and models  with an RV or any larger than a normal size vehicle.  Additionally, there are the odd quirks inherent in many, if not all, GPS makes out there.  We can't do much about these, but we can better manage the GPS RV application.
The sizes and configuration of some RV's can make negotiating some roads, turns and geographic conditions, difficult, or  in some cases, impossible.  The GPS programs are basically made for navigational guidance for general use.  Many do not take into account such things as bridge clearance, narrow roads with tight turning radius, grade steepness or other overhead hazards.  The upper photo shows a bus that the bus company says was routed by a GPS through a low clearance overpass.
So, how can an RV owner deal better with these challenges?  First, the GPS should be user configured to best meet this unique application.  Configuration usually includes such things as enabling or disabling interstate highways, toll ways, secondary roads, fastest routes, shortest routes, etc.  Generally, choices like "Shortest Route" can lead to less than ideal roadways, at least for larger vehicles.  There are some makes that allow you to select your vehicle type, motorcycle, car, truck or bus.  These are far more adaptable to larger RV types.   Additionally, once a destination has been selected, a choice of route is usually available.  This is a good time to study which of the selections would probably take more favorable roads for your rig's size and type. (Caution: Even pre-programming of a specific vehicle type may not avoid all low clearances.  Therefore careful observation of all overpass's is required as well as common sense.) 
Okay, we have programmed the configuration of our GPS, we have also selected the best choice of the offered routes, now what?  Well, you have to add one more thing, some common sense.  The GPS does not have eyes, and even if it did, it would not necessarily foresee clearance or maneuvering issues that may lay in you path.  Let's look at some of those issues and how to possibly deal with them.
Low Bridge Clearance: There are over 5,000 accidents each year involving tall vehicles and low clearance bridges at a damage cost exceeding $100 million.  You first must be aware of the height of your rig in both feet and meters.  It is surprising how many RV owners are totally unaware of exactly what their vehicle's overhead clearance is. 
Possible Solutions:  If you are not already, make yourself aware of the statutory clearance for your state or area.  This is the minimum height that must be displayed for each structure that is at or below this number.  These heights range from 13'6" to about 14' with the most common being the former.  Software is available for some GPS units to add bridge clearance guidance. Additionally, there are other published material listings available both in book form and on the internet such as shown here.                                                 
Narrow Roads With Tight Turns: These can be encountered in urban areas or in the boonies.  More typically, your GPS, while guiding you through a downtown district, may select a ninety degree right turn.  These turns might well be easy in an automobile, but may be difficult or impossible depending on the size and type of RV you have. Yet still, you will hear the unshaken commanding voice, "Right Turn Ahead".
Possible Tight Right Solutions:  Turning in tight downtown areas can better be accomplished if all your turns are to the left.  This allows you to nearly complete the turn before even entering the selected street.  So, instead of following the GPS guidance direction "Right At The Next Turn" go straight an extra block and turn left.  Providing the roads are passable and not one-way, at you, two more left turns will bring you back to your original right turn intersection, but this time you go straight.  Your GPS will recalculate your route, so don't think it's going to be angry at you and never speak to you again.  So, if faced with a turn that you have question that you may not be able to make, don't do it.  Just because "Nagging Nelly" commands a turn, does not make it necessarily  the right move.  Using common sense here can avoid embarrassment, stress and possible property damage.
Unusually Steep Road Grades: There are streets and roads in North America that you would not want to scale or descend with many RV types.  Roads like Canton Avenue in Pittsburg, for example, at a maximum of 37% grade is one of the roads that should be avoided.  I have driven on paved roads in Tortola with grades of nearly 40% and I can confirm that a four wheel drive is needed.  If you were to allow a two wheel drive vehicle to stop, you would not have the traction to get it going again.  In the case of most larger RV's, on even lesser grades, they would lack both the climb power and the downhill braking ability.
Unusually Steep Grades Solutions:  Fortunately, there are few roads that have extreme grades, but never the less, you don't want to be on one.  There are special topographical maps as well as books and internet sites that can identify road and highway grades throughout the country.  Studying the route prior to departure and observing all signage should keep you clear of this hazard.  Common sense, though not always that common, should prevail.
Other Overhead Hazards:  Some of these can be found in such locations as service stations and facilities in the form of outdoor shelters over gas pumps and overhead signage.  Your GPS can't take the blame for any of these, but low hanging trees along roadway perhaps.
Overhead Hazard Solutions: Off road man made overhead hazards require alert observation and common sense.  Roads with low hanging trees should be avoided.  If you find yourself pulling to the middle of the road to avoid contacting tree branches, it's time to change your route.  Not only that this may result in an accident it also indicates the lack of truck or large vehicle traffic.  If trucks were using it the branches would be clear for your RV.  The danger of the fact that truck do not use it begs the question, "Why!"  Perhaps a low underpass along the way or a low weight capacity bridge.  So, get your GPS to re-route you via a more suitable passage.
Well, I think we can conclude that the GPS we currently use in our RV's, is an aid to navigation, not the navigational guide they are toted as..  Common sense may still be the best navigational tool we have.
Safe Travels     –     Lug_Nut     –      Peter Mercer