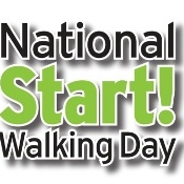 Hey! We have a big event coming up, it's my husband's birthday today. So I want everyone to celebrate with him. It just so happens that the heart association feels the same way, they have declared this day, April 8, a very special day. They decided to celebrate by designating a national Start Walking Day. So I invite you all to join in.
If you are already walking, see if you can find someone to join you and pledge to begin walking on a regular basis. It is getting to be spring in most parts of the country, which means warmer weather, and longer daylight hours, which translates as more time to take that walk. Start out with 30 minutes three times a week. April 8 can be your first day to begin a new and positive way to practice taking care of your health. Once you have established a regular routine you will find that the consistency and practice of walking offers many positive health benefits. Just a few of the many benefits to this daily walk routine are:
Reduces the risk of heart disease
Reduces the risk for cancers
Reduces the risk for stroke
Reduces the risk of Type II Diabetes
Reduces stress
Reduces the risk of hip fracture
Helps control blood pressure
Increases the good cholesterol–HDL
Helps weight loss
Helps with sleep at night
So what are you waiting for? Get started today, April 8. Walking is such a great activity and can be done anyplace, anytime, with no extra fees or need for equipment. This one practice, a daily 30 minute walk can avert so many of the problems that threaten our health and longevity. Tie on your walking shoes and join us putting one foot in front of the other in celebration of many long healthy years, on National Start Walking Day. Join our birthday celebration, one sneaker at a time. See you there.