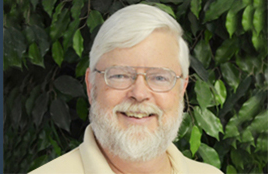 Hi All! This month we've got holes in the roof, stuck dump valves and hose fittings, and some other common maintenance issues. Have a great summer RVing and be sure to send your RVing questions to [email protected]!
---
Hi Mark.
We had a large branch break off the top of a tree and spear through the roof of our 36 ft. Outback travel trailer.  We were able to remove the large limb, and luckily it didn't hit the slide out or interfere with any electrical wiring.  The hole is about 10" to a foot in diameter, and the roofing around the hole has caved in (about 4 inches).  The tree went all the way through and we also have interior damage.  Ceiling tile, insulation.  Is it possible to repair this damage on our own using a square cut to size metal sheet, foil faced foam/insulating sheets and FlexSeal products?  I see that FlexSeal not only comes in caulking cans, but in gallon cans as well.  Would this product be adequate to cover over and repair the roof once the metal sheet was in place?  Is there another product you can recommend?  Also, can we order through Camping World a replacement ceiling tile? I've received quotes of between $2,500 and $3,000 to repair it at a dealer, but since the damage is basically repairing a hole in the roof/ceiling, and my husband is a handy kind of guy (me too for that matter), I wanted your opinion on the possibility of home repair and products you might recommend. Thanks so much, and I look forward to hearing from you. Debra
Hi Debra
I can't see the damage, so I'm really guessing here, but….
First, I'd strongly recommend having that work done by a qualified RV repair facility. They'll have the best access to the right materials to match things like ceilings and trim, and they'll usually guarantee the work. If you want to do it yourself, you need to repair the roof with the proper materials, not just make a big patch for it. How close is that hole to any roof loads or weaknesses, like air conditioners or roof vents? A hole that big may have damaged the structure of the roof. You'll need to cut back into the roof on the inside far enough to repair any support structure that was damaged. Then, you'll need to repair the resultant larger hole with materials that match the ones originally used, otherwise you'll someday be faced with trying to sell a trailer with a badly patched hole in the roof. To seal the repaired roof, I suggest you stick to products that are designed for RV roofs. www.dicorproducts.com is a good place to start, they specialize in RV roof repair and maintenance products. Eternabond roof repair tape might work to seal the roof, if the hole isn't too big. Remember that RVs move, so any repair you do must be vibration and flex proof.
---
Mark,
I've been using my electrical on our hot water tank, has been working great on our RV trailer for last few years. It recently stopped producing hot water just lukewarm, so thinking it was the water heater element we installed a new one to no avail as new one is same as old one (which still worked when testing it.in a pail of water). The water gets hot when we turn on the gas. Do you have an idea what to look for? Thanks, Wayne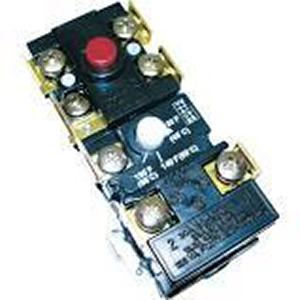 Hi, Wayne
That's probably an easy fix: There's a thermostat somewhere on the water heater tank that controls the electric element. Sometimes it's on the front of the heater (outside the rig), sometimes on the back (inside). If you have an Atwood heater, the thermostat looks something like this.
That thermostat is either going bad, or needs some adjusting…. If memory serves, some Suburban heaters use the same thermostat for both gas and electric, but I'm not certain about that, so look for a similar thermostat assembly. They are inexpensive and fairly easy to replace, if you can get to them. Be sure to unplug the rig from AC power before you mess with it!
---
Hi Mark,
I am new to owning an RV travel trailer, a small 14′.  I have been looking at RV's for about 10 years with the possibility of someday doing the workamper life.  My mind went to storing for the winter already and the trailer I bought has solar power on the roof with 2 batteries.  I wanted to put a cover or a tarp on it when I store it so what so I do about the batteries not charging?  Do I need to disconnect anything for the solar power system while in storage?  Kimberly
Hi Kimberly
If you're going to cover those panels, you'll need to do something to provide for battery charging during the storage period. It's best to disconnect the batteries from the RV. That will eliminate any phantom loads that tend to drain the batteries over time. Then, you can either remove the batteries and place then somewhere for storage, like in a garage or shed, or you can leave them on the trailer. Since batteries tend to self-discharge slowly in storage, you'll need to either put a battery maintainer on them, or charge them overnight once a month with an automotive battery charger. Check water levels each time you charge them, or once every month or two. The solar system, being covered, won't be producing any power, but If there's a fuse or disconnect for the solar system (there usually is) it's a good idea to disable the system for storage. If you can't, just make sure that the disconnected battery terminals are isolated from each other and the vehicle frame, and don't uncover the panels until you have the batteries hooked back up.
---
Mark: 
What can I use with or without water to lubricate the waste valves in my gray water and black water tanks.  I have had the cables replaced but they are still hard to pull out or push in to close.  I flush the black water tank every time I empty it. Thank You, Ron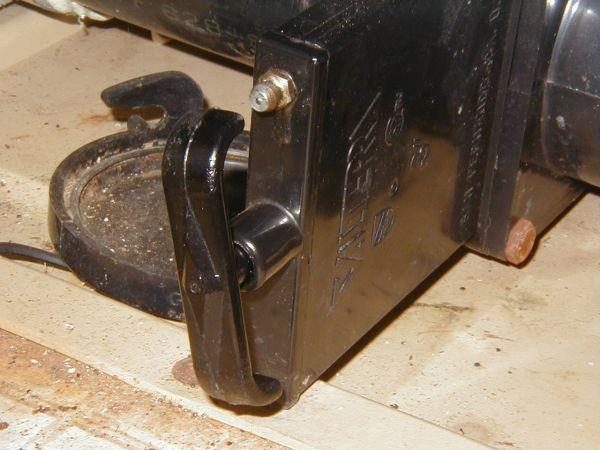 Hi Ron
Since you already replaced the cables, we'll concentrate on the valves. A lot depends on whether or not you can get to your valves…. If they are inaccessible, then about all you can do is add a lubricant to the holding tanks. They sell various slide lubricants at RV stores, but I've had good results using just olive oil. You drain the tanks, then close the dump valves and pour a small amount of olive oil (like ¼ cup) into the black tank through the toilet and do the same in the shower drain. In the shower, run some water down the drain to carry the oil past the P-trap and into the tank. Let it sit for an hour, then rapidly work each valve open and shut, this usually helps get some of the lubricant into the seals and loosens the valve up.
If you can access the dump valves, there's a better fix: Drill and tap each valve body for an automotive grease fitting (commonly called "zerks"). You can then use a grease gun to force some grease into the valve body to lubricate the valve. This works really well, and you don't have to add grease very often, maybe once or twice a year. I've done this mod on all my RVs. Here's a picture so you can see what I'm talking about.
---
Mark:
I have trouble disconnecting sewer hoses from each other and from the sewer connection at the campsite. The diameter is too large to get my hands around to grip and loosen. I have tried three different hose brands. Any suggestions? Steve
Hi Steve
Try lubricating the rubber seals and the flanges and ears of the connectors with a little Vaseline. That usually makes them a lot easier to connect and disconnect. If that's still not helping enough, there are sewer hose wrenches available to give you more leverage. You can try one, but they don't seem to be very well reviewed, most folks say they're too flimsy and don't work well, but they're cheap and worth a try, maybe. There are several different ones out there.
You can also try cutting a square of that non-slip RV shelf liner stuff and use it on the fitting to help you get a better grip.
https://www.amazon.com/dp/B00I3FYP7S

This stuff also works great on stuck jar lids and other places where you need to "get a grip".
Founded in 1978, the Escapees RV Club provides a total support network that includes a wide variety of services and opportunities:
Mail Service- Escapees offers the largest private mail service in the country. Members are able to personalize their mail delivery with multiple options. Custom sorting options, delivery schedule and even mail scanning. We make it easy!
Mapping Tool- Plug in your starting point and destination, and let us do the rest! Our mapping tool will show you discount parks along your route, as well as trusted commercial members and endorsed vendors to help you with all of your needs along the way.
Education- From our annual Escapades to our discussion forum, we help you connect with fellow RVers to share experience and knowledge. For the hands-on learner, RVers' Boot Camp is a great way to learn about RV operation, safety and maintenance. Our award-winning magazine is also a great resource for peer-to-peer advice from fellow RVers and industry experts.
Community- When you see an Escapees sticker on a rig, you know you've found a friend. Escapees hosts a variety of events throughout the year, including convergences, excursions, chapter rallies and Escapade. Each of these offers the opportunity to connect with other RVers and make new friends.
A complete listing of all Escapees events and a comprehensive list of member benefits are found at www.escapees.com