Gold Canyon RV and Golf Resort is located just outside of Phoenix and welcomes guests to a warm community of natural beauty. Situated amid the stunning surroundings of the Sonoran Desert, the resort has countless activities and amenities. This 55+ active adult retirement community is a genuinely energetic and beautiful place that redefines active adult living and RVing. Carrying with it a nine-hole executive golf course, two pools, tennis courts, state-of-the-art fitness center and more to make certain there's something suitable for everyone.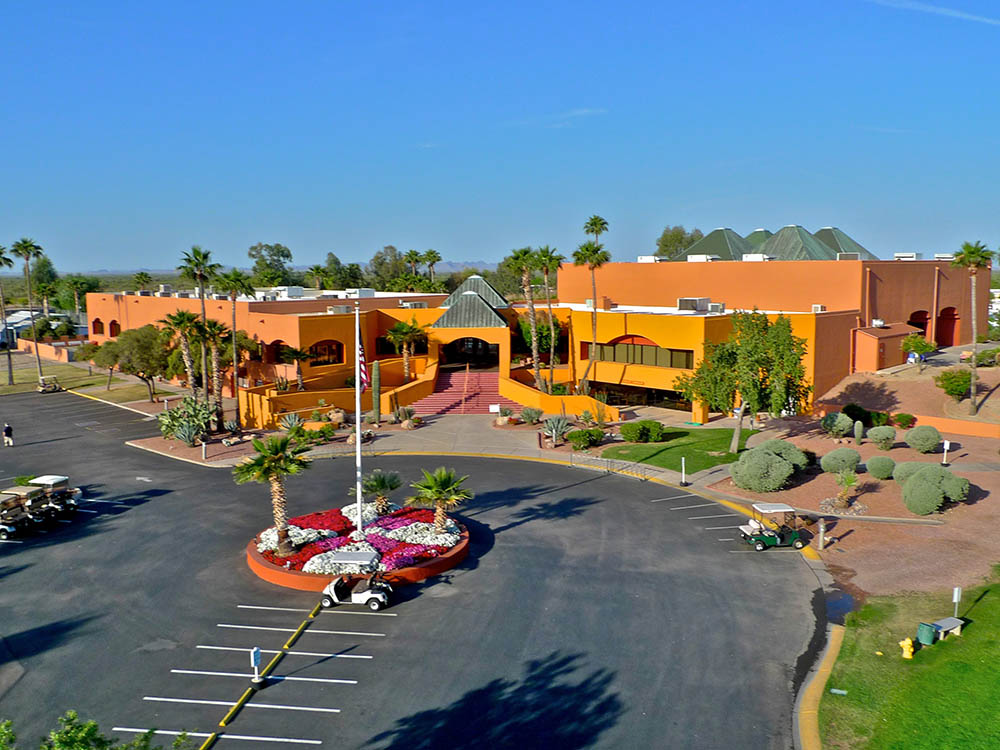 With an on-site activities director, Gold Canyon ensures there are always options for everything under the sun, including potlucks, wine tasting, comedians, dances and live music. Tour the geological treasures of Arizona and the proximity of the Superstition Mountains — all in your backyard. You are able to be as active or relaxed as you please. Plus, quality and affordability go hand-in-hand for folks who want to purchase RV lots. Make yourself at home here.
Enjoy the heated pool, tennis courts, putting green, game room and more. Or simply relax in one of the comfortable RV spaces with ample amenities. Choose from luxurious RV sites:
The Elite sites are nicely landscaped, with a palm or sissoo tree, patio table and seating, along with a large, 40×16-foot patio. Included in the rate is cable and internet, along with water, sewer and trash. The on-site staff will help you to your site and be available with any assistance that is needed to get you set up and ready to enjoy your stay.
Deluxe interior sites come with a 7×30-foot or larger pad with an average size site of 38×40 feet. The rate includes water, sewer and trash. Deluxe sites are in various locations so you may have a view of the Superstition Mountains or our beautiful golf course or close to our pools and spas. There is room enough for your vehicle and a place to entertain your friends. We also have storage for your ATV and other toys you bring for fun.
Guests can come design their RV vacation and living destination around comfort and beauty at Arizona's Gold Canyon RV and Golf Resort for 55+ active adults.