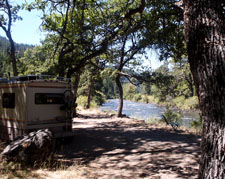 Wherever you look, which ever way you turn, somebody or some agency is slyly slipping their hand into your pocket to alleviate  their looming deficits. The USDA Forest Service's (FS) attempt to remove or greatly reduce discounts provided to holders of the Senior Pass, which gave retirees a 50% discount on camping fees in  National Forest campgrounds, including those operated by concessionaires, would have raised money, but cost seniors a bundle.
Concessionaires, for obvious reasons, were solidly behind the move, lobbying for a 5 to 10% discount instead. This would bring in more money to the FS as well as the contractors, a Win-Win deal–except to seniors.
In a rare push of solidarity, seniors and about-to-be seniors flooded the FS offices with more than 4,000 emails and letters urging the FS to reconsider. And it worked. On Wednesday, FS Chief Tom Tidwell announced that he would not change the fee structure, a move not embraced by the concessionaires that operate the campgrounds.
Unfortunately, other government agencies have started backing off the 50% discounts. The Army Corps of Engineers does not recognize the discount, and some national parks have stopped offering the discount. Only the FS still universally recognizes the discount.
However, boondocking on public land not in a designated campground, including the FS and BLM, is still free unless you stay in one of the BLM's LTVA designated camping areas (though the rates are still cheap). You can legally camp anywhere in the national forests and on BLM land, unless specifically prohibited as indicated by signs or fences, for a maximum of 14 days out of every 28 days, then you must move at least 25 miles away.
As the list of inexpensive camping options continues to dwindle, the move by the forest service was hailed by seniors. But, it would be a good idea to hone your boondocking skills, permitting you to camp–and save money–by camping on public lands where it is still free, as well as take advantage to the 50% discount on designated campgrounds–as long as it lasts before the next assault on the fee structure. What do you think? Do  seniors deserve these camping discounts, or should they pay the same as everybody else?  Should camping fees be raised to help over come the operating deficits of the Forest Service?
For more on boondocking on public lands, check out my eBook, BOONDOCKING: Finding the Perfect Campsite on America's Public Lands.