Camping has entered a whole new era these past few years with the dawn of glamp camping. This style of camping isn't like the olden days where you'd rough it in the woods, rather it's a form of camping that brings hotel-like amenities into the wild. 
That's why we wanted to sit down and unpack glamping in a way that helps you see what it's all about while getting you the tools to find a stay near you.
Let's dig in and see what this new wave of glamorous camping is all about. 
What is Glamp Camping?
Glamping (i.e. glamorous camping) is a form of luxury camping where you're able to get into nature while still enjoying cozy amenities like plush beds, linens, kitchenettes, porches, decks, and more. 
Some examples of glamp camping you might have heard of include tiny homes, luxury treehouses, safari tents, yurts, and beyond. 
The sky's the limit when it comes to different types of glamping. The only requirements are that it be in nature and that it offer more upscale amenities than traditional camping. 
Different Ways to Glamp
As the glamping trend has grown, so too have the many different ways to glamp out. Here's a non-exhaustive list of the different styles:
Glamping Tents
These ain't your grandpa's tent. Glamping tents are a canvas oasis that usually feature a built structure with tent material. Inside, you'll often find plush bedding, a kitchenette, and sometimes even your own private bathroom — in a tent!
Many glamping tents also feature covered decks so you can take your morning coffee with natural views. For example, the luxury tents at Mama Gertie's Hideaway Campground in North Carolina are tucked in private wooded sites, come fully furnished, have covered porches, and feature plush beds.
Conestoga Wagons
Yep, you read that right. These rigs bring wild west luxury to your next glamping experience. They'll often feature so many niceties that you'll feel like you're in a suite.

We're talking things like fine wood trimmings, large comfy beds, amply equipped bathrooms, heat and AC, sitting areas, and more.

Take the wagons at Page Lake Powell Campground in Arizona. They fit right in with the scenic red rocks and cowboy vibes of the camp — all while bringing you the comforts of home. 
Vintage Airstreams (and more)
Vintage camping trailers, lovingly restored, are an increasingly popular way to glamp.

The beauty of this glamping style is that you get to experience RV life even if you don't have an RV — and in an even more exciting way. 
The vintage Airstreams at Palm Canyon Hotel and RV Resort show off the vibes of yesteryear, while still offering all of today's best amenities. 
Tiny Homes
Glamp camping is a solid way to try out the tiny home movement. That's because glampgrounds offer 'tiny' homes with a mighty slate of benefits. 
Even though they call them tiny, many of these home rentals can sleep up to six comfortably and feature ingenious style and design that flows with the nature around it. 
Clabough's Campground in Pigeon Forge, TN offers up tiny homes with a patio deck and grill. So you can BBQ it up with the fam as you soak in views over the Great Smoky Mountains. 
Enjoy amenities like this onsite pool before returning to your luxury tiny home
Yurts
Yurts have a long history of providing versatile and durable shelter in any climate. This camping tradition has been transformed into a luxury glamping experience at sites all over the world.

A Yurt is a circular structure that's assembled much like a heavy duty wood frame tent. That wide open space gives glamp designers a bunch of space for creativity.
The Yurts at Yogi Bear's Jellystone Park Resort in Niagara Falls get you close to one of nature's best wonders while offering a fully equipped glamping experience. 
Cabins
Cabin camping might've been around for eons, but glamp camping has taken cabins to a whole other level. 
The cabins at the Red Apple Campground in Kennebunkport, ME are right near the Maine Coast and are built out like plush homes. This sort of a stay gives you the chance to plug into nature without ditching creature comforts. 
Oh and at Red Apple, they'll even deliver Maine Lobstahs right to your front door. 
Benefits of Finding a Good Place to Glamp
The biggest benefit of glamping is that you get to experience the healing power of nature without getting too rustic. A good place to glamp will also offer unique furnishings that flow into the areas around them.
The other big benefit of glamping is that it lets you test the waters of camping in a comfy way. If you dig the idea of camping, but are nervous about roughing it too much, glamping is a great way to get part way there. 
The other benefit of searching for and finding a good place to glamp is that you'll be able to choose your own adventure.
Our Good Sam Pack and Stay Campgrounds, for example, provide options that you can discover with the whole family to stay in the sorts of spaces and places that work well for everyone.   
Glamping: What to Expect and What to Bring
The beauty of most glamping sites is that you don't have to bring anything more than you might to a hotel room.

Cabins, luxury tents, yurts, tiny homes, and more will generally be stocked with the linens and toiletries needed for your stay. 
Additionally, many glamping styles feature kitchens and BBQs so you'll have the tools needed to create and share family meals. 
When it comes to what you should expect during a glamping stay, this will depend on the type of glamping site you choose. 
Established campgrounds around the country offer glamp camping options. When you glamp at an established campground, you'll likely benefit from things like a clubhouse, sitewide WiFi, campground activities, and onsite staff. 
Good Sam's Pack and Stay Campgrounds feature glamping options all around the country that also come with the amenities of a modern campground.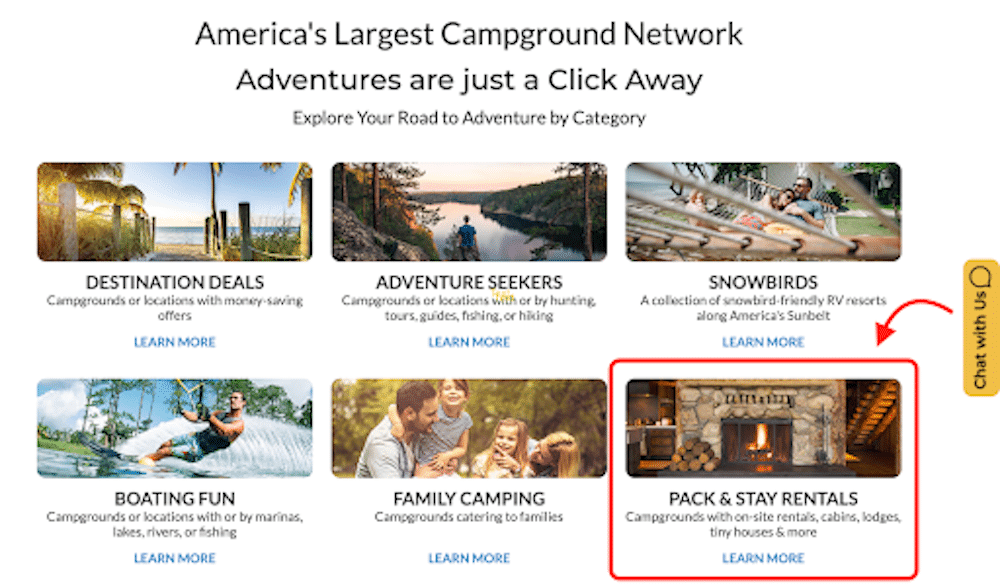 If you choose a more remote or independent glamping site, you might find that it's more basic and doesn't feature the amenities of a campground. These sorts of glamping stays can still be magical, but it's important to be aware of the limitations. 
How to Find a Good Glampground and Glamp
The best place to start your glamping search is by checking out campgrounds in the area you'd like to travel to see if they offer glamping options. This way, you'll know you're in an established location that's experienced at hosting folks looking to plug into nature. 
For all other inquiries, look no further than the Good Sam Campground Directory, a comprehensive list of campgrounds (and glamgrounds) which allows you to search the glamping options at Good Sam campgrounds by state.
Other glamping options you might want to explore are unique stays on properties like ranches, wedding venues, and even private homes. Many of these stays will be listed on traditional short term rental websites. 
It's also important to note that glamping stays won't always be called glamping. 
Tiny homes, for example, are available for stays at many locations around the country. Because the tiny home movement hits on so many different themes, stays like these might be described in a different way, but they still offer the chance to experience glamping. 
—
Even if you have your own RV, glamp camping offers a new wave of travel that allows you to plug into nature in an entirely different way. Glamp stays are as unique as the people and places that host them. So if you're looking for a new and creative way to stay outdoors, look no further than discovering your ideal way to glamp.