Dellanera RV Park you can experience beautiful ocean views & take a casual stroll along 1,000 feet of sparkling sandy beaches. Make us your "home away from home"! Enjoy fine dining, fishing, party boats or a cruise, and our wonderful weather.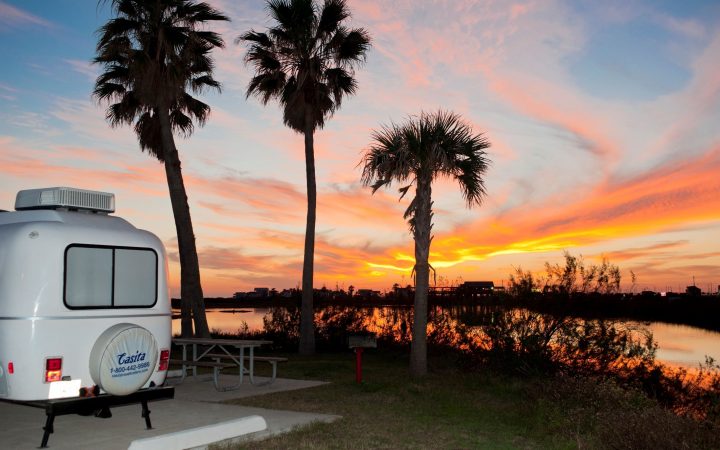 There is nothing like a private piece of the beach! Dellanera RV Park is Galveston's premier beachfront camping site, offering 1,000 feet of sandy beach with 65 full RV hook-ups and day parking. The RV facilities at Dellanera recently went through a major renovation, creating all new campsites to accommodate larger RVs. The sites provide service utilities, water, sewer and electrical service. Each site features its own picnic table and barbeque pit.  A children's playground is also included.
The beach at Dellanera RV Park includes umbrella and chair rentals, a children's playground, picnic sites, and a pavilion with showers, laundry facilities, gift shop and a recreation room. Dellanera also offers free wireless Internet.
Galveston was minimally impacted by Hurricane Harvey, however Dellanera RV Park is suffering from perception issues. But we are open and ready for business.
Special Offer

Receive $5.00 off any Sunday through Thursday reservation in April, May, or June if you book before March 11.  Discount only applies to new reservations and excludes Easter Sunday and weekly/monthly rates.  Call 409.797.5102 and mention Good Sam.
The arrival of spring brings with it refreshing sunshine, warmer weather and longer days. Where better to celebrate the season than on Galveston Island? With 32 miles of sun-kissed shores, there's no shortage of space to start working on your summer tan. Yet the beach is just the beginning, as Galveston has an endless supply of other outdoor adventures, fascinating history to unearth and so much more.
Whether you're paddling along tranquil coastal channels, playing in an indoor waterpark, or indulging in some first-rate dining, you'll find many reasons to visit Galveston this spring.
Discover Galveston's Enchanting History
Step inside breathtaking 19th-century mansions, stroll between towering Victorian-era buildings home to an array of shops and restaurants and reveal the stories of what was once Texas' largest and most cosmopolitan city. Start at the awe-inspiring 1895 Moody Mansion, a sprawling 28,000-square-foot, four-story mansion once home to one of the state's most prominent families.
Savor Outdoor Dining at its Finest
With all the warm sunshine of spring, it's the ideal time to kick back and enjoy a delicious meal (and a drink or two) at one of the many restaurants in Galveston with outdoor patios. Feel the cool sea breeze as you tuck into some of the best seafood in town at Fisherman's Wharf, which has a small dining area over the water with an up-close look at the majestic 1877 Tall Ship Elissa. Head to The Spot, a popular eatery where you can munch on beer-battered fish and chips or a hearty cheeseburger as you savor the view of the Galveston Seawall from the second-floor patio.
10901 San Luis Pass Rd., Galveston, TX 77554