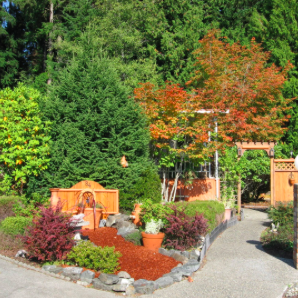 Kitsap Peninsula is located in the Puget Sound, west of Seattle, accessible by road or ferry.  One of the favorite visitor destinations is the city of Poulsbo, and historic Little Norway. There are events and activities to interest all ages.  The city is pet and pedestrian friendly.  Walk and explore galleries, museums and shops in the Arts District or stop by a waterfront restaurant to enjoy the marina and waterfront.
Throughout the year there are many activities around the Kitsap Peninsula from Arts festivals to music festivals and Norwegian cultural celebrations.  These events provide opportunity for great fun and food!  In addition to the festivals, visitors can enjoy biking, golf, water sports, Native American cultural events and more.
Little Norway
Poulsbo is considered by many to be the most authentic Norwegian village in North America  – and well it should be!  The settlers who came here were Scandinavians who felt like they had rediscovered the fjords and snowy mountain tops of Norway.  Interestingly, Norwegian was the language spoken here until WWII!  This history is seen in the statues in the park and in many of the stores, restaurants and the bakery. Visit Kitsap Peninsula Tourism  and Poulsbo Chamber Calendar of Events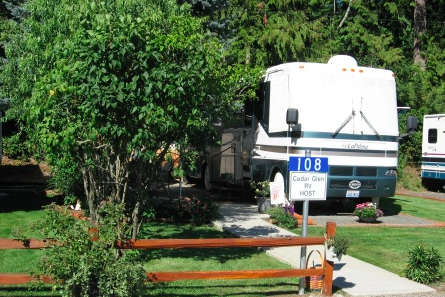 Cedar Glen RV Park
While you are planning your time in Poulsbo, arrange your stay at Cedar Glen Mobile Home & RV Park, a great choice for Northwest living. Whether you're looking for a long-term base, or just passing through, enjoy Cedar Glen RV and our facilities.
Located between Historic Poulsbo and Bainbridge Island, you are only minutes away from waterfront parks, marinas, the Washington State Ferries, Naval Bases, the Hood Canal and breathtaking views of the Olympic Mountain Range. The mission of this family-owned business is to exceed your expectations. From manicured landscaping to level back-ins and modern service facilities including a large rec hall for groups. They promise you a safe, comfortable, clean stay every visit.
Call early for your Poulsbo area lodging at Cedar Glen Mobile Home & RV Park!