Old Threshers Reunion
In its first 50 plus years, the Old Threshers Reunion has grown to be recognized as the largest event of its kind in the country. People visit from every state in the union as well as numerous foreign countries. Visitors number around 35,000 to 40,000 each year at the 5-day event that traditionally ends on Labor Day. The original show was presented on the fairgrounds but has grown to cover more than 150 acres.
The experiences people share at the Old Threshers Reunion and in touring the Heritage Museums are priceless. Families come from miles around to join in a walk through the past to step back into our agricultural heritage.
We invite you to climb aboard one of the many traction steam engines.  Sit behind the wheel of an antique tractor, or take a look at the stationary steam engines on display. Be sure to ride the Midwest Central Electric Railway
Midwest Old Threshers should be on everyone's "bucket list"! It is a treasure trove of agricultural history. From horse drawn power to the threshing machines and steam locomotives of yesterday, to today's country music scene. This yearly show in Mt. Pleasant, Iowa has something for everyone. There is food for every palate as well. Some things you shouldn't miss include the steam trains, the antique steam carousel, the wild west show, and the theatre museum of repertoire americana, which is another great piece of unique history that showcases the many tent shows that toured the U.S. at the turn of the 1900's. Many big time entertainers got their start in these touring tent companies, including Lawrence Welk, Bob Hope, Clarke Gable, Milburn Stone (a.k.a. "Doc" on TV's "Gunsmoke")!
Harvestville Farm
Harvestville Farm is a 5th generation farm located in the heart of farm country in rural Southeast Iowa. Throughout the spring & summer months the farm features a variety of items ranging from plants, annuals, seeds, fresh garden veggies, local fruits, and farm to table dinners. In September and October there are 40 acres of pumpkins. Squash and gourds turn the farm into a harvest haven along with two play areas for families to enjoy, a corn maze, wagon rides and special weekend events. In November the farm transforms once again into a winter wonderland that features fresh cut trees, wreaths, roping, gift items and arrangements up until Christmas.
Throughout the year there are fresh baked breads, cookies and cobblers, along with a variety of soups, salads, paninis, sandwiches and flatbread pizzas served right on the farm in "The Pitchfork Cafe."
Crossroads RV Park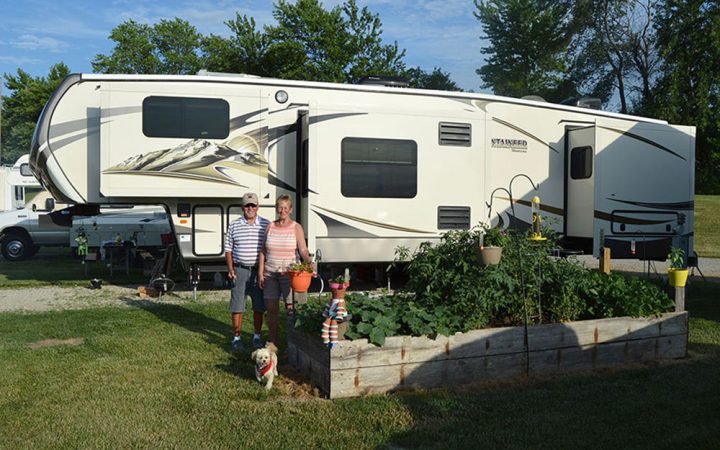 New owners Sid & Laura Davis welcome you to experience a fun, unique visit to Mount Pleasant, Iowa. Crossroads RV Park has 34 full hookup spacious sites just waiting for your arrival. Amenities include free Wifi and cable TV.
Groups are welcome featuring a wonderful recreational meeting room with a full kitchen & grill including a lounge area and patio.
There is a Geo Cache on-site and Crossroads RV participates in the little free library book exchange.
Sid & Laura have big plans to make sure your stay is both pleasant and entertaining. The park is open year round.
708 S Iris St. Mount Pleasant, IA
(319) 385-9737
Photos: Crossroads RV Park