. If you are looking for a "reel" good RV getaway, you will not go wrong with a stay at Northpointe Shores RV Resort on the north east coast of Lake St. Clair.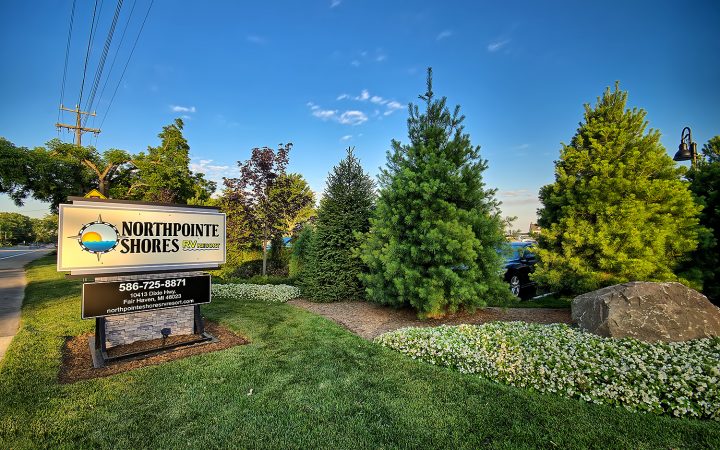 This hidden RV getaway gem will lure you in with stunning big lake views, a nearby boat launch, transient wells and paved sites with full hookup. The upscale adult community of Northpointe Shores RV Resort caters to seasonal RVers, but is open to shorter stays and welcomes travel trailers, fifth wheel travel trailers and motorhomes less than 15 years old.
Anchor Bay
In addition to offering all the amenities any RVer could need-including 50 amp service, bath house, laundry facilities, free Wi-Fi and more-Northpointe Shores RV Resort is the only RV resort located on Anchor Bay.
Situated on the sunrise side of Michigan, the blazing blue water is just steps away from Northpointe Shores RV Resort and is known as one of the finest fishing areas on Lake St, Clair. Don't travel with your own boat? Not to worry, there are multiple charter fishing opportunities on Lake St Clair to indulge in catching massive muskie, walloping walleye and big bass.
The picturesque setting of Northpointe Shore RV Resort makes RVers feel like they are hundreds of miles from nowhere, while actually very close to unique boutique shopping, extensive dining options, gorgeous golf course and multiple recreational activities involving water. With easy access to multiple freeways, Northpointe Shores RV Resort makes a perfect base for day trips around the Thumb of Michigan and the Metro Detroit region, a short 45 minute drive away.
Lake Villages
Delightful lake villages of Harsens Island, Algonac, New Baltimore and Anchorville offer plenty of historic and cultural activities, Meander along the river walk of Algonac, birthplace of Chris Craft Boats, or boat over to Harsens Island for a unique dining experience. Take a short 20 minute drive to Marine City and experience live performances at the Riverbank and Snug Theatres. In nearby Port Huron, take a tour of the light ship on the Great Lakes. Lightships were floating lighthouses anchored in areas where it was too deep, expensive or impractical to construct a lighthouse.
No matter what activities you have planned, or even if you don't have any planned, a stay at Northpointe Shores RV Resort will definitely be the highlight of your RVing adventure.
For more information on Northpointe Shores RV Resort and the surrounding areas, visit www.northpointshoresrvresort.com or call 586-250-2800.
Photos: Northpointe Shores RV Resort