Who doesn't love a delicious slice of pizza? That soft yet crisp dough, the warm melted cheese. Then delicious toppings like grilled chicken, fresh tomatoes or spiced sausage can cure any food craving. So why not bring that perfect comfort food to the campground?  From grilling pizzas over an open fire to cooking them in the latest cast iron pieces, I have created a fantastic equipment list to get you started. Get ready to start making campfire pizza.
Pizza first appeared on American menus in the early 1900s, when Italian immigrants brought the Neapolitan-style dish to New York City. Over the years, it has morphed into varied iterations, from deep-dish to square-shaped to pineapple-topped pie. For our purposes, we're sticking to the basics, with fresh dough and some traditional toppings. Take a bite and you'll feel like you're in Manhattan's Little Italy circa 1905.
Equipment List
Today there are pieces of cooking equipment tailored for the camper who loves to cook pizza in the great outdoors. From portable pizza ovens, specially designed cast iron pizza cookware and countless tools to help you make then bake the perfect pie. From the practical to the outrageous, I have sourced it all for you.
Portable Outdoor Pizza Ovens
With two designs, the Italia Artisan Pizza Oven Accessory from Camp Chef is precisely what you need to create that crisp, brick oven-baked pizza. It is designed with a domed oven top, rear vents, and a double-layered ceiling to mimic the heating patterns of a true wood-fired brick oven. In addition, this oven is also great for making delicious bread, sandwiches, fish and cookies.
Looking for a dependable heat source so you can cook with the pizza oven accessories? Have no fear Camp Chef designed these pizza ovens to be used with their Two-Burner Butane Stove.
Over the Fire Cookware
Cooking homemade pizza dough over the campfire is a fantastic skill to master. Rolling the dough out to the correct thickness is a trick. If it is too thin, it will fall through the grill grates, but if it's too thick, it will never thoroughly cook in the middle. What if I took that worry away? These next products will help you bake up the perfect crisp pizza crust and melt your favorite fresh mozzarella.
Lodge Cast Iron Cook-It-All
Leave it to Lodge to create a 5-in-2 cooking system. With 5 cooking configurations from 2 pieces of cast iron, this system will have you making pizza like a champ. Besides its pizza oven set up, you can use this cookware piece as a grill, griddle, skillet, wok and a Dutch oven.
Classic Cast Iron Skillet
Before the invention of the portable pizza ovens, campers have been using their cast iron skillets and camp Dutch ovens to create a crisp, yet pillow-soft, pizza. The trick many campers have found is using a combo piece of cookware. This one from Lodge has a shallow griddle/skillet and a deep cooker. The 10.25-inch skillet is the perfect size for an individual pizza. Having that shallow base is helpful when it's time to remove the pizza from the pan. The 3-quart-deep skillet acts as an oven dome, trapping the steam from the pizza dough and the toppings. If you want an extra burst of heat, you can place some hot coals from your fire on the top of it, creating the ultimate cast iron pizza oven.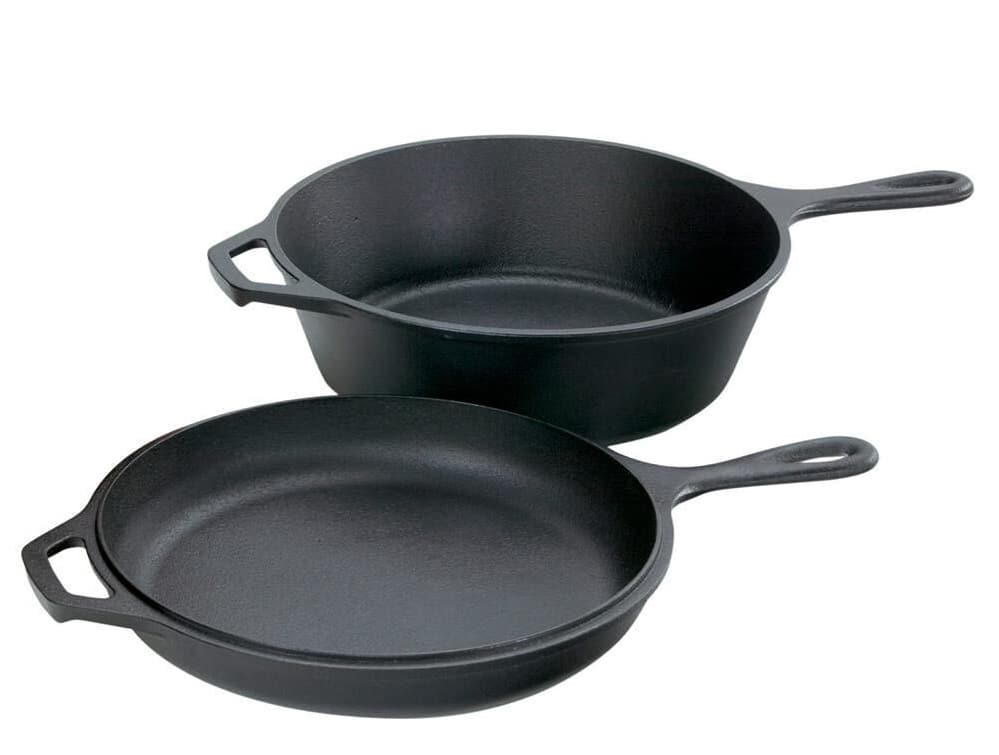 Pizza Making Tools
Having the right tools for the right job when making pizza is essential.  Your hands have to be protected from the heat of the fire, your cast iron cookware needs to be seasoned and your pizza should be cut into slices with the best cutter. Below, I have gathered everything you will need along with some fabulous specialty items.
Heat resistant BBQ Grip Mit
Using heat-resistant gloves that are made of durable industrial aerospace fibers that form a protective heat barrier will keep your hands and fingers safe. Silicone textured surface provides a superior grip and the reversible design of the glove will fit either a right or left hand. This protective glove will protect against extreme heat up to 475 degrees F.
Lodge Cast Iron Seasoning Spray is the best product to use for keeping your cast iron pots and pans from getting food stuck to them or becoming rusted after cleaning. Made with 100% canola oil without additives or propellants, the convenient nozzle allows for a drip, stream, or spray of oil from the 8-ounce recyclable aluminum container. Canola oil from Canada, packaged in the USA.
Pizza Craft is your one-stop online shop dedicated to all things pizza. You will be amazed at all the items they have, from pizza stones to bake your pizza on and create that crisp texture.  A pizza peel is a tool that safely removes your pizza from a hot oven keeping your hands and body away from the heat. Special rollers called dockers that dimple the pizza dough so large air bubbles do not form while the pizza is baking. Large pastry brushes to remove extra flour from the dough and large oversized rollers to cut the perfect slice. The one-stop shop will have you dreaming of pizza all night at the campground or throwing a pizza party for your family and friends at home.
Time to Cook
We create pizza dough with simple ingredients; water, flour, yeast and salt. Once those ingredients are mixed and allowed a bit of time to rest and relax, it leaves you with pillow-soft dough that can be used for calzones, pizza, flatbread pizza, Stromboli, and pizza rolls.
This versatile pizza dough recipe can be made in advance and held in the refrigerator for 4 days, just leave some room in the container you are storing it in because it will expand. Give the dough a gently punch down every day so it doesn't expand too much. This dough recipe can be frozen in small rounds that are wrapped in plastic wrap in the freezer for up to 3 months.
The toughest decision is next. What sauce to add to your pizza? Are you a purest that only has pizza with a delicious red sauce? Do you enjoy adding bbq sauce to your pizza for a sweet and spicy sauce to put grilled chicken or beef brisket on? What about a creamy roast garlic sauce? The sauce possibilities are endless.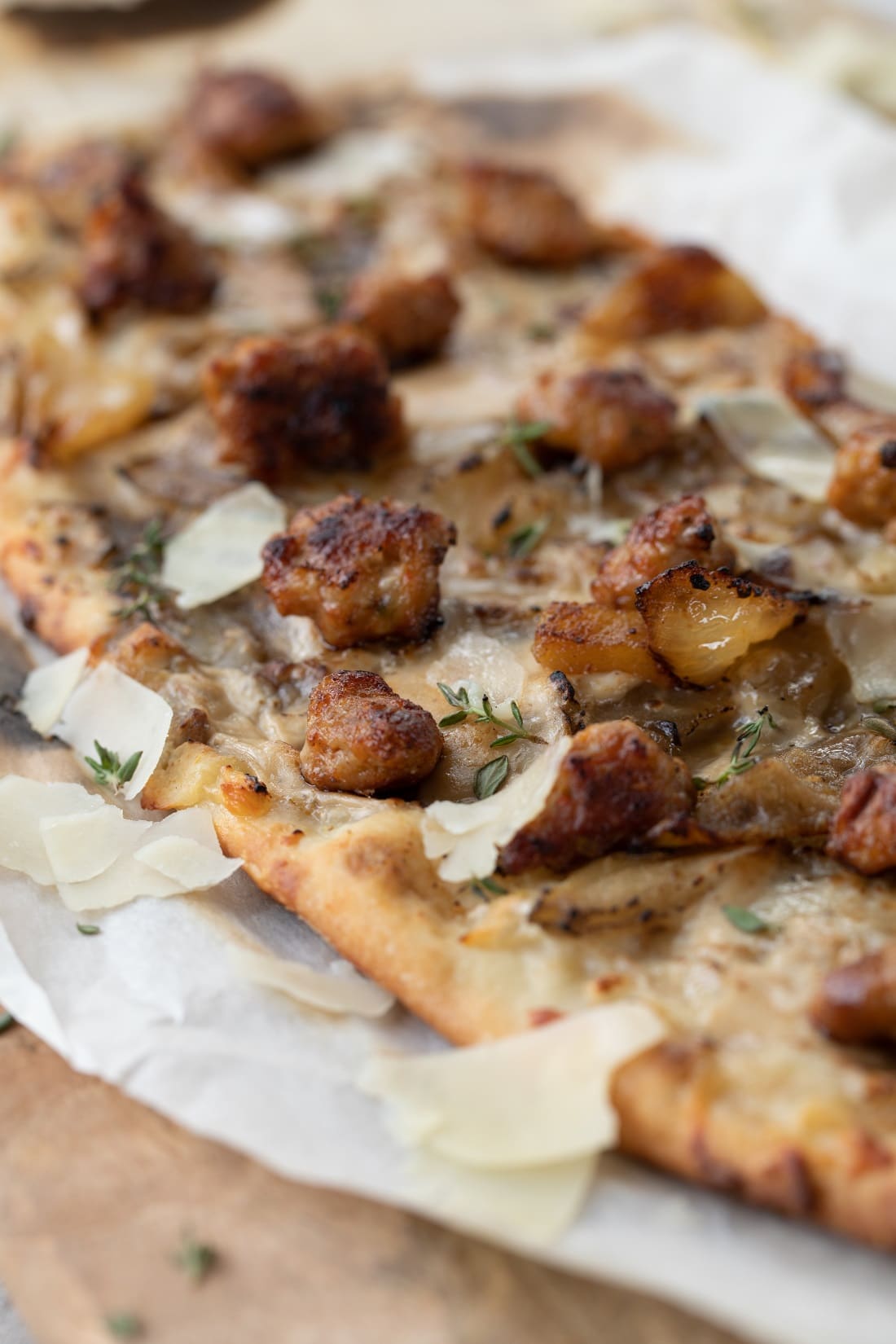 Toppings like fresh tomatoes, basil, mozzarella, olives, artichoke hearts, sausage, peppered bacon and countless others come to mind. About a week before we head out camping, we save a little of our grilled proteins and pack them up to use for pizza night at the campground. That way, I am saving time getting dinner together and my family can make their pizzas any way they desire.
Campfire Pizza
Makes 2 pizzas
Pizza Dough
Ingredients
3 cups bread flour
1 packet active dry yeast
1 teaspoon Kosher salt
1 cup water, warm (90-110 degrees)
3 tablespoons olive oil, for greasing pan
In a medium bowl, combine flour, yeast, and salt. Pour in warm water and stir with a wooden spoon to combine. Cover the bowl tightly with plastic wrap, place in the refrigerator for 12 to 18 hours.
Preheat oven to 500 degrees, place a 10" or 12" cast iron skillet in the oven to preheat too.
Sprinkle the top of the dough with a little flour and turn out dough on a floured surface. Knead for 5 minutes then form a dough ball, divide dough in half, place the second dough ball back in the bowl to rest while making the first pizza.  Roll out pizza dough to form a 12-inch circle about 1/8- to ¼-inches thick, have your sauce and toppings ready. Carefully take the hot cast iron skillet out of the oven and place it on the stovetop, turn the burner on medium-high heat. With a pastry brush carefully spread 1½ tablespoons of olive oil in the pan. Place dough in the hot pan and cook for 5 minutes, turn off the heat, turn pizza dough over and start spreading your sauce and adding your toppings to the pizza. Place in the hot oven and cook for 10-12 minutes. Remove pan from oven and carefully take the hot pizza out of the pan and place it on a cutting board and slice.
Toppings
Meat lovers: cooked Italian sausage crumbles, pepperoni, seasoned cooked ground beef crumbles
Grilled chicken, marinated artichoke and Pesto with creamy garlic sauce.