Camp RiversLanding offers a Smoky Mountain getaway like no other. If you're looking for a Pigeon Forge vacation that's packed-full of relaxation, fun, excitement and memories, you're looking for Camp RiversLanding. Located in the heart of Pigeon Forge, yet cleverly hidden in the seclusion of the Smoky Mountains, our campgrounds will feel like a home away from home.
Although the best and biggest attractions of Pigeon Forge are just minutes from the campsites, you'll wake up to the sounds of nature and beautiful trees around your RV. But Camp RiversLanding isn't just a place to sleep. It's a trip that your whole family will want to experience over and over! Between the serenity of the mountains and the energy of Pigeon Forge, you'll never run out of fun family adventures to enjoy.
Camp RiversLanding Amenities
The list of amenities at Camp RiversLanding is always growing – you could spend a whole vacation right here and never get bored. An all new dog park, game room, bathhouse, pool, jump pad, and playground are only some of the most recent additions to this home away from home.
Free wi-fi is available and reliable throughout the entire campground. You can share every moment with your friends back home. Stop by the camp store for hot coffee and doughnuts every morning, and for necessities you may have missed while packing. RV sites have water, sewer, and electric access as well as new fire rings and new picnic tables, and basketball and tennis courts open to all campers.
Camp RiversLanding also offers free cable TV, laundry facilities.  There are three trolley stops for the Pigeon Forge Trolley, so you don't even have to drive until you're heading out. That's not all, either – our backyard features direct access to the banks of the of the Little Pigeon River. It's the best riverfront access of any campground in Pigeon Forge.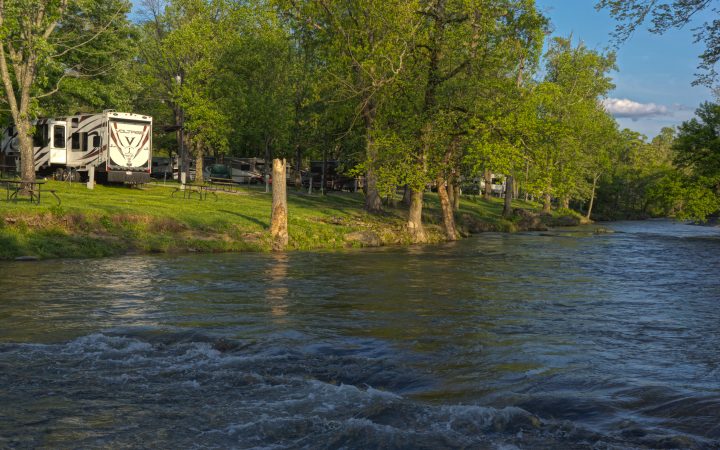 Spend a lazy day tubing or fishing on the river – you may even catch some trout for dinner. Looking to fit the whole Pigeon Forge experience into your trip? You can depend on our concierge services to help you plan out your visit to the greatest attractions that Pigeon Forge has to offer. Already know what your family is most excited for? Go ahead and book tickets today right from the Camp RiversLanding website.
Camp RiversLanding is the #1 campground for Pigeon Forge family fun – when it's time to head home, you'll be taking memories that you and your families will cherish for a lifetime. Come turn moments into memories at Camp RiversLanding!