This summer, why not take a trip dripping with small-town Americana? If you enjoy yard sales, back roads and one-horse towns, then you'll love experiencing The World's Longest Yard Sale! The 4-day event covers 654 miles in 5 states from Gadsden, Alabama, to West Unity, Ohio, along Highway 127. This year's sale takes place August 6-9. If you can't make it this year, the event always takes place the first Thursday in August and continues through the following Sunday of that week, so mark your calendar for 2010!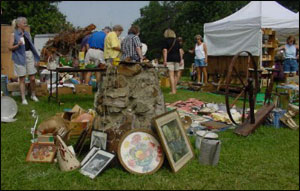 The Sale is now in its 22nd year, and has grown like a weed in the past few years…it keeps getting longer! In its first few years it ran from Covington, Kentucky to Chattanooga, Tennessee. Now it cruises through Alabama, Georgia, Tennessee, Kentucky and Ohio–almost to the Michigan border.
Thousands of vendors hawk antiques, fresh farm produce, home-made quilts, wood crafts and a heap of country cooking (to name a few). The "yard sale trail" also takes you through some amazing scenery, so it's the best of both worlds for a short adventure on America's back roads. Don't miss the lovely Noccalula Falls in Gadsden, Alabama, for example. Read more about sites on the Longest Yard Sale route from the AARP.
Check the Trailer Life Directory for RV campgrounds in towns along the yard sale route. The 127 Corridor Sale Ohio website has a list of towns in Ohio along the sale route–it's up to you whether to start your trip at the north end or the southern end. Download the 127 Corridor Map PDF to see the towns along the way and plan your trip!
WLYS Tips:
Make sure you've got plenty of extra space in the RV for the treasures you're sure to find along the way. If you run out of room you can always ship things back home or to loved ones from a local Post Office or shipping center (UPS, FedEx, etc.). If you're looking for something specific, don't be afraid to ask the seller if they've got anything similar.
Remember to drive cautiously: be on the lookout for pedestrians crossing the street between vehicles, and watch the vehicle in front of you in case of any sudden stops. Traffic will be heavy, so take your time and enjoy the lovely roadside scenery.
The weather will be HOT so pack plenty of water and sunscreen! Wear comfortable shoes since the sale involves a lot of walking to see all the wares. If you need to take a break, enjoy the two comfort stations along the route set up by Lifetime Products (the Official Folding Tables of the Sale). They have tents for shade, tables and chairs to eat at and rest in and hand fans (while they last). Read more Longest Yard Sale tips from HGTV to prepare for your epic adventure!
Rest Areas located in:
Noccalula Falls Park in Gadsden, AL
6807 South York Highway in Clarkrange, TN
Table Discount:
If any of you find yourselves inspired to hold your own yard sales when you get home, Lifetime Products is offering a $10 discount on 6-foot Fold-in-Half Tables (great for traveling) and 6-Foot Adjustable-Height Tables. Simply purchase the tables through Lifetime.com and enter the code WLYS09 at checkout. Offer expires August 31, 2009.