What better way to celebrate Veteran's Day than to witness America's Air Show. Imagine standing before dozens of various aircraft that our military heroes have flown during battles, used to fight for our freedom, and won wars in. November 11th and 12th, Nellis Air Force base will open its doors and host Aviation Nation, and Hitchin' Post RV Resort, one of Las Vegas' highest rated Good Sam parks, is the perfect base camp for all the fun of this weekend's event. With its close proximity to Las Vegas Motor Speedway, where there will be free parking and shuttles to and from Aviation Nation, Hitchin' Post RV Park and its friendly staff will make this weekend an event to remember forever.
While attending Aviation Nation, you'll witness the excitement of aerial demonstrations of the Thunderbirds soaring overhead, view F-22 Raptors, F-35 Lighting II, F-16C Fighting Falcon, to name just a few of the static aircraft displays of past and present, and be able to interact with the airmen and women that fly in these amazing machines.
Extend Your Stay!
Don't just come for the weekend; make a vacation out of your trip. Extend your stay at Hitchin' Post RV Park, and experience all Las Vegas has to offer, and the perfect weather they have this time of year. From their refreshing pool, sparkling clean laundry facility, and fitness room, to their on site restaurant, gaming area, and full bar, the Hitchin' Post is the place to be for the spring and winter.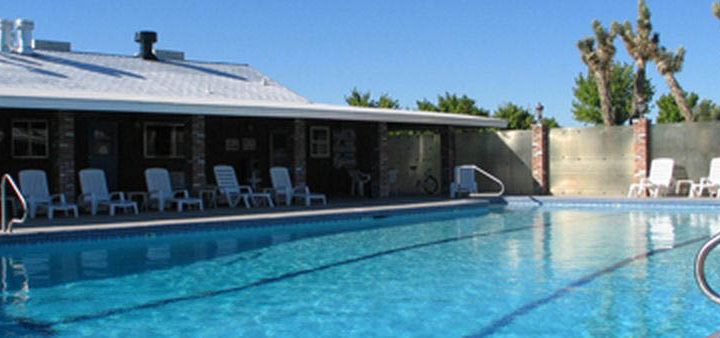 Even though the parking, shuttles, and entry into the Nellis Air Show and Open House are all free, don't leave your wallet at home. Make sure you bring a bit of cash, since many booths will be selling food, beverages, and those much needed souvenirs to show off your attendance.
Since the gates open at 9 and the aerial demonstrations begin at 10:30, make sure you get to the event early so you don't miss out on any of the following events.
America's Air Show – Order of appearance:
        10:30 a.m. Wings of Blue
        10:40 a.m. Vicky Benzing Stearman Act
        10:50 a.m. West Coast Ravens
        11:10 a.m. C-17 PACAF Demonstration Team
        11:20 a.m. Nellis Heritage Parade (Various former Nellis aircraft)
        11:55 a.m. T-33 AceMaker & Smoke-n-Thunder JetCar
        12:15 p.m. Chuck Coleman
        12:25 p.m. Nellis Capabilities Demonstration (Air-to-Air & Air-to-Ground Demos)
        1:00 p.m. OV-10 Water Drop
        1:10 p.m. F-18 TAC Demo
        1:25 p.m. F-22 Demo
        1:45 p.m. Heritage Flight (F-22, F-35, F-86)
        2:00 p.m. U.S. Air Force Thunderbirds
(events subject to change)
Book your RV site now at hitchinpostrvpark.com and don't miss out on this once in a lifetime event, a chance to see America's Air Show, and experience all that Hitchin' Post RV Park has to offer. You won't be disappointed.