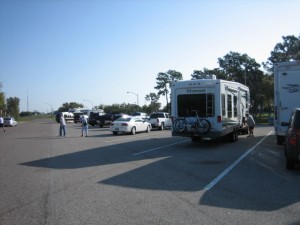 By Bob Difley
Officials from the Utah Department of Transportation and the Highway Patrol, in response to my questions and blog (Aug. 6th) about the rules for sleeping overnight in Utah rest areas, provided the following clarifications:
David Moreno, Utah Highway Patrol:
"There is no difference from overnight parking or overnight camping. Rest areas are designed for travelers to stop and rest for "short periods" It may include drinking water, toilets, tables and benches, telephones, information and other facilities for travelers. We don't expect the travelers to stop, park and spend the night. This will be a violation and all rest stops have posted signs which indicate you can not spend the night. Of course we expect travelers to not drive fatigue and we encourage if they need to take a nap for a few minutes or even an hour or two to please do so, at least to allow the travelers to get the nearest town. Overnight parking is prohibited."
UDOT: I also spoke to Bill Juszcak, Facilities Maintenance Manager of the Utah Dept. of Transportation, who said that there was no law that specifically defined the question of rest area stays, and the state attorneys felt that the issue was not worth getting more specific.
The following rules apply:
* No slides out.
* Don't put anything outside on the lot (barbecue, chairs, etc.)
* No unhitching unless in an emergency.
* If the rest stop is quite full you maybe asked by attendants to move on after a few hours.
* Truckers are required by law to stop after a specific number of hours so RVers must act responsibly and not occupy a space longer than necessary, possibly depriving a trucker of his required rest period.
Bill also stated that it is unlikely that a ticket would be given for simple overnight parking. You would, instead, be asked to move on, and only if you refused to leave when asked, or set up "camp," acted belligerent, or in some other way acted irresponsibly–then attendants may call the HP and you could get a ticket.
He added that as baby boomers retire and more RVers use the rest stops, it may get to the point where more specific laws would be the result, as some other states are now doing. But as for now, if RVers act responsibly and use the rest stops as intended, they will not awake to find a ticket on their windshield.
As a comparison, I checked the rules with a few other states:
California posts rest stop rules on their website, of which these are pertinent to the overnighting issue:
You May:
* Park in any designated parking place
* Stay up to 8 hours in any 24 hour period.
You May Not:
* Camp or pitch a tent.
* Park, to do something away from the rest area such as hike, camp or hunt.
I also contacted the Texas DOT and received this reply:
"Although camping is not permitted, visitors can certainly stay/sleep in their RV overnight. Since the facility must accommodate all visitors, no part of their RV can restrict access to roadway or sidewalks. Use of pop-out features may need to be restricted. Overnight parking is allowed for up to 24 hours. RVers are treated the same as truckers.
The purpose of the safety rest area is to provide a safe and interesting place for drivers to stop to take a break from driving. Please encourage the readers of your blog to use them."
Florida is more restrictive. The following is from their website:
"Overnight camping is not permitted, but visitors may stay for up to three hours."
As of this writing, Arizona has not answered my questions.
Check out my Boondocking ebook and Healthy RV Lifestyle website for more on RV living.