General Info: One of the five original state parks in Maine, Sebago Lake State Park has been a favorite vacation spot since 1938. Located just 25 miles northwest of Portland, the park spreads for 1400 acres along the north shore of the lake in the towns of Casco and Naples. Sebago Lake is the deepest and second-largest lake in Maine at 45 sq. miles, and is famous for its land-locked salmon.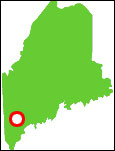 Hours and Fees: Day-use areas are open daily from 9 a.m. to sunset, unless otherwise posted. Entrance to the park is $4.50 for adult Maine residents, $6.50 for adult non-residents, $1.00 for children ages 5-11, and $2.00 for senior non-residents (Maine seniors age 65+ get in free, as do children under 5). Call the park office at (207) 693-6613 for questions and information. Download the Sebago Lake park brochure PDF for general visitor information.
Activities: The park has sandy lakeshore beaches (great for swimming or fishing), sprawling forests, ponds, bogs and a river running through it. You'll have opportunities for picnicking near the lake, cruising around the water by motor boat or canoe, and hiking the trails through the woods. Bicycling along the park roads is another popular activity. In winter, the hiking trails can be used for snow-skiing and snowshoeing. If you've brought the boat along, there's a boat launch for a $5 daily fee. Whatever you choose to do, you'll be able to enjoy the fresh air and gorgeous scenery. You may even catch a glimpse of some wildlife—but remember never to approach or feed animals, no matter how cute or docile they may seem.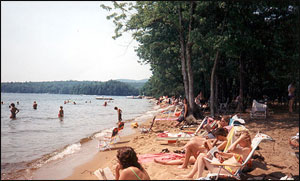 Camping Info: The park campground has 250 dirt campsites, some without hookups and some with electrical and water hookups. Last year's rates ranged from $15-$20 depending on type of site. A dump station is available for a $5 fee. Most sites are shaded and none have room for slideouts. Back-in RV campsites measure 25×25', so if you'd prefer more spacious accommodations try parking the RV at the Naples Campground, a new, pet-friendly RV park with full hookup sites. The state park campground doesn't allow pets.
Download the Sebago Lake campground map PDF to get oriented before your arrival.
Park management asks you to not bring firewood with you, in order to prevent the spread of insects and diseases that may threaten local forests. Buy firewood from a local store and burn it before moving on to another place.
If you're from the Pine Tree State or have visited Sebago Lake State Park in the past, please chime in with your stories and travel tips! Information on this park was scarce and hard to find, so I appreciate any corrections or additions anyone can offer!