The city of Naples was named the happiest and healthiest city for the third consecutive year, and if you ask those who regularly spend their winters at the city's favorite motorcoach resort, they'll likely say Naples Motorcoach Resort had a little something to do with it. How can you not be joyful when surrounded by the gorgeous Florida scenery, five-star amenities, and friendly faces — especially when you can arrive early, stay longer, and save money while you're staying.
Stay for 3 Months, Save $30 a Night
Thanks to strong demand from travelers looking to kick off their seasonal travel while they can still enjoy the fall weather and stay for an extended period, Naples Motorcoach is now accepting reservations of three months or longer. When you reserve ahead, you can even save $30 per night. If you're thinking three months isn't enough time to explore the resort and the lovely city of Naples, you can opt to stay for five months and receive a sixth month free.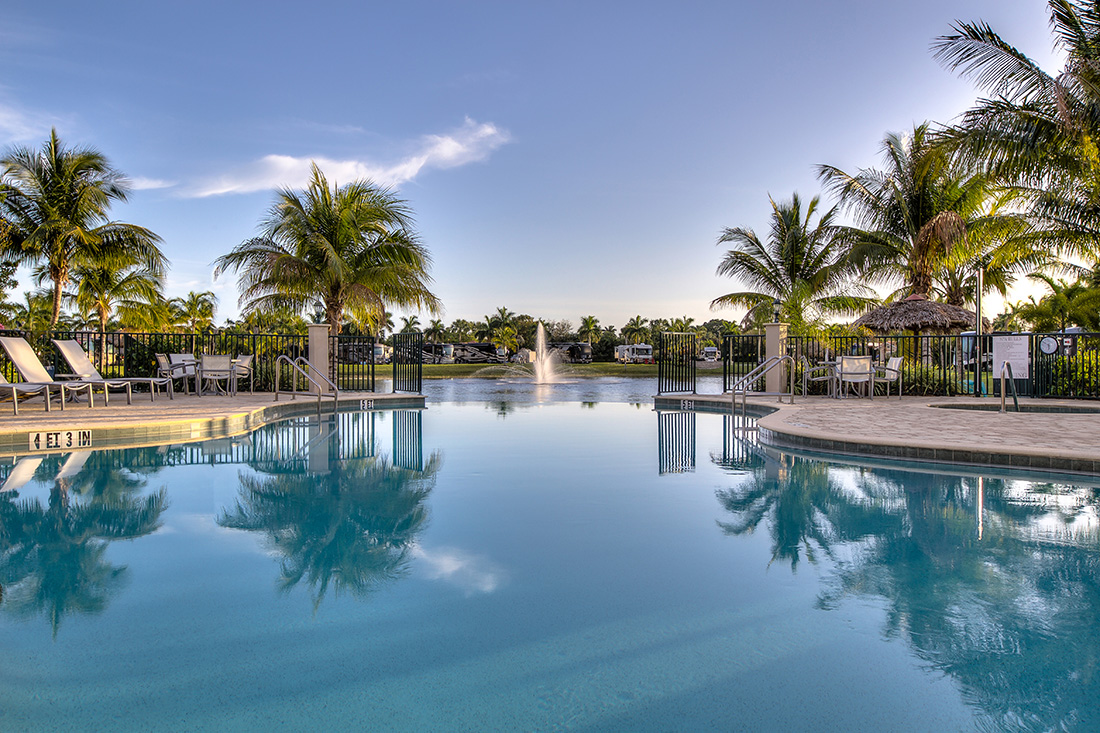 If you haven't experienced Naples in the fall, you're in for a treat. Arriving before the crowd gets here means more room to roam and explore the resort at your leisure. Discover incredible amenities like the multiple pools, state-of-the-art fitness center, pickleball courts, theater, dog park, private beach, and 12,000-square-foot grand clubhouse with ballroom, bar, commercial kitchen, card rooms and billiards.
Build and renew friendships with other travelers, and enjoy tiki hut crawls or block parties each month. Get out into Naples, where you can take an Everglades National Park Boat Tour, spend the day at the Botanical Garden, TripAdvisor's top-rated attraction in Naples, stroll the sun-kissed beaches, watch the dolphins frolic from the historic Naples Pier, and shop, dine, and visit art galleries on the famous 5th Avenue South.
Mark your calendar now for a couple of Naples' most exciting events:
Naples International Film Festival, the Stone Crab Festival, and the Pro Watercross World Championships, all taking place in October.
No matter when you arrive, be sure to save some time for boating. Naples is the only motorcoach resort with direct access to the Gulf — an important feature for those coming for a visit and also those looking to purchase a lot they can return to throughout the year. If you're considering ownership, this Class A Resort is a no-brainer. They have a variety of lots offered on the canal front and lakefront, as well as interior and exterior lots. Customizable options including outdoor kitchens, covered patios, casitas, and dog runs make the experience even more ideal.
For more information about reserving your stay or to inquire about sites available for purchase at Naples Motorcoach Resort, call 866-990-6894.
Photos: Sunland Naples Motorcoach