Trailer Life Cream of the Crop Campsites: Grand Canyon Railway RV Park—Williams, Arizona
If you're planning a visit to the Grand Canyon after exploring Flagstaff and Sedona, this is the place to stay! This RV park's amenities and convenient location are tough to beat.
Grand Canyon Railway RV Park is part of a high desert resort complex that includes a hotel and train depot for rail tours to the Grand Canyon. Located in Williams, just west of Flagstaff, this pristine Good Sam Park is only two blocks from historic Route 66 and downtown attractions.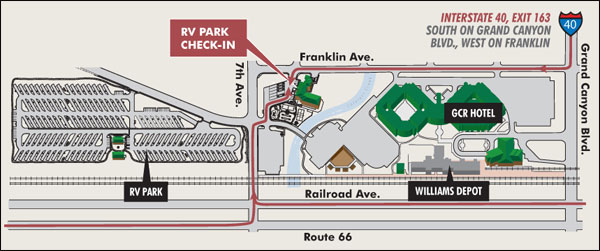 They have 124 extra-wide paved RV sites with full hookups (30/50 amp service). There are 73 pull-thrus measuring 25'x 65', while back-ins measure 15'x 56'. A maximum vehicle length of 65 ft. means even the biggest rigs will feel right at home! Each site offers free cable and free wireless Internet access for your convenience.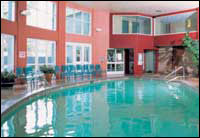 Hungry after a day of touring? Grab a bite to eat at Spenser's Lounge or Max & Thelma's Restaurant (serving breakfast, lunch and dinner), both just a short walk from the RV park within the main resort complex. Unwind in the indoor swimming pool or Jacuzzi at the GCR hotel, or keep up your fitness at the exercise room. Take a stroll along the fitness trail circling the property to enjoy the clean Arizona air. If sports are your thing, pick up a game of basketball, horseshoes or volleyball while the kids enjoy the playground.
Full, modern bathrooms feature showers with floor-to-ceiling ceramic tile where you can wash away the Canyon dust after a sightseeing tour. The park also features clean, modern laundry facilities, a public phone, and a convenience store for souvenirs, groceries or RV supplies. See the Good Sam RV Parks and Campgrounds directory for a full list of park amenities and recreational activities.
Rates: Last year's nightly rates started at $39, but special packaged deals are available for special occasions or extended stays.
Pets: The GCR Pet Resort welcomes vaccinated dogs and cats of all sizes. While you and the rest of the family enjoy the sights, your pet can relax in the air-conditioned comfort of the pet resort kennels, dog runs and cat condos. Nightly rates range from $15 for one cat to $22 for one dog. You can also get a discounted rate for an additional animal that will be sharing the same kennel. Call 1-800-THE-TRAIN for pet care reservations.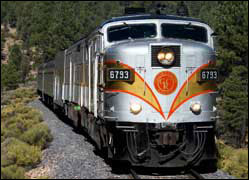 Area Attractions: The main attraction of course is the Grand Canyon. Rather than try to negotiate the roads in your rig, take the historic train from Williams straight into the national park! For decades, the train provided the only access to the Canyon for most tourists. This ride should be a blast for the whole family: each car and engine has been beautifully restored, musicians play period music while strolling the aisles, and there's even a Wild West Shootout before the train leaves each morning (as a history nerd, I just can't get enough of those re-enactments!) Learn more about the railway's history.
The Williams Chamber of Commerce has plenty of information about other exciting things to do in this Gateway to the Grand Canyon, listed under the 'Accommodations and Area Attractions' tab on the left side of the website. They also have a Visitor Guide & Travel Planner PDF to help plan your visit.
Climate: Since the Canyon is at 7,000 ft., a variety of seasonal weather can occur and temperatures fluctuate widely with the elevation. Spring weather can be unpredictable with high winds. Average highs for May and June range from 70-80°F, with lows from 39-47°F. When hiking into the Canyon, remember that the base can be 20 degrees warmer than the rim, so dress in layers! Summer highs at the river level can reach 105°F. As always, don't forget to take it easy until you are acclimated to the thinner air at high altitude.
Read what fellow RVers had to say about staying at Grand Canyon Railway RV Park, or leave a comment below to tell about your experience at this exceptional RV resort!