Located near the convergence of Arizona, Nevada, and California sits Bullhead City, a rapidly growing community nestled along the waters of the Colorado River. In this picture-perfect part of the country also sits Vista Del Sol RV Resort, a family-owned and operated resort that is devoted to making your retirement years as exciting and memorable as you want them to be. And a place you have to see and experience for yourself, because once you do… you'll realize you are at home.
1) The Mighty Colorado River
Crystal clear waters, private beaches, and secluded coves offer any water enthusiast over eight miles of aquatic fun. The Colorado River, as well as neighboring Lake Mohave, offer some of the greatest fishing in the western United States. From bass to trout to catfish you'll enjoy the 190 square miles of water in Mohave County. Any time of the year you can enjoy a day of boating, waterskiing, tubing with the grandkids, or just relaxing on the water and taking in the views.
2) Casinos
Laughlin, Nevada, just across the Colorado River is home to a dozen casinos that house hundreds of games and 24 hours of action, entertainment, and dining to fit any pocketbook. No matter what type of gambling you enjoy, Laughlin has it. Craps, Keno, Poker, Bowling, Sports Books, Slots, Roulette
3) Fun! Fun! Fun!
Our active 55+ community is full of fun! Fun people, fun times, and fun activities. At Vista Del Sol, located in the country's most desirable retirement locations, you will find your calendar full of countless activities like golf, swimming, zumba, pickleball, tennis, potlucks, live entertainment, and endless others. You've worked hard all your life, so now it's your time to relax and enjoy life.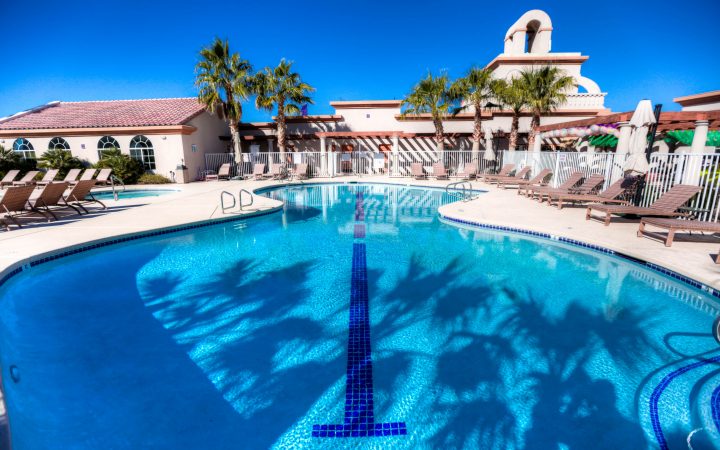 4) Family Atmosphere
Vista Del Sol, a Roberts Resorts, is family owned and operated, and has been since it was founded, over 40 years ago. In 1968 Bob Roberts, who had a goal to enhance the American Dream of affordable retirement living for all the seasons of life, while encompassing a sense of community and fun, while carrying high values. Here at Vista Del Sol, or any Roberts Resort around the country, you will feel like family too, and make life long friendships and memories with not only your neighbors, and fellow retirees, but our staff as well.
5) Active and Affordable
The homes at Vista Del Sol range from 400 sq. feet to 1680 sq. feet, so whether you want a cozy cottage or a home with extra space for guests and visiting family, we have the home for you. Every home here at Vista Del Sol is built to the most stringent codes so we can ensure safety, security, and comfort with year-round sunshine and activities. Just outside our gates you'll find even more activities, including Havasu National Wildlife Refuge, just a short drive away, the Black Mountains full of wild burros hiking, shopping, off-roading, and biking.
Call Vista Del Sol RV Resort now to reserve your winter home and see how retirement living should be.
Photos: Vista Del Sol RV Resort