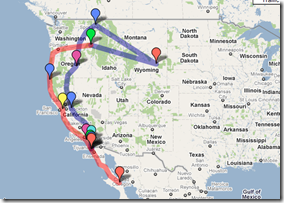 A travel blog without a map is like cake without icing!  It's good, but not as good as it should be.  And, sometimes don't you just want the icing?  A travel map can give your readers everything they want to know.  Then, if they want more, they can click on a marker and follow the links to your blog posts!
My friend George, of the famous Tioga and George – Vagabonders-Supreme.net travel blog recently sent me an email saying that he watched some of our videos on how to make Google My Maps, and he wanted me to look at the results.
Maps as a Blog Navigation Tool
George has been keeping his travel blog since 2003 and has recently added a map of each year's journey so you can get an overview.  Then, for each marker he links to an appropriate Blog post. The map at the beginning of this article is his 2004 travels, the one below is 2005.  2006 is almost done and, if I know him, he won't stop until he's current right thru 2010!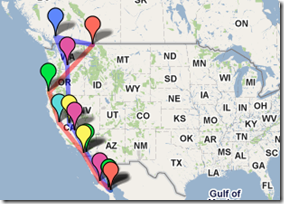 Check out George's 'Archives' page to see how he uses these maps as a navigation tool for his entire blog.  These maps are created using Google's My Maps.  See this previous article about making 'My Maps': Custom Maps with Google Maps .'  And, the tutorial videos referred to can be found at the Geeks on Tour Google Earth and Maps page.  Some are free, some require a membership.
Windows Live Writer
If you want to put a map into a particular blog post, I find Windows Live Writer even easier.  Since I started using Live Writer for all my blog post writing (even this one at RV.net) I spend about half the time I used to when I used the native blogging software (Blogger or WordPress.)  Here's a free video showing you how it works: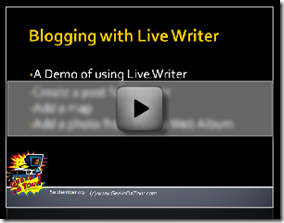 You don't need a Blog to use custom maps, but what a great combination!   We use Google's My Maps to add a  map of Summer Schedule of RV rallies to our website.  And, I'll bet some of you have even more creative ways of using custom maps.  Leave a comment if you have maps to share.
Chris Guld
www.GeeksOnTour.com