By Bob Difley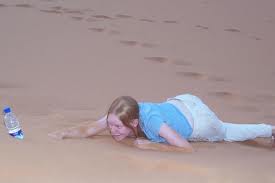 We finished with electricity in last week's blog and now move on to potable (drinking) water, a natural resource that will limit your consecutive boondocking days unless you are Moses and can strike a stone with a rod and water gushes forth.
If you run out of water you can't make coffee, spaghetti, or jello,  brush your teeth, flush your toilet, wash and rinse dishes, shower,  or have a nice cold glass of it. In fact, you are probably so used to just turning the spigot that until nothing but a drop or two dribbles out do you realize how thirsty you are.
That's why boondockers have to plan, curbing the natural instinct (and wasteful habit) of unconsciously turning on the spigot without thought. It's the same as flicking on the light switch and not considering the amps fleeing your batteries. You don't have to be paranoid about it, but if you adopt the habit of thinking about the consequences of  your actions, it becomes much easier–almost second nature–to mentally monitor your resources. And, of course, there's your water level gauge for you techies.
There are basically two rules for managing your drinking water: carry more, use less. Carrying more is the easy part. There are a variety of ways to carry additional water and can be loaded into your tow or toad for a water run without having to move your rig:
One gallon plastic jugs – cheap, disposable or refillable, stow several in nooks and crannies
2 1/2 gallon containers with a spigot – found in supermarkets, handy on a counter or picnic table for drinking
reusable five-gallon collapsible containers –  fold flat and stow easily when empty and can be used with the spigot or poured into the water tank
five-gallon sun showers – fill with water from any source and shower au naturale by hanging from a tree
six-gallon Jerry jugs – pour spout helps pour into water tank.  Also strong arms.
45-gallon water bladders from Camping World – lots of extra water. Use with small 12-volt water pump to pump into water tank.
Use less. This is the harder part–breaking or adjusting old wasteful habits and adopting new conservative ones. But you can do it, and they will become second nature before you finish grousing about them. So . . . here are several ways to cut down on your water habit and extend your boondocking time:
Take Navy showers – Turn water on, wet down–only enough to get wet, turn water off, soap up, turn water on, rinse–only enough to wash soap off, turn water off.
Save warmming-up water – Collect in plastic bucket or dishpan while shower warms up. Use to flush toilet, wash dishes.
Use a half glass of water when brushing teeth, not continuous flow.
Use dishwashing rinse water to flush toilet.
Wipe the food off your dirty dishes and from pots and pans with paper towels. It will take less water to wash and rinse them, and food bits will not end up in your gray water tank creating unpleasant odors.
Wash dishes with just a small bowl of soapy water and a sponge or rag, then rinse them all at once in a plastic tub. Running water is a no-no.
There are more ways to conserve water usage, be creative and inventive, but the most useful tip is to be conscious of your water usage. Awareness = efficiency.