Quality sleep is essential to enjoying life. If you don't sleep well, you probably won't have a good day. Yet many RVs are poorly equipped in the sleep department. It all starts with an essential product (http://goo.gl/LvKlkh) that sadly is an afterthought in many RVs. What product are we discussing? No, it's not the oven. It's not the refrigerator. It's not the water heater. It's the (you guessed it)… mattress!
The typical factory RV mattress is a thin yet lumpy hunk of mediocrity. One of the best upgrades you can make to an RV therefore is a high quality mattress. It's the sort of upgrade that you are guaranteed to enjoy literally every time you camp. And if you want to get the latest tech, go for the memory foam.
We improved our RV mattress with a memory foam mattress topper. It transformed our lousy RV mattress into a comfy place to sleep. But if we were shopping today, we would instead replace the entire mattress with a memory foam RV mattress. For a little more than a mere topper, now you can outfit your rig with a complete unit.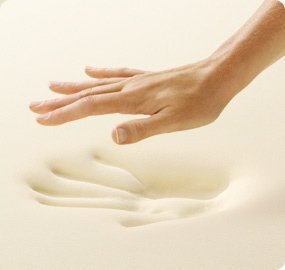 Memory foam is the key to sleep in an RV! (Click the pic for more info.)
We spend about one-third of our lives asleep. It's tough to enjoy a day if you didn't get quality sleep the night before. Yet most RVs are equipped with thin mattresses that provide minimal back support.
Our Airstream mattress, which is simply an average off-the-rack RV mattress, rests on a hard slab of plywood. It's kind of like sleeping on a lumpy piece of wood.
What do you get when you place a thin lousy mattress on top of a hard surface? You get a backache, that's what you get. You also get grumpy. You get into arguments. Eventually, you get a divorce.
Don't get a divorce. Get memory foam.
What is memory foam? It's another modern material that's improving our lives. It's soft yet firm, offering both comfort and excellent support. It has a doughy consistency that quickly conforms to weight and pressure. It is extremely durable, and typically warrantied for 20-25 years!
We have memory foam pillows, which deliver excellent head and neck support. If you have never tried memory foam, a pillow may be a good place to start.
Memory foam pillows offer great comfort along with head and neck support. (Click the pic to get your own.)
Adding a memory foam mattress topper vastly improved our RV sleeping experience. Foam mattress toppers add between 2-inches and 4-inches of memory foam. You simply place the topper (which is housed inside a fabric cover) on top of the existing mattress.
If you want to get rid of the lousy mattress altogether, consider a memory foam RV mattress. These combine a supportive base layer of extra firm polyurethane foam with a top "comfort" layer of softer foam. They are typically a Short Queen size, although this obviously may vary depending on the RV.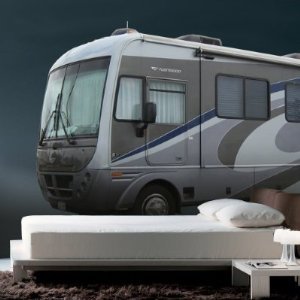 Dynasty makes a brilliant foam RV mattress. For best results, actually place the mattress INSIDE your RV.
Dynasty Mattress makes a 10-inch thick model that is receiving rave reviews. The Dynasty offers a 7-inch base with 3-inches of foam.
Serenia makes an 8-inch model that has also been well received. Serenia offers 6-inches of base and 2-inches of foam.
The Serenia RV mattress is another good option (Click the pic for more info.)
Are there any downsides to memory foam? Not really. There is usually an odor associated with new foam, but it fades within a couple of days.
Memory foam is a little heavy. Note that if you utilize under bed storage (as we do) you may end up lifting a few extra pounds to tilt up the bed. While weight is always a consideration in an RV, I believe a good night's sleep merits switching to the heavier product.
In the early days of this material, a memory foam mattress would cost thousands of dollars. But prices have dropped in recent years, and you can get a nice foam RV mattress for a few hundred dollars.
That's a good deal – and much less expensive than the cheapest divorce.