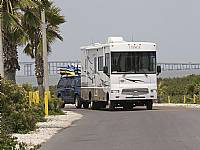 Last month's Mystery Challenge was "Name The Location".  Our mystery RV camper traveled to a park somewhere in North America.  The challenge was to name the park and location.  These photos, albeit small, were some of the clues you had.
These photos (shown to the left and below) were all taken at the park that the mystery camper is at.  The aerial post card actually shows the entire camping resort.  Whether you have been to it or not, there are clues below that can help you solve this and name both the location and name of the park.
Some more clues.
* It was originally a "Destination"
* The nearest city is _R__NS_I__E (Fill in the blanks)
* Twenty six – ninty seven
* Operated under the name originated by Dave Drum
Well, the mystery camper used some photos that were on the resorts web-site. Big mistake, as a number of smart detectives nailed it that way.  Yes, it is South Padre Island K.O.A. Great job to all that solved it.  Bragging rights for solving the March Mystery Challenge go to the following readers.
Bob Sims, Aaron Borovoy, Rich D., Pam & Bob Stephens, Beverly, Duce, Chris, Tim Keppler, Dennis, Tom Hargreaves, Bluebird Bob and John.
Good Going     –     Lug_Nut       –       Peter Mercer
The April Mystery Challenge will not be this easy.  You can try it on Thursday April 2nd.