Looking for a great place to visit in Southern Mississippi? Want first class accommodations, beautiful park setting, a place to relax with extra special customer service?  Well, look no farther we have just what you are looking for.
From the moment you drive on our property at Sun Roamers RV Resort atop the newly paved roads, to parking your RV in one of our 155 beautiful pine tree lined sites, you will feel the welcoming atmosphere of southern hospitality, and as soon as you are setup for the duration of your visit, check out what we have provided to make your stay both comfortable and memorable.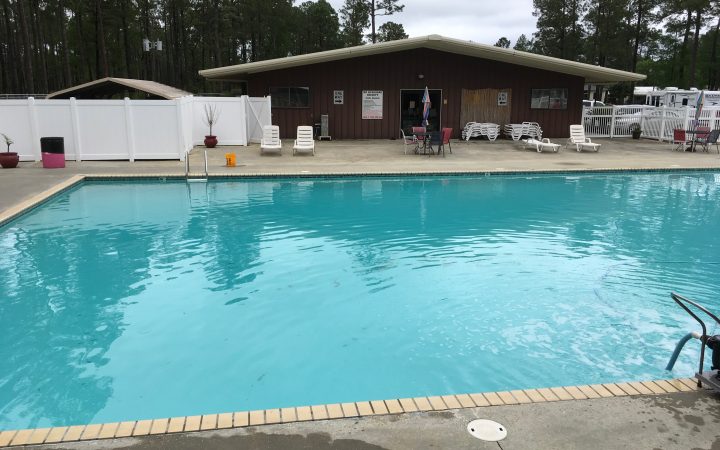 You might grab a fishing pole and head across the driveway to our beautiful pond," actually looks more like a small lake" while on your way there, pass our new professionally constructed  "mini golf course" and enjoy our beautiful landscaping.  Or maybe you would like to relax with a refreshing swim in our "Olympic Size Pool". We have a beautifully constructed 6000 sq. ft. Clubhouse in case you and members of your group need a place to "meet" and "eat" and our newly remodeled commercial kitchen can accommodate  your 300 guest in case you need it for rallies, weddings or birthday parties.
New Orleans and Cajun Fare
If you are looking for a little lively entertainment we are only 45 minutes from the "Big Easy" New Orleans, where you will find some of the finest dinning in all of the South.  From Cajun fare to fresh seafood and delicious steaks you can find all near downtown and in the historic French Quarter.  Take a trolley car ride or sip on a cup of Cajun coffee while enjoying a local favorite, the "beignet".
Gulf Coast
Don't forget about our Gulf Coast Beaches or try your luck at one of the many casino's all along the Mississippi Gulf Coast.  Take a tour of the historic homes or if you are more adventurous try an airboat ride or an exciting swamp tour.
Cabins and Park Models
Don't have an RV, that's okay because you can rent one of our newly renovated cabins or stay in one of our "RV Park Models", we will take care of you.  We are easy to find, less than two miles from interstate 59 and within minutes of interstate 10. So if you are planning to stay a day, a week or a month we will do our best to make your stay enjoyable.
You can find Sun Roamers RV Resort at:
41 pines Blvd., Picayune, Ms 39466
Phone 601-798-5818
Facebook.com/sunroamersrvresort
Photos: Sun Roamers RV Resort