General Info: Weymouth Woods Sandhills Nature Preserve includes some of the last stands of the original longleaf pine forests that once covered North Carolina with tall trees. By 1900, however, most of the original growth had been harvested for use by the naval stores and logging/lumber industries. In addition to collecting rosin, turpentine, tar and pitch from the trees, some of the tallest trunks were used for masts on large sailing ships. The Boyd family donated 403 acres of remaining forest lands to the state in 1963, creating the first natural area in the North Carolina state park system. Today, the park totals 900 acres on two sites near the town of Southern Pines.
Hours and Fees: The park is open from 8 a.m. to 6 p.m. from November to February, with extended hours until 8 p.m. the rest of the year. The park is closed on Christmas Day. You can stop by the park office from 8 a.m. to 5 p.m. daily, or call (910) 692-2167 for information. The exhibit hall in the park visitor center is open daily from 9 a.m. to 6 p.m. Download the park map PDF before your visit.
Activities: There are more than four total miles of wilderness hiking trails through the park where you can enjoy the diverse plant and animal life of the park's various ecosystems. Bower's Bog Trail traces the edge of an upland bog, while the Pine Island Trail includes 300 ft. of boardwalk through swamplands.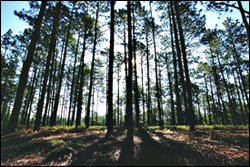 Spend some time in the park's exhibit hall for hands-on exhibits and interpretive programs about the important, historical ecology of the park's longleaf pine forests. Learn about the role of proscribed burning in forest management, the forest's nocturnal inhabitants, and the history of the once-thriving resin and naval stores industries.
Pets: Your leashed pets are welcome to visit so long as they have a current rabies vaccination. Pets are not allowed in park buildings and must not be left unattended.
Camping Info: There are no RV camping facilities in the park, but Long Leaf Pines Oasis is a private RV campground in the nearby town of Aberdeen. The park features good gravel roads and 26 grass RV campsites with electrical hookups (30/50 amps) and room for slideouts. There are 14 sites with full hookups. Pull-thrus measure 20×75' while back-ins measure 20×40'. A dump station and enclosed dog run are available. Last year's rates were $33-$38 per night depending on type of site.
If you're from the Tar Heel State or have visited Weymouth Woods Sandhills Nature Preserve in the past, please chime in with your stories and travel tips!