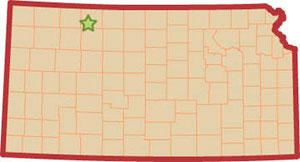 Now that you've seen the tallgrass prairies of Iowa and Kansas, I find it only fitting that you take a gander at the shortgrass prairies of western Kansas. (I know, I got bit carried away with the prairie theme, but what do you expect from a girl from the West Coast who grew up reading the "Little House" series and Willa Cather's "My Antonia"?) At any rate, it's a great stop on your way up to Yellowstone, the Pacific Northwest and beyond!
As the moniker suggests, the 1,150-acre Prairie Dog State Park in Norton County is home to a thriving prairie dog colony. It is also the site of the last remaining adobe house in Kansas, built in the 1890s but since renovated. Take a peek at the 19th-century one-room schoolhouse as well and imagine what life was like on the windswept plains in the days of horse drawn carriages.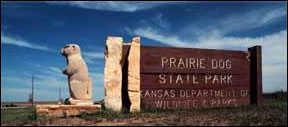 Things to Do and See: As one of the less-visited parks, Prairie Dog will be a nice break from the summer crowds. Sportsmen will delight at the wealth of game at the Norton Wildlife Area, from pheasants, water fowl and rabbit to mule deer and white tailed deer. The park also features an archery range. Hunting and fishing licenses can be obtained at the park office.
Bring your rod and reel for fishing in the Keith Sebelius Reservoir. Here you will find a launch ramp, dock and marina for your boating convenience. Fishing has been good in recent years for black bass, walleye, wiper, crappie, catfish, and saugeye. There's a covered fish cleaning station near the Leota Cove boat ramps that includes a fish grinder.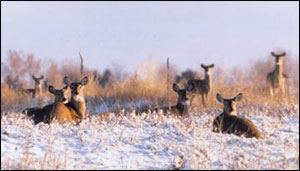 Birdwatchers and pastoralists will delight in exploring the 1.4-mile nature trail. Interpretive signage along the route will help in identifying wildlife and learning more about the area's ecosystems. For more family fun, the park also hosts a recreation field, playground and horseshoe pit.
Download the Prairie Dog State Park brochure PDF for more specific trip-planning details.
Area Attractions: The town of Norton is also the county seat of Norton County. Stop by Station 15, a replica stagecoach station, for a glimpse of stagecoach travel across the Wild West. The Norton County Historical Society and Museum preserves a nice collection of artifacts and exhibits to preserve the area's historical legacy. Wander the city streets for a leisurely afternoon of antique shopping and break for a snack in one of the local restaurants. Norton also has all the conveniences of a larger town for re-supplying the RV before you head off to your next adventure. Learn more about Norton, Kansas.
Camping Info: The campgrounds are open year-round, but water service is only available from April 15 to October 15. Interior roads in are good condition, either covered in gravel or paved. Of the 58 gravel sites, 40 have both water and electric, while 18 are electric-only (30 amp). Some sites are shaded. Ten pull-thrus measure (40'x 65'), while back-ins measure (60'x 50').
Restrooms and shower houses (including one with four individual showers) are located throughout the park, and ADA accessible facilities are also available. There are also two RV dump stations at separate ends of the park. Last year's rates were $14-$16 per night, depending on the site. Maximum stay is 14 days.
For more information call the area office at (785) 877-2953. GPS Coordinates: N39 48.757 W99 57.794
Weather: Winters are cold with moderate snowfall in this northwestern part of the state. Spring thunderstorms are common, so bring appropriate clothing. Many of these storms can turn into Supercell thunderstorms that often spawn tornadoes. Summers are typically hot (think into the 90s and above) so remember to protect your skin from the sun and stay hydrated to avoid heat stroke.
If you're from the northwestern Kansas area or have visited Prairie Dog State Park in the past, please chime in with your stories and tips! Your insights can help others have a fantastic trip.