Seven Villages of the Amana Colonies, "The Handcrafted Escape"
Located in the heart of Iowa's historic Amana Colonies. This National Historic Landmark hosts over a million visitors each year. Featuring seven historic villages in close proximity, the area is famous for its Old World charm and hospitality. You'll find excellent restaurants, historic architecture, unique shops, and fascinating museums. The Colonies have been a treasure on the Iowa prairie for over 150 years; welcoming visitors to an experience that's as unique as you are.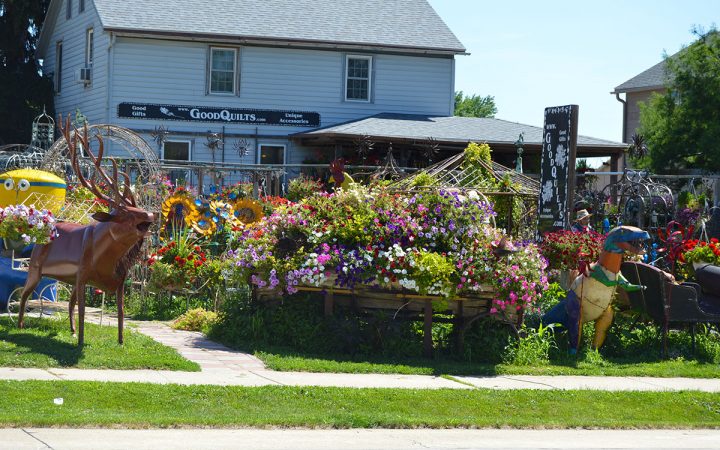 Located just minutes from I-80, the seven villages of the Amana Colonies offers visitors the opportunity to step back from today's busy pace. Relish in the comfort of locally crafted foods, furniture, art and more. The Colonies offer a unique history and culture found nowhere else in the world.
We invite you to escape the daily routine and experience our villages.  Meet our many artists, sample hearty foods, locally crafted beer and wine or simply stroll down our quiet streets. The Amana Colonies have something for everyone…let us handcraft an experience just for you!
The Amana Colonies Visitors Center is located in the village of Amana, in a restored corn crib. The Visitors Center is your first stop for information about the Amana Colonies; providing Visitors Guides, maps and brochures for area businesses. Menus for all Amana Colonies restaurants are also provided.
What to See and Do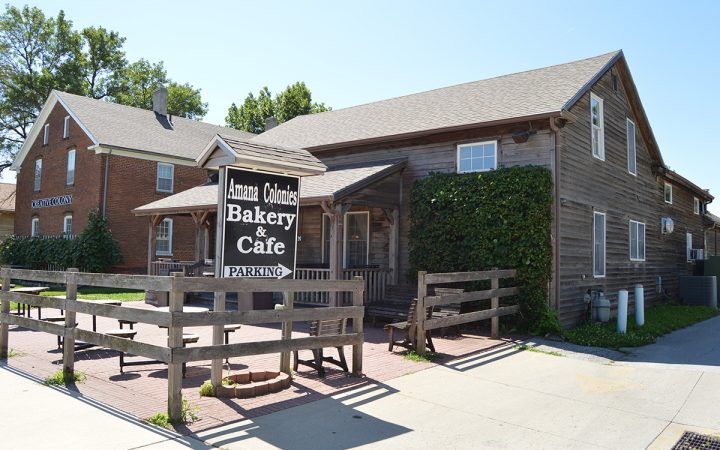 Finding something to do in the Amana Colonies is no chore. See Iowa's largest walnut rocker or experience one of our multiple historical museums. We also have many festivals, both large and small. As well as host many niche groups, such as classic car clubs and culinary events. There is always something special to experience in the Amana Colonies throughout the year.
Celebrate our German heritage with Maipole dancers at our spring Maifest. Polka the night away with the Burgermeister at Iowa's original Oktoberfest. Don't miss our month long holiday celebration featuring Tannenbaum Forest and Prelude to Christmas. Start the New Year off with Winterfest in the Amana Colonies and fully embrace Iowa's January weather with our outdoor games and many indoor activities. The entertainment possibilities are endless in the Amana Colonies.
The Amana Colonies are famous for food, whether it's the family style meals that have their roots in the old communal kitchens, the hams and sausages from our smokehouse or our sweet fruit wines and beer, no trip to the Colonies is complete without indulging a little. We also have hand dipped chocolates, numerous flavors of fudge, gourmet coffees, wood fired pizza, and new sausage flavors. There's cream soda, root beer, and seasonal beers at our brewery. while several of our wineries offer dry dinner wines from classic and Midwestern grapes.  The options continue to grow including several festivals that focus on foods.
The Amana Colonies are located 5 miles north of Interstate 80 on Iowa Highways 151, 6 and 220. The Colonies are 20 miles southwest of Cedar Rapids, and 17 miles west of Iowa City.

Amana RV Park & Event Center
Located just fifteen minutes North of I-80, the Amana RV Park & Event Center park offers everything necessary for a quiet getaway or a fun event. Rally groups are always welcome. Amenities include Free Wi-Fi, 20/30/50 amp electricity, Level sites; paved & gravel roads, dump station, handicap accessible restrooms w/ showers, laundry, propane,  campground store, picnic tables, and fire rings.