Seven Feathers RV Resort – a Good Sam 10/10*/10 rated RV resort at Exit 99 off Interstate 5 in Canyonville, OR – has just celebrated its 10th Anniversary.  But even though the official celebration has ended, the resort continues to pull out all of the stops for its guests.
Located in the "Land of Umpqua" – and in the heart of the Umpqua Valley wine region – just off I-5 at exit 99, Seven Feathers RV Resort is situated on 23 acres of manicured lawns and lush landscaping making for a serene, relaxing getaway. Guests of Seven Feathers RV Resort and the adjacent Seven Feathers Casino, Resort and Spa are always treated to an outstanding experience.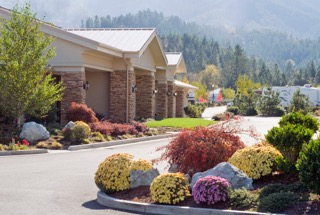 The resort offers 191 landscaped full-hookup sites, its own heated indoor pool and hot tub, fitness center, gift boutique, and a guest lounge complete with coffee and computers. The park also offers family-style restrooms, laundry, clubhouse, barbeque pavilion, playground and fenced dog run – along with paved hiking and biking trails.
RV sites are paved, meticulously landscaped with patios, circular picnic tables and chairs and a mix of sun and shade.
There also is a free door-to-door shuttle to the Seven Feathers Casino Resort with its fine dining and casual restaurants, nightlife and lots of gaming choices, including a non-smoking area. The full-service River Rock Spa offers the utmost in pampering and tranquility.
For exploration further afield, Seven Feathers RV Resort can help guests schedule wine tasting tours and tours to nearby attractions.
We would love to have you visit us. Reservations also can be made online at www.sevenfeathersrvresort.com