When a first-time visitor hears the name of New Jersey, their first thoughts might be of metropolitan sprawl and industrialization, neither of which conjures an image of the ideal vacation spot. But to those in the know, New Jersey has several pockets of beauty and plenty of fun and adventure to go around, which keeps visitors coming back year after year. This One Tank RV Trip from Woodall's runs along the Southern Shore region, a place with something for everyone, from family fun to a romantic getaway for two. Spend a day walking up and down miles of sandy beaches, or enjoy any of the dozens of attractions that are just waiting for you.

Cape May
In the southernmost part of the area, Cape May is famous for its Victorian architecture. The Emlen Physick Estate is a fully-restored 19th-century mansion that is now a museum showcasing the Victorian lifestyle. The Carriage House Gallery is a must-see spot for the art lover, with various traveling exhibits that change with the seasons. Combine this with a trolley tour of the historic district to maximize your Victorian experience. The Cape May Lighthouse is another popular stop for visitors, and those who make the climb to the top of the lighthouse are treated to a spectacular view of Cape May Point and the Jersey Shore.
Atlantic City
Head up the Garden State Parkway for nearly 40 miles, then take the eastbound Atlantic City Expressway for another 8 miles until you reach Atlantic City. This is a city that needs no introduction; its history and reputation tell the tale, as the "Las Vegas of the East." Naturally, our first thoughts run to casino gambling, world-class entertainment and the never-ending buffet selections, but Atlantic City has far more to offer than that. The historic Atlantic City Boardwalk is a must-see destination, with its classic arcade and Garden Pier, along with a Ripley's Believe It or Not Museum and the Central Pier Speedway. There are also plenty of outfitters to rent bicycles or canoes and kayaks for your maximum enjoyment. The Atlantic City Outlets is an excellent place to find bargains from top-name stores like Tommy Hilfiger, Banana Republic and many, many others.
Jersey City
Getting back on the Atlantic City Expressway, follow it west until you reconnect with the northbound Garden State Parkway. Take the Parkway for 26 miles until you come to the New Jersey Turnpike, which takes you the remaining 15 miles into Jersey City. With everything there is to do here, you may want to allow a few days to experience as much of it as you can. A favorite activity is to take a cruise across New York Harbor, which offers you a spectacular panoramic view of Manhattan and Ellis Island. Make sure your camera is charged and ready – this is a chance to get some truly memorable pictures.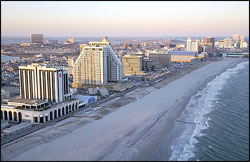 Speaking of the islands, a short ferry ride takes you to Ellis Island, the immigration point that has processed more than 12 million American citizens. The Immigration Museum tells the story with interactive multimedia exhibits such as the Living Theater, along with an incredible array of articles and photos. The Statue of Liberty, of course, is an absolute don't-miss attraction and offers visitors a tour of the inner workings of this magnificent monument. The observation deck is open to the public, and visitors can witness one of the most breathtaking views in the world.
Where else but New Jersey can your vacation experience run the gamut from beachcombing to casino gambling, followed by a harbor cruise and a tour of one of the most historically important monuments in the world? There's so much more to the Garden State than meets the eye, and so much more natural beauty waiting to be explored.
Where to Stay: Located midway between Atlantic City and Cape May, Ocean View Resort Campground is a great place for family camping on the Jersey Shore. It's close to area attractions and features full hookup RV campsites for even the biggest rigs. Winding River Campground in Mays Landing has spacious, shaded RV campsites and offers canoe and kayak rentals. Up in Jersey City the Liberty Harbor Marina & RV Park features handicap accessible RV campsites with full hookups (30/50 amp) and views of the Statue of Liberty and the Manhattan skyline.