We've all heard the credo, "safety first." And in today's camping landscape, those two simple words have never felt more significant. Even as many parts of North America open up for business, we should proceed with caution when we hit the road. Follow these RVing safety tips as you begin your U.S. travels.
Does this mean you should put the brakes on RV travels? No, but you should follow some guidelines to ensure that your travels remain happy and healthy.
Coronavirus is making people rethink what a vacation looks like. How can we all get the adventure and connections we crave without going through airports or taking a cruise? RVs answer that call. The tips in the following article will help you hit the highway without worry. Because we all need a breath of fresh air and to reconnect with nature, more now than ever.
RV travel provides an alternate method for people to get to a safe location while maintaining a greater distance from crowds of people. RVers represent people who travel for either full-time, adventure or recreational living.
Keep Informed
In a rapidly changing situation like the COVID-19 pandemic, it is important for people to know how to stay informed. While just about every headline is currently about the coronavirus, it's important to seek credible and reliable sources like the Centers for Disease Control and Prevention (CDC) or news sites like The Atlantic. For international updates about COVID-19, you can also look to resources from the WHO. If you haven't seen this useful real-time dashboard by Johns Hopkins University yet, it's worth bookmarking. Every U.S. state and territory has its own health department. These agencies are responsible for state-level public health. The full list of state health department websites can be found here.
And every RV park and campground of course makes the call on whether to open and what amenities will be available, so make sure to contact the campground or resort directly. Plan your route as many counties and areas are completely closed to anyone who is not a current resident.
Clean Your RV
It's best practice to keep a clean RV anytime, but especially during these uncertain times. Referring to the CDC guidelines, we recommend cleaning dirty surfaces with soap and water prior to disinfecting. And now isn't the time to skip using gloves in your cleaning. Once everything looks clean, use a suggested surface disinfectant a diluted bleach solution or an alcohol solution with at least 70% alcohol. Here's a handy list specifically meant for COVID-19.
For carpeting, rugs and furniture, vacuum visible debris or clean stains with a cleaner suitable for these porous surfaces. Wash laundered linens and clothes using the warmest water possible, based on the care instructions. It's recommended to clean and disinfect frequently touched surfaces and items (remotes, doorknobs, steering wheel, light switches) daily. On the outside, this heavy-duty gel gloss cleaner and wax solution is a great option.
While on the road, consider using your own restroom instead of public restrooms. When you need fuel, wipe down the gas pump and pay at the pump, if possible.
Download our Good Sam RV Cleaning Checklist here.
Stay Connected
RVers must stay alert and aware of the opening and closing status of their current location as well as the locations along their route. When you contact the RV park, ask for your site number and find out if there's anything you should be aware of, like a bathroom code or latest arrival time.
And there is an ever-growing population of digital nomads who need quality Internet access. You may have success when using a cell booster like weBoost. It's recommended to have your local Camping World do the install. For more tips on RV Internet, see https://www.trailerlife.com/lifestyle/easy-rv-internet/.
Take It One Day at a Time
While it's important to stay informed, limit your news intake to a few times a day. Try guided meditation with the Calm app or just sit outside and be at peace with nature. Meditating included taking long, slow breaths, which can be a signal to your body that you're safe. And what better way to relax than to step away from the screens now and then, step outside and breathe some fresh air. Spend time reading, while keeping a safe distance from others.
Be Prepared
Plan your route as many counties and areas are completely closed to anyone who is not a current resident. Be sure to have hand sanitizer on hand (pun intended), in case you don't have immediate access to soap and water.  I like Uncle Bud's hand sanitizer, because it includes the required 70% Ethyl alcohol, but also organic hemp seed oil and moisturizing vitamins.
If you're going to be making your own meals along the way, you should stock up on groceries. Instead of trying to get groceries before leaving a location, try anticipating your arrival and scheduling the order for the arrival date. If the stores aren't well stocked or the pick up or delivery date doesn't work, make sure you're prepared with a face mask and gloves. And these GoSun solar coolers that don't need ice, are great any time of the year, pandemic or no pandemic. Find more options here.
We're here to help campers by providing great outdoor experiences across the U.S. and Canada. Please check your campground and RV park directly by visiting GoodSam.com and searching for your next destination and inquire about current local government ordinances or updates.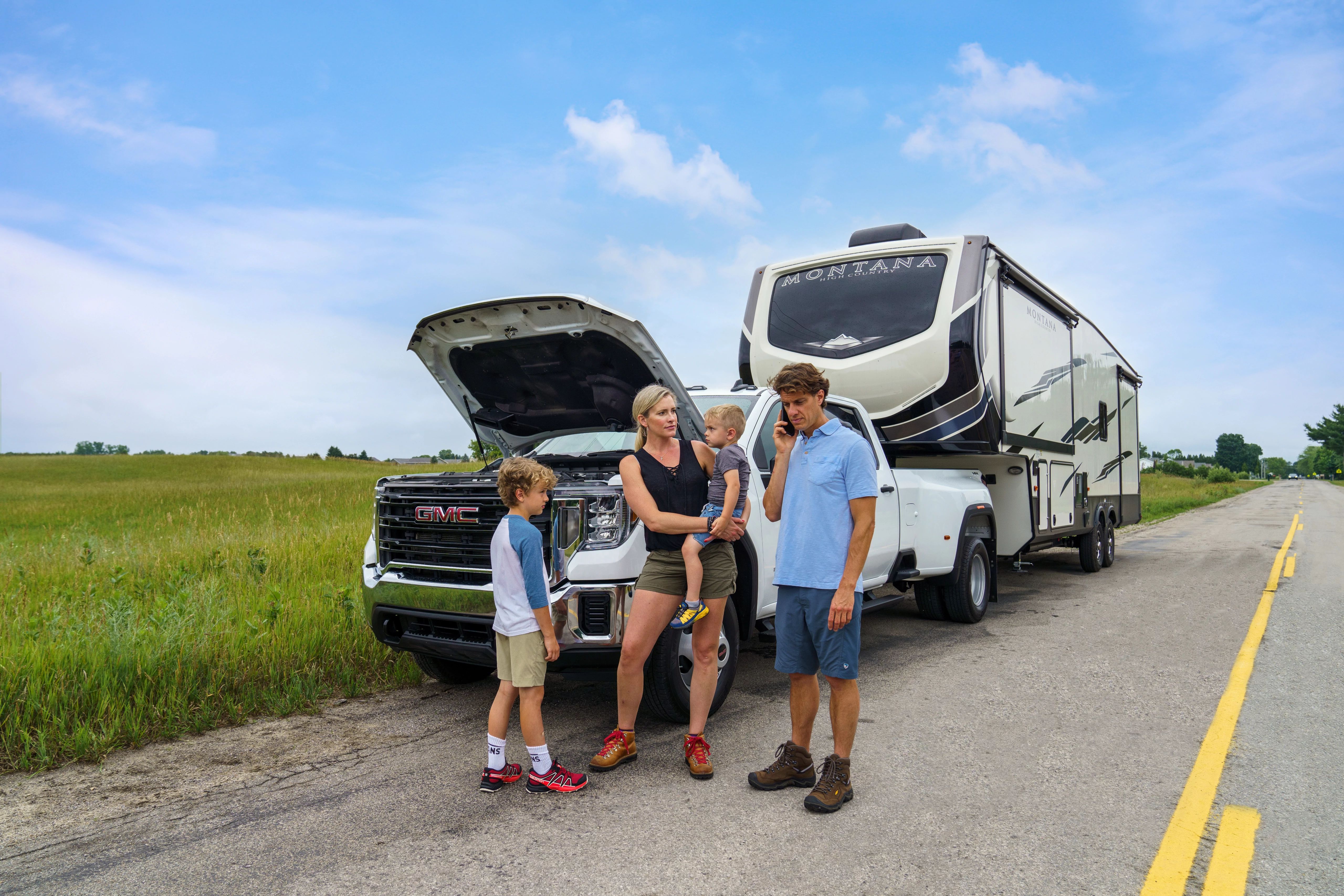 Be ready for whatever life throws at you.
Even if your RV breaks down, your peace of mind doesn't have to. Good Sam Roadside Assistance provides 24/7 emergency breakdown support to get you back up and running as quickly as possible. With RV and auto coverage for you and your entire family, Good Sam provides certified technicians, roadside tire changes, and unlimited towing to local service centers. Sign up and see why we're the #1 roadside assistance program at only a fraction of the competition's cost.