Gas is the cheapest it's been in about 30 years, and yet we're urged to stay put. Flights are dirt cheap, but we can't fly. While we may feel like we're stuck in an Alanis Morissette song, there is hope.
While these are somewhat uncertain times, from struggle comes strength and love. There are countless creative and generous examples of people trying to do the right thing during an extraordinarily difficult period.
And Good Sam has operated with these guidelines and way of thinking; that our world goes beyond where our driveway ends. And while there may be fear, there are also inspiring examples of people choosing to give their time, kindness and talents to help so many in need.
Conquering COVID Blues
Here are just several instances of everyday people being good and doing good.
Skiers and snowboarders have donated more than 10,000 pairs of goggles for use by health care workers dealing with the coronavirus pandemic.
A new Facebook group titled RVs 4 MDs has launched to provide temporary mobile homes for health care workers to isolate themselves amid the outbreak.
The Atlantic, Bloomberg News, The New York Times, The Wall Street Journal, The Washington Post and more have made coronavirus coverage freely available to all readers.
Unilever has created the United for America initiative, a wide-ranging set of measures providing support to American people during the coronavirus pandemic.
Content for Quarantine
Looking to escape some of the coronavirus news for a little while? Scribd has opened up access to its digital library of audiobooks, eBooks and magazines free for 30-days with no credit card or commitment required.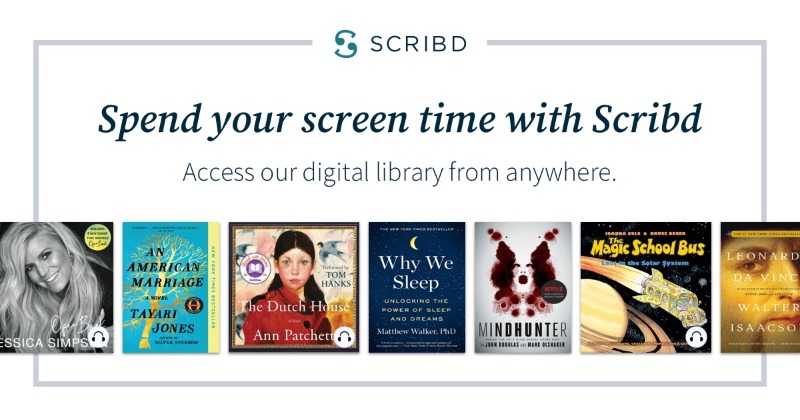 Dreaming of RV Travel
RV travel and camping are experiences that create emotional connections and in times where we're missing it, it's proven that it's essential in our lives. It's been proven that the outdoors and being around nature can have positive effects on mental health. But even in this time of confinement, you have the right to dream and prepare for your next adventure. No matter how far apart we are, travel, family and adventure bring us closer.
Camping World is now scheduling virtual visits from their stores to your screen for detailed, up-close views of hundreds of travel trailers, pop-ups, Class B's and more. And these RVs have proven to become safe little bunkers, perfect as social distancing accommodations.
Coronavirus is making people rethink what a vacation looks like. How can we all get the adventure and connections we crave without going through airports or taking a cruise? RVs answer that call.
You can start your travel vacations while staying at home by finding inspiration and planning your next RV trip. Organizing your trip is already the beginning of the road-trip! We're bringing you some escapism in the form of your camping bucket list. What better time to plan where you've put off going?
Readers Share their Roaming Plans
We asked our readers and Good Sam campers where they wanted to go next.  Here's what they – you – had to say!
Mendocino, California. Located along the Golden State's famed "Lost Coast," Mendocino County offers nearly endless fishing, hiking, jogging, horseback riding and bicycling (not to mention an outstanding crop of wineries).
In Mendocino, you can up your wellness game with the Japanese practice of shinrin-yoku, or forest bathing. This guided rebalancing of the mind and body through sensory, where the ocean fog rolls in from the ocean to blanket dense redwood forests, may be just what the doctor ordered. Their canopy softens the sunlight and cools the air. This is a guided forest meditation offering that incorporates all five senses.
If fishing is your game, then the rugged Mendocino coast where people travel from all over the globe to fish for salmon. You can also take a mess of crab home for dinner with Hooked on Mendo Charters.
And there's always another trail to traverse, corner to turn or cave to explore in Mendocino. Take the Shakota Trail for an easy to moderate, three-mile (one way) hike. Take in beautiful views of Lake Mendocino, and picnic near the old Grazini Winery, located midway between the north and south ends.
Stay at Pomo RV Park & Campground, where their 17-acre premier park is located a few minutes from the beautiful Mendocino Coast.
Oregon: Right now, you can explore Oregon from your home. Did you know that more than 450 films and TV projects have been shot in the past several decades in Oregon? From "The Goonies" and "Free Willy" to "The Shining," "Stand By Me" and "Point Break," you can watch scenes of Oregon from the comfort of your living room or RV. And start preparing for the real thing.
Add these to your watchlist, while planning the camping trip to remember:
"Shrill" (2019-current) – Saturday Night Live's Aidy Bryant produces and stars in this comedy series about a struggling young journalist in Portland. Stream it on Hulu.
Phoenix, Oregon (2019) – Filmed in Klamath County but named after the Jackson County Town, this movie highlights two friends that seize the opportunity to quit their jobs in order to find their new calling: restoring an old bowling alley.
"Here and Now" (2018) – This dark dramedy about a progressive Portlandian family is chock-full of talent. Tim Robbins, Holly Hunter navigate their life with adopted children.
When you're ready to hit the road, find Good Sam RV parks and campgrounds here.
Michigan: With breathtaking landscapes, urban escapes, starry skies and rugged trails, it's easy to find unique hidden gems and get lost in the Wolverine State's tranquil forests. With thousands of miles of hiking, biking and kayaking trails, it's easy to see why Michigan is considered a hiking haven.
Start with the Iron Belle, the nation's longest designated state trail. The trail extends more than 2,000 miles from the far western tip of the Upper Peninsula to Belle Isle in Detroit, with a route of bicycling and a route of hiking. What makes this trail special is the ability to see the entire state of Michigan, embracing trails and recreation. Michigan also has 3,000 miles of water trails for kayaking or canoeing. And whether it's the Holton Motorcycle Trail, Bundy Hill Off-Road Park or the Gladwin ORV scramble area and ATV trails, the 3,000+ miles of off-road vehicle trails are waiting for you to discover and play.
West Michigan's Cherry Point Farm and Market boast a lavender labyrinth so vast, it's visible on Google Earth. Founded in 1949, the farm has been owned and operated by the same family for four generations. In 2001, Barbara Bull transformed the sweet produce pitstop into an aromatic attraction. It was designed to facilitate peace, relaxation and meditation.
Per Governor's orders, the earliest you may see places open is the first weekend in May. However, this is subject to change. Find the nearest Michigan RV park or campground here. Contact the campground directly to find out the latest on openings and restrictions.
New Hampshire: From mountain biking and hiking to great heights, to seacoast adventures and lakeside escapes, New Hampshire is a great place to consider your next RV camping trip. From surfing, sea kayaking and deep-sea fishing to sailing, nature walks and paddleboarding, there's something for everyone. Hampton Beach is lined with lobster shacks, clam stands and fried dough joints. And New Hampshire is perfect for a biking vacation. The vast majority of Beaver Brook's terrain is made for easy riding. Beaver Brook is a great place for an easy roll, after-work ride or a weekend journey.  Kingman Farm is the perfect piece of land for a new rider interested more in exploration. All levels of riders can enjoy most of the farm's trails. None require any advanced skills or a high degree of fitness.
Search for top-rated New Hampshire campgrounds here.
Set Your Sights on Future Travel
Until then, we encourage you to look after yourself and those around you. Call it going the extra mile, or paying it forward. It's a time to reconnect with your most authentic self, a time to express your inner creativity. We just call it being good.
We invite you to unite with us on Instagram @goodsamfamily, for inspiration and connection.
Though now may not be the time to travel, Good Sam RV parks and campgrounds are already preparing to welcome you with open arms. Because social distancing won't be with us forever.