RV with free TV on the Airwaves.
There are several choices in how you can have your television entertainment while traveling the country in your RV. One of the more popular is via satellite. However, no matter which service provider you use, it can be quite costly. Internet services like Netflix are also popular and can be used at a relatively low cost. However, the flood of RVers that have employed this type of service have caused issues with campground operators. The normal transmission band width of the average camping facility cannot possibly operate efficiently when these internet video streaming groups connect. This has led to many RV parks having to choke and cause intermitted service that will not support video streaming. For this, most campers are glad for as it allows them to use the internet for what it should be, e-mail and light surfing.
Many campgrounds offer free cable at each site which generally includes quite a few channels. This is certainly a great way to have TV entertainment, all provided at no extra charge.
Free TV on the Airwaves for All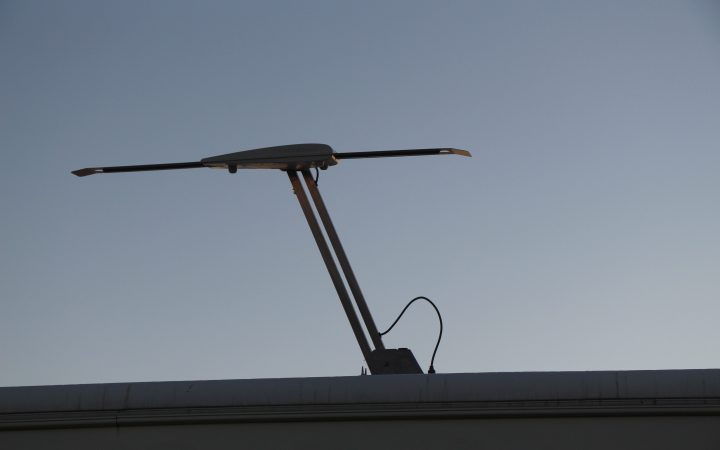 Remember years ago when we only had over-the-air VHF and UHF service? You might get four or five channels of usually fuzzy analogue programming. Well, that's all changed! Over-the-air television broadcasts are far better than ever. They are generally HD (high-definition) quality and there are many more than we had years prior.
For example, with a good amplified over-the-air antenna and a digitally compatible TV set (most TV's less than about 9 years old), you can expect about 44 channels in the Portland, Oregon area, 83 in the Phoenix, Arizona area, 24 in Newport, Oregon, etc. If you have never tried the newer digital over-the-air TV transmissions, you are in for a surprise. More channels than you would probably imagine and quality that, at times, can exceed the HDTV satellite services picture.
So, if your TV is over about 9 years old, you will need to replace it. If your antenna is not specifically designed for digital signals, you will benefit replacing it with one that does, like the amplified Winegard Sensar.
Priceless Picture
Once you are set up, you will not only get a great picture, but there will be no monthly charges, ever. (Keep in mind, you will only receive signals from a reasonable distance. Therefore, there are many remote locations that may be without service.) Now, you must have a digital-ready TV and do a scan every time you change locations. You will find these set up functions in the menu.
Check it out! There are few things in life that are truly free. Over-the-air TV is free, and you have to see the quality to believe just how great it is.
Peter Mercer — With a Look at Over-the-Air TV