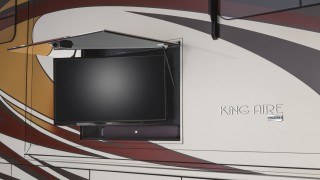 RV entertainment centers, or more specifically, outdoor entertainment media centers, are found on many class "A" coaches.  They are located in one of the basement bays on the passenger side or within the sidewall about standing head height.  They are an option on most coaches costing anywhere from $1200 to $4000.  The more expensive sidewall mounted units are either configured to slide out from the end of a slide-out or are installed behind a door in the sidewall.
The entertainment center consists of a flat screen LCD or LED television, a stereo and a good set of audio speakers.  The TV sets are mounted on brackets that allow them to be positioned for the best viewing.  The ones located higher from the ground in the sidewalls are often shaded better in bright sunlight as they take advantage of the closer proximity to the awning.
The stereo usually incorporates an FM tuner, CD player and is also capable of amplifying and enhancing the TV's stereo audio.  All systems include ample audio and video input and output jacks to provide full interface for external peripheral devices.
So, what are the benefits derived from the outdoor entertainment center in addition to providing outside TV and music?
A great place for children and adults alike to play action video games such as Wii. Lots of room and little to break.
Provides a much larger venue for having the gang over for the Super Bowl game. The inside of the coach may support perhaps 8 people or so, while outside, maybe 40 or more.
Good place to show groups of your friends your photos and home movies. (Also allows guests to escape easily should boredom set in.)
Adds an additional "TV Room" to your rig.
Generally provides better RV resale value. The majority of buyers desire this option, if they can fit it in the budget.
The only caution one needs to observe with these outside entertainment media centers is not to infringe on any other camper's enjoyment.  One man's music can be another man's noise.  So be a good neighbor, try to keep the sound reasonably controlled for the given surroundings.  If you are going to have that "Big Game" party, be sure to invite your neighbors.  The outdoors and all it has to offer is shared by us all; enjoy.