While you're driving west on I-40 from Albuquerque to Flagstaff, be sure to pull in to Petrified Forest National Park in eastern Arizona where you can marvel at the vibrant hues of the petrified wood and Painted Desert.

General Info: The park covers 93,533 acres of beautiful desert landscape, featuring part of the colorful Painted Desert badlands, many archeological sites and of course, plenty of petrified wood logs. Mineral deposits buried ancient conifers thousands of years ago, turning them into beautifully-colored quartz stone. Some of this stone was used to build the Agate House, an eight-room pueblo built by native peoples and partially rebuilt in the 1930s.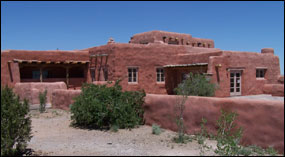 Hours and Fees: The park is open daily from 7 a.m. to 6 p.m., but the Painted Desert Inn National Historic Landmark (no longer an inn but a museum) is open 9 a.m. to 5 p.m. Arizona does not observe Daylight Savings Time, so it stays on Mountain Standard Time year-round. Entrance per vehicle is $10, and is good for 7 days. You can also get an annual pass to the park for $20. All U.S. military veterans and active duty personnel and their families will be admitted free of charge on Veteran's Day, November 11, 2009.
Activities: The park has several maintained trails of varying difficulty and length for you to explore the wilderness on foot. Bicycles are not allowed on trails or off roads. You can also bring your horses for a ride in the Wilderness Area, so long as you stay off paved trails and paved roads. Park archeologists also offer guided tours of the park's heritage and local native groups offer cultural demonstrations where you can learn about native Puebloan culture. Check the park planning page for a complete list of current park activities and for hints on what to see, broken down by length of visit.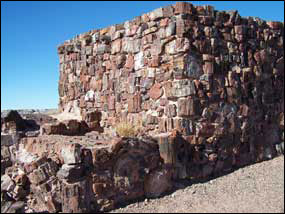 Take precautions while on the trails as some rock surfaces are unstable. Review the park safety page for more details. Unlike the visitor centers, restrooms and picnic areas, park trails are not ADA accessible.
Pets: Your leashed pets are welcome on maintained trails except for the Wilderness Area and the Wilderness Access Trail near Painted Desert Inn. Pets are not allowed in buildings (service animals excepted). As always, please clean up after your pet and dispose of waste properly.
Weather: Since the park is above 5,000 feet, be prepared for rapidly changing weather conditions in spring and fall. Snow is a distinct possibility in winter. Summers are hot with thunderstorms from July-September. Bring a variety of clothing and dress in layers for maximum comfort. Please remember the altitude when planning your day's activities, and take precautions not to over-exert yourself until you are more accustomed to the thinner air at this high elevation.
Camping Info: Camping and/or overnight parking are not allowed in the park. However, the town of Holbrook, 26 miles down the road, has two RV parks: the Holbrook/Petrified Forest KOA and the OK RV Park.
The OK RV Park is a Good Sam Park that has easy-in, easy-out gravel pull-thru sites (17'x 108') for RVs large or small. Each site has full hookups (30/50 amp) with cable TV and WIFI service. Sewer hookups are located every 5 feet. The park also features a laundry room, clubhouse, public phone and clean, modern restrooms. Last year's rates were $29-$34 per night, but discounts are available for Good Sam, AARP and KOA members.

If you're from the Four Corners region or have visited Petrified Forest National Park in the past, please chime in with your stories and tips! Your insights can help others have a fantastic trip. Planning to drive from Flagstaff to Sedona? Take the Oak Creek Canyon Drive, a 27-mile scenic byway (with some switchbacks) on U.S. 89A through the Coconino National Forest.